World's deepest offshore wind turbine installed off Scottish coast
Source: By Jillian Ambrose, The Guardian • Posted: Saturday, April 15, 2023
SSE's Seagreen project will deliver enough energy to power more than 1.6m homes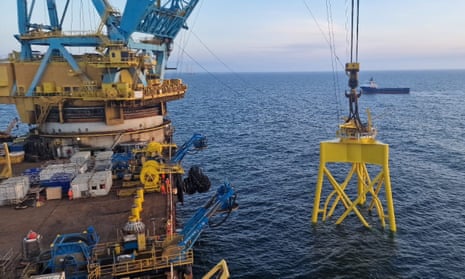 The world's deepest offshore wind turbine has been installed almost 17 miles off the coast of Angus as part of Scotland's biggest offshore windfarm.
The Scottish energy company SSE installed the 2,000-tonne turbine foundation at a depth of more than 58 metres (192ft) in the early hours of Easter Sunday as part of the £3bn Seagreen offshore windfarm, which it is developing in partnership with the French oil supermajor TotalEnergies.
The record-breaking foundation will be Seagreen's 112th turbine, of a total of 114; the project will power the equivalent of 1.6m homes. The 1GW windfarm began generating electricity in August last year and will be fully operational by the summer.
Alistair Phillips-Davies, the SSE chief executive, said the installation was a significant step towards completing the project and also showed how the company has been able to "innovate and push the boundaries of technology to power change".
The Seagreen windfarm is part of SSE's plan to invest £12.5bn by 2026 in projects that can accelerate the UK's path towards becoming a net zero economy. By the end of the decade SSE, which is developing the world's largest offshore windfarm at Dogger Bank in the North Sea, plans to invest a total of £24bn in the UK alone.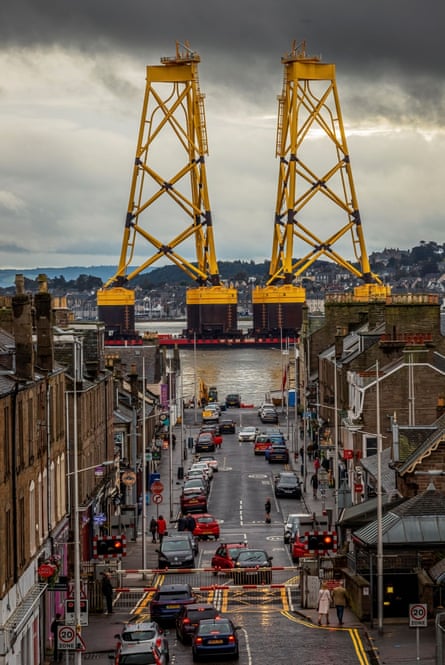 SSE is one of the UK's biggest renewable energy generators, but has raised its full-year profit forecasts twice for the financial year ending 31 March thanks to the lucrative revenues earned by its gas power plants.
"The UK has established itself as the world leader on offshore wind and SSE Renewables is building more offshore wind than anyone on the planet," Phillips-Davies said. "But we want to do more and now is the time to accelerate if we are to achieve the UK's target of 50GW of offshore wind by 2030."
Graham Stuart, the minister of state for energy security and net zero, added: "This is another terrific milestone for both Scotland and the UK's world-leading offshore wind industry. As I saw first-hand last week, Seagreen is making history with the world's deepest wind turbine foundation which, once operational, will play an invaluable role in powering more of Britain from Britain."
SSE was once one of the UK's biggest domestic energy suppliers but the company sold its household retail business to Ovo Energy in a £500m deal so it could focus on developing renewable power projects.