Wind Power Gets a Leg-Up in Biggest U.S. Electricity Market
Source: By Naureen Malik, Bloomberg • Posted: Monday, May 1, 2017
Wind may have just gotten a boost in the biggest U.S. electricity market.
New rules requiring power producers to ensure supplies are available all year round are giving some an incentive to use more wind. The first test will come at next month's auction by PJM Interconnection LLC — the grid operator covering the region from Chicago to Washington.
Up until now, wind has been overlooked as a resource during peak summer demand because it fares best in winter. After regulators approved a plan by the 13-state grid operator for variable suppliers to team up, wind could prove an attractive partner for summer resources such as solar and demand response — where customers cut consumption and sell back power onto the grid.
"We may actually see an increase in wind," Stu Bresler, senior vice president of operations and markets for PJM, said in a webinar hosted by Bloomberg Intelligence last week. That's in contrast to other seasonal resources that may hold steady or fall, he said.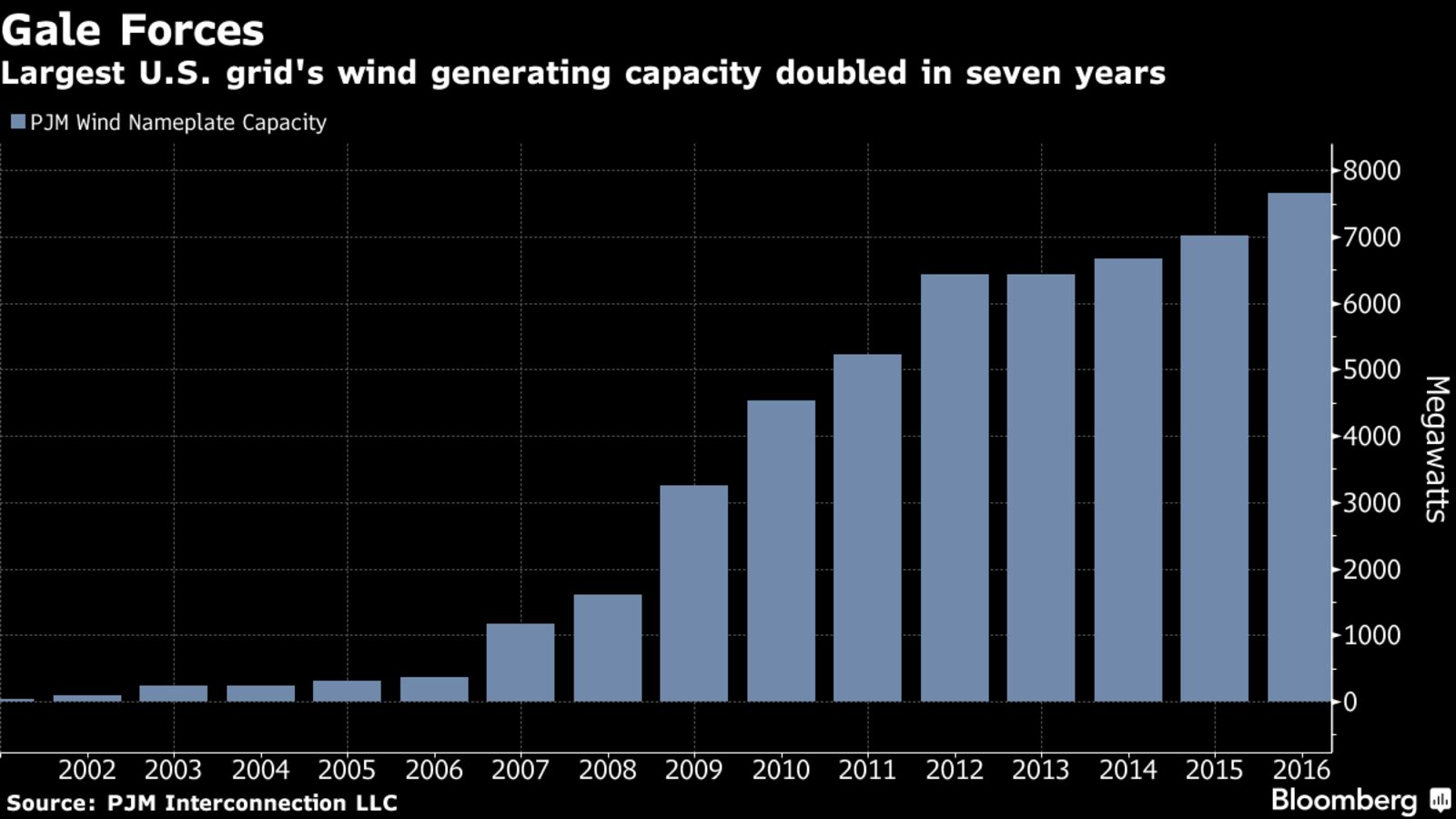 Payments from capacity auctions are sought after by owners of nuclear and natural-gas fired plants and other resources in an era of lower power prices. Bidders have to ensure they can supply energy at any time of the year or risk paying hefty penalties under a rule designed to head off a repeat of the 2014 polar vortex, when a cold snap led to fuel shortages, forcing some plants to shut.
In last year's auction, the amount of wind resources selected rose to 969 megawatts from 857 megawatts, according to PJM. That represents just 13 percent of the total wind capacity available on the grid, and 0.6 percent of the total purchased at the auction.
While its role in the capacity market has been limited, wind has been playing a bigger one in the spot market. Its capacity on the grid jumped to 7,655 megawatts last year and has more than doubled in the past seven years, data from the Valley Forge, Pennsylvania-based grid operator show.