Wind Energy Blowing Strong in Iowa, But Room to Grow
Source: By SARAH BODEN, Iowa Public Radio • Posted: Friday, July 17, 2015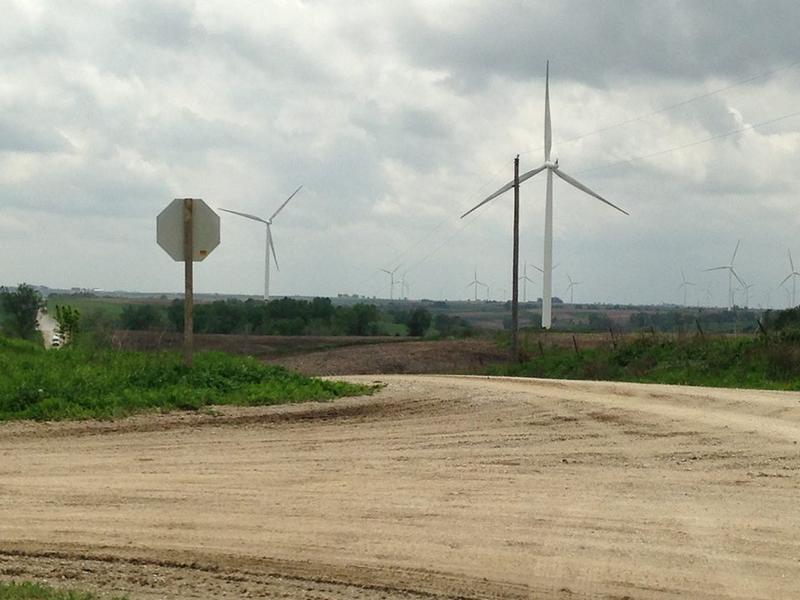 SARAH BODEN / IOWA PUBLIC RADIO
Iowa ranks first in the U.S. for having the highest percentage of wind energy used on its electrical grid, but a new industry report by the American Wind Energy Association and the Wind Energy Foundation says there is room to grow. Based on data from the U.S. Department of Energy, the report finds that 28 percent of Iowa electricity in 2014 was generated by wind, and that number could grow to 40 percent by 2020.
During a panel on the state's wind industry at Des Moines Area Community College's Ankeny campus, Mike Prior of the Iowa Wind Energy Association says these projections are based on the industry's current rate of development.
"If development continued at the current pace uninhibited, we would be able to meet those percentages by that time," Prior says. "Now certainly there are challenges. PTC being one of them."
"PTC" refers to production tax credits. Wind farms receive 2.3 cents per kilowatt hour for the first decade of a facility's operation.
This federal incentive program expired at the end of last year, though some lawmakers are looking to renew it. Critics say the tax credit unfairly subsidizes wind over other energy sources.
Another challenge cited by the panel is that Iowa's infrastructure needs updating. The amount of wind energy the state has the potential to harness is so large that electricity could eventually be sold to other states. But the electrical grid's capacity to hold this power is finite.
Houston-based Clean Line Energy Partners is working to expand grid capacity with 3,500 megawatt transmission line that sends wind power east to Illinois, going as far as Maryland.
"Right now we are engaged in the regulatory process in Iowa, so working through our siting working through our engineering," says Beth Conley, a Des Moines-based manager for Clean Line Energy. "We are in conversations with both costumers in the east that would be interested in purchases the power. And also costumers in the west that are interested in developing this wind power to move east."
Consulting engineer Tom Wind says Iowa is in a "sweet spot" for wind energy.
"We're centrally located in the United States. We have good wind resources, especially in the northern half of Iowa. And we have enough people in the state who need electricity," he says. "If you look at the states to the west of us like in North Dakota, South Dakota, Nebraska, they have great wind resources too. But there just aren't very many people living out there, so their needs for electricity are lower."
The report outlines several economic stats to support Iowa further growing it's wind industry, including the possibility of creating 380,000 "well-paying jobs" nationwide by 2030 and $49 million dollars in tax revenues annually for Iowa by 2020. However Iowa State University economist Dave Swenson says Iowa's industry is not limitless, considering that western states also want to market their wind resources.
"I think this industry wants to migrate west and north. I think that Yankton, Mitchell, Aberdeen, South Dakota, Bismark, North Dakota are going to become hubs for wind energy manufacturing and become wind energy education centers in the next 20 years," he says. "The wind absolutely doesn't care where the boundaries are, so neither will the people putting up the wind towers."