Whirlwind of construction on horizon for Nebraska's Diller/Steele City area
Source: By ALGIS J. LAUKAITIS / Lincoln Journal Star • Posted: Monday, August 26, 2013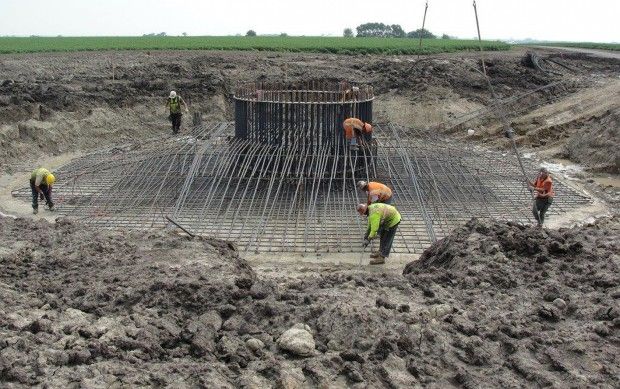 Workers lay rebar to reinforce a concrete pad that will anchor a 422-foot wind turbine, one of 44 being built for the Steele Flats wind project in Gage and Jefferson counties.
DILLER — The Monday morning commute in the Diller and Steele City area might be an eye-opener.
A parade of flatbed trucks loaded with sections for 262-foot-high metal towers, and possibly 160-foot-long turbine blades, will start to arrive in the area for the Steele Flats Wind Project.
Contractors for NextEra Energy Resources, owner of the wind farm, have been laying the groundwork since late June for 44 wind turbines. Each will be about 422 feet high and will go up in southwest Gage and southeast Jefferson counties.
They have excavated the turbine pad sites, poured foundations to anchor towers, dumped extra rock on county roads and intersections for the flatbed trucks and installed power poles and a substation.
"We can build a wind project in the same time a person can build a home," said David Farkas, the project's civil/mechanical superintendent.
Road work is finished now, as are 36 of the turbine foundations, Farkas said in an interview at the company's temporary trailer complex just off Nebraska 8. A permanent 5,000-square-foot office and shop are going up nearby.
NextEra Energy Resources, based in Juno Beach, Fla., plans to finish construction by mid-November and have the wind farm in operation by Dec. 13, Farkas said.
Total cost is estimated at $138 million. The Nebraska Public Power District, based in Columbus, will buy all of the electricity under a 20-year agreement.
Each General Electric wind turbine can generate 1.7 megawatts, and the entire wind farm is rated at 75 megawatts — enough to power about 19,000 homes, said NextEra spokesman Steve Stengel.
NPPD plans to sell some of the power to a large industrial customer, but spokesman Mark Becker declined to identify the customer until a contract is signed next month.
Between 120 and 130 employees are working on the project, more than half of them from the area, Farkas said. The project will have five permanent full-time employees.
Earlier this year, Stengel estimated the project would generate about $11 million in property taxes, which would be shared by the two counties.
Diller Village Clerk Leatha Christ said she already has seen some ancillary benefits.
"My park is full with campers, so that helps," she said.
Out-of-town workers are staying in the Steele City park, too.
Diller Telephone Co. is installing phone and Internet service for NextEra Energy Resources, and workers are buying food and fuel, which helps the local economy, Christ said.
Peggy Hemphill and her husband, Steve, are among 17 area landowners who agreed to lease some of their land for a wind turbine.
"We felt why not use wind energy as opposed to all the other sources to generate electricity," she said. "They (NextEra Energy Resources) are bending over backward to please people."
But Joyce Kauffmann and Kathy Carter, both of Steele City, contend the project was rushed through and that local officials did not ask enough questions or explore other energy options.
"I would prefer to see acres and acres of solar panels instead of windmills," Kauffmann said. "I'm all for alternative energy, but I'm not sure wind is the way to go."
Said Stengel: "Well, certainly that's not our view. We received all the necessary permits and did the necessary work to secure the land and make sure the landowners were comfortable with the project. I wouldn't characterize it that way at all."
Kauffmann also questioned why NextEra gets a federal tax credit and other benefits from the project, but the state of Nebraska gets nothing for allowing the company to use its wind resources.
Stengel said tax credits enable the company to offer electricity at a lower rate to customers, in this case NPPD. He noted that all forms of power generation receive some type of government support.
The wind turbines will alter the area's skyline for at least the next two decades, Carter said, but she and other area residents — except those who leased their land — get nothing.
"As a Nebraska citizen I'm not getting any benefit from it. If I would, I would feel different," she said. "Why doesn't it help my electric bill if its in my backyard?"
Dick Bugee, 84, a retired farmer who lives along Nebraska 8, doesn't have a turbine on his farm but will see the line of turbines on the horizon.
"I don't know whether it's going to benefit us or not," he said. "It's sure going to be different to look to the east and see all those."