What Macron's Victory Means for Embattled Europe, and for Merkel – Bloomberg
Source: By Jonathan Stearns , Viktoria Dendrinou , and Birgit Jennen, Bloomberg • Posted: Tuesday, May 9, 2017
Emmanuel Macron's decision to play Beethoven's Ode to Joy as he walked on stage to mark his victory in the French presidential election had pro-Europeans in rapture.
"I had tears in my eyes," Daniel Cohn-Bendit, the longtime French-German politician who served as a European Union lawmaker for two decades, told broadcaster Europe1 about the moment he heard the EU anthem. "With that gesture, he anchored France to Europe."
Next comes the hard part: Reviving a sense of purpose at the EU's core. The defeat of far-right candidate Marine Le Pen gives the bloc a political shot in the arm and may advance joint projects in areas such as defense, but Macron also faces red lines. For one thing, the former investment banker can't expect German Chancellor Angela Merkel to bend euro-area fiscal rules, according to two German government officials.
"Macron offers a chance for an EU reboot by giving new energy, credibility and oomph to the European project," said Shada Islam, director for geopolitics at the Friends of Europe think tank in Brussels. "But he won't be a miracle worker. Europe is fragmented and polarized and he faces significant domestic and international constraints."
After years in which a sovereign-debt crisis strained relations within the EU and sowed distrust between economic powerhouse Germany and a lagging France, Macron has been elected on a platform of jump-starting momentum. With the EU embarking on difficult talks to usher the U.K. out of the club and President Donald Trump questioning the bloc and U.S. guarantees to trans-Atlantic security, the effort comes not a moment too soon.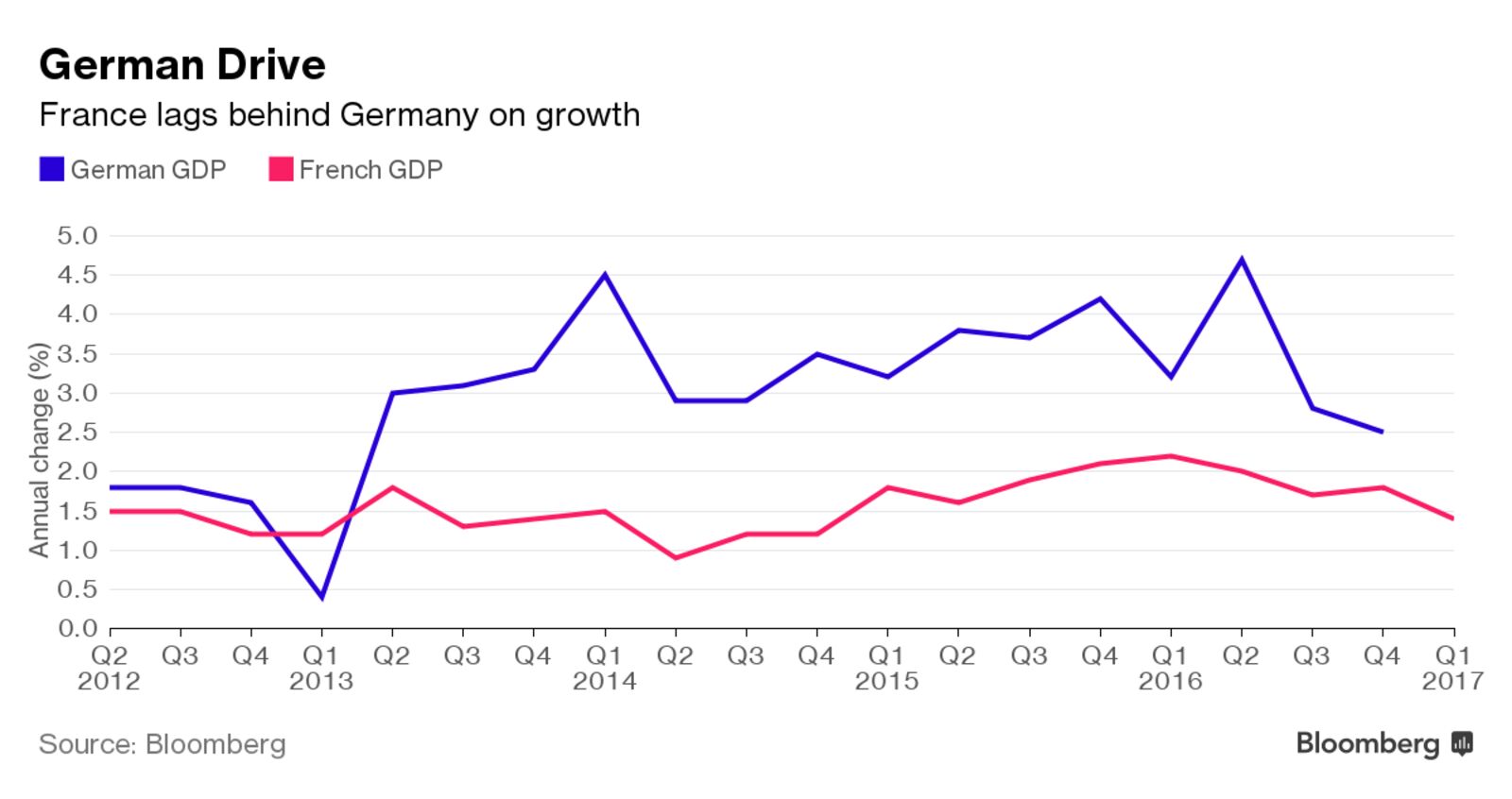 Macron's defense of EU limits on budget deficits, support for open markets and pledges of growth-friendly deregulation will win him allies in Germany, where Merkel's government has grown weary of French reluctance to reform the economy. The chancellor called him on Sunday evening to offer her congratulations and praise his pro-European campaign.
Also being discussed in Berlin is work on an EU "social union," code for a mix of economic reforms and a push to align national policies such as wages and taxes. At the same time, the new French president may seek joint initiatives on matters such as euro-area debt sharing that France has traditionally espoused and that are politically sensitive in Germany.
"Everyone involved knows that we need a fresh start and new impulses for German-French cooperation," said Joachim Poss, a lawmaker in Berlin for the Social Democrats, Merkel's junior coalition partner. "Germany needs to show it recognizes its responsibility for Europe. We have to prevent a situation where Le Pen lies ahead five years from now."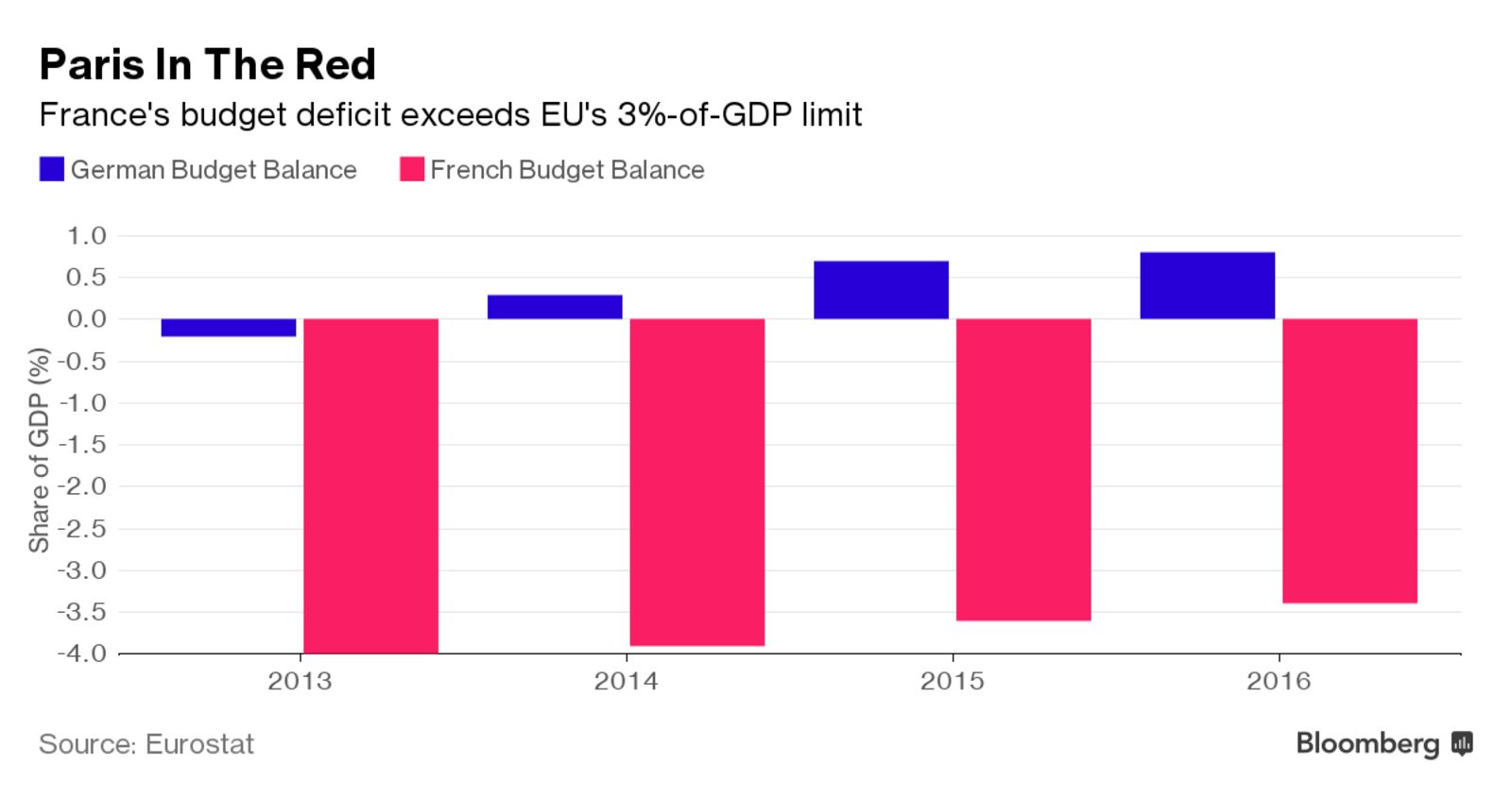 Merkel, who is expected to give a "signal" on German-French relations soon after Macron is sworn in, pledged to cooperate with the new president "wherever possible," saying he "carries the hopes of millions of French and also of many people in Germany." All the same, no concrete policy action is likely until Germany's federal election in September is out the way.
"We have to wait for the new president to present his ideas and his wishes," Merkel told reporters in Berlin Monday. "Then we'll see which points we have in common."
Following are EU policies that stand to get a boost from Macron's win in France, based on comments by Brussels-based officials who spoke on the condition of anonymity and Macron himself:
TRADE
In addition to a planned EU market-opening accord with Japan, two chances lie ahead for Macron to defend free trade while showing traditional French sensitivity to the threat of cheap imports. The first is a draft law recognizing China as a market economy in EU trade cases, a step long sought by Beijing. The other is a plan to allow the bloc to impose higher tariffs on exporters such as China when their domestic markets prove to be distorted.
EURO
Macron will seek to breathe life into long-stalled moves to shore up the euro area's banking system through sovereign risk-sharing, including the creation of a common deposit-insurance program, which Germany opposes. He may also push for more economic stimulus, a common euro-area budget and a special finance minister for the 19-nation currency zone — ideas also resisted in Berlin.
ENERGY
Macron should give a boost to EU clean-energy initiatives. He's pledged to double French wind and solar capacity by 2022, a bigger expansion than his predecessor Francois Hollande planned, and to reduce car pollution.
That should give momentum to a draft European law to increase the share of renewable energy in the EU to 27 percent of consumption in 2030 from 20 percent in 2020 and to a forthcoming proposal by the bloc's regulators to tighten a cap on carbon dioxide from autos.
DEFENSE
Macron champions deeper EU defense cooperation, which the U.K. has long resisted because of a perceived threat to the role of the U.S.-led North Atlantic Treaty Organization. As British influence within the EU wanes with Brexit, France under Macron will probably push forward EU efforts to divert more of its budget to defense research, pool procurement and give the arms industry better access to finance.
RUSSIA SANCTIONS
Macron will probably reinforce the common — and sometimes shaky — EU front against the Kremlin over its encroachment in Ukraine. He has defended the bloc's three-year-old penalties against Russia, criticized President Vladimir Putin and claimed to have been the target of Russian cyberattacks.
As French economy minister in January 2016, Macron reportedly floated a timeline for lifting the European penalties on Russia. He hardened his stance during the campaign as he found himself surrounded by candidates, including Le Pen, who sought a rapprochement with Putin.
BREXIT
Macron will bolster the position of the U.K.'s 27 EU partners ruling out talks on Britain's post-withdrawal relationship with the bloc until sufficient progress is made on the divorce terms, including the bill owed by Britain. He is likely to maintain the relatively hard-line French view that the bar for starting parallel talks with Britain on future trade ties with the EU needs to be high.