Watch Out for Double-Sided Solar Panels Taking Off in China
Source: By Chris Martin, Bloomberg • Posted: Friday, May 18, 2018
Here's one way to get more power from solar panels: use both sides of the cells. But don't expect that to double the output.
China is expected to jump-start the market for panels that can absorb light on both sides with plans to install 2.7 gigawatts this year, according to research from Bloomberg New Energy Finance. Other regions may add as much as 200 megawatts in 2018, and the global market may reach 5 gigawatts by 2020. A typical nuclear reactor has about 1 gigawatt of capacity.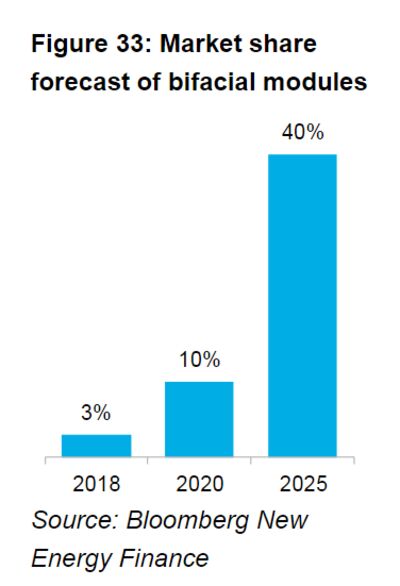 Standard solar panels have a mostly aluminum backing. The so-called bi-facial panels remove most of the aluminum from the bottom, exposing the semiconducting material so it can produce electricity from light that hits it on either side.
This costs more to make, and until recently, the higher output hasn't been enough to attract developers. Better manufacturing techniques are making them cheaper, and early installations show about a 10 percent boost in output as light bounces off the ground to hit the underside of the panels. Pro tip: It helps to paint the ground white.