Vestas Soars as Trump Win Grows Less Likely Following FBI Letter
Source: by Christian Wienberg, Bloomberg  • Posted: Monday, November 7, 2016
Shares in Vestas Wind Systems A/S soared on speculation Donald Trump is less likely to win the U.S. election, removing a perceived threat to the renewable energy industry.
Vestas gained as much as 4.9 percent, the most in 11 weeks, and traded 3.6 percent higher at 515.50 kroner as of 9:18 a.m. in Copenhagen, making it the best performing stock in Denmark's benchmark index. Vestas had lost about 8 percent in the week through Friday, after concern a decision by the FBI to resume an investigation into Hillary Clinton's e-mails might jeopardize the Democratic candidate's chances of victory. The bureau said over the weekend that its latest probe absolved her."There's a general expectation that Hillary Clinton is more likely to win the U.S. election after the latest development with the FBI story over the weekend," Mads Zink, head of equity sales at Danske Bank, said by phone on Monday. "It's mostly benefiting renewable energy shares, and this is the reason why Vestas is leading the index today."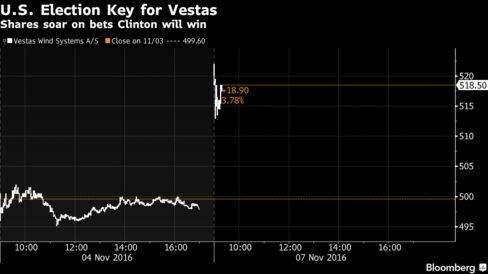 Before the latest communication from the FBI, analysts had warned that a Trump victory would hurt the world's largest maker of wind turbines.
"If Donald Trump wins, I have no doubt that the Vestas share will fall the next day," Jacob Pedersen, chief of equity analysis at Sydbank, said in a phone interview. "And if Hillary Clinton wins, the share will rise" as "some of the risk of a Trump win has been priced into the share."
Vestas is the Danish company with the most riding on the outcome of the vote, according to Pedersen. Bloomberg Intelligence estimates that about 41.3 percent of Vestas's revenue last year came from the Americas.
For more on the FBI's latest letter, click here.
According to an Ernst & Young LLP survey published last month, the U.S. may lose its position as the top-ranked renewable-energy market for investors if Trump wins the presidency.
"He hates wind turbines and will do what he can to fight them," Pedersen said.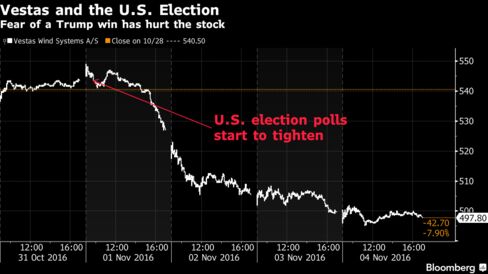 Trump, who has blamed wind turbines for killing bald eagles, has as a businessman unsuccessfully tried to stop offshore parks that spoil the view from his golf course in Scotland.
"Clinton is pro-renewable energy while Trump clearly isn't, so the election can have a short-term impact on the share price." Janne Vincent Kjaer, vice president of equities and a Vestas analyst at Jyske Bank, said by phone. "It's likely that we will see a sentiment-driven share reaction as the result of the election becomes clear."
Still, both Kjaer and Pedersen said the harm a Trump presidency might inflict on the U.S. renewable energy market will be limited because congress has already passed a law that secures tax breaks for the wind industry until 2020.
For a Bloomberg Intelligence piece on U.S. wind legislation, click here.
"The PTC agreement is in place and has been passed with a broad majority," Kjaer said. "It's also worth noting that a stronger position in the Senate for the Democrats could be positive for renewable energy, even if Trump wins."