Vestas lands big order for wind farms
Source: Cathy Proctor, Reporter-Denver Business Journal • Posted: Saturday, September 21, 2013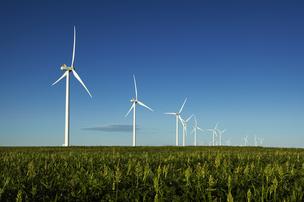 Photo by Renewable Energy Systems Americas Inc. (RES Americas)
Vestas Wind Systems turbines, built in Colorado, spin at the Cedar Point wind farm in eastern Colorado near Limon. The wind farm was developed and is operated by RES Americas of Broomfield.
Two Colorado companies are teaming up to build more wind farms across the United States.
Danish Vestas Wind Systems, with four manufacturing plants along Colorado's Front Range, said Friday it's reached an agreement to supply up to 610 megawatts worth of wind turbines to Broomfield's Renewable Energy Systems Americas Inc. — better known as RES Americas.
Vestas also announced Friday it had received the first order from the RES supply agreement, for 60 megawatts worth of wind turbines. The agreement calls for Vestas to supply its V100-2.0 MW turbine for all of RES's wind farm projects, up to 610 megawatts. Those projects are expected to happen in 2014 and 2015.
The two companies previously worked together building the Cedar Point wind farm near Limon, in eastern Colorado.
The Cedar Point wind farm, which started operations in 2011, has 139 of Vestas' V90-1.8 megawatt turbines. It's capable of generating up to 250 megawatts of electricity.
The wind farm was the first large-scale project to use Vestas's Colorado-made turbines.
Vestas said it couldn't say where the turbines destined for RES's projects would go in the United States.
Chris Brown, Vestas' U.S. president for sales and service in the U.S. and Canada, credited the extension of the federal wind Production Tax Credit for the orders, and said it should be extended.
The tax credit, worth $22 per megawatt produced from a wind farm, requires that some work be completed on a wind farm before the end of 2013 to qualify for the credit.
"Our U.S. manufacturing facilities will produce blades, nacelles and towers for these projects which will help keep our factory workers busy," Brown said.
"Vestas has a strong partnership with RES Americas and we appreciate their confidence in our products and services," he said.
Three of Vestas' four Colorado plants, which make wind turbine blades, nacelles, and towers, will supply the RES order. Only the Brighton blade factory will not be involved, as it focuses on Vestas' V112 and V117 blades, bigger than the V100 called for in the RES order, a company spokesman said.
Susan Reilly, president and CEO of RES Americas also credited the federal tax credit for creating a business environment to get the deal done with Vestas.
"We are very pleased to have finalized this agreement with Vestas," Reilly said.
"This is a great example of how the 'start-of-construction' language in the current production tax credit for wind energy is generating increased spending and creating U.S. manufacturing jobs. This purchase, which we expect to increase as these projects move forward, would not have occurred but for the decision Congress made to qualify any project that starts this year," Reilly said.