Vestas' Colorado wind turbine factories benefit from looming tax-break deadline
Source: Cathy Proctor, Reporter-Denver Business Journal • Posted: Monday, December 23, 2013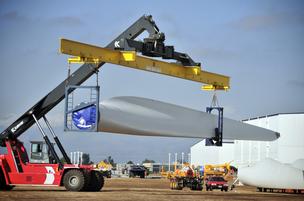 Photo courtesy of Vestas Wind Systems
A wind turbine blade at the Windsor blade factory in Colorado operated by Vestas Wind Systems.
A rush by wind farm developers to beat an end-of-the-year deadline to qualify for a federal renewable energy tax credit is translating into a crush of orders for wind turbines made by Vestas Wind Systems, which has four factories in Colorado.
Vestas on Friday reported it had locked in a firm order for 110 turbines, capable of generating 220 megawatts of electricity, from EDF Renewable Energy for two wind-energy projects in Texas. EDF is the North American renewable energy arm of French power company Electricite de France SA.
The order is part of a larger "master-supply agreement" between Danish manufacturer Vestas and EDF for 1,174 megawatt's worth of new turbines, which if built could collectively meet the needs of about 410,900 homes — or a community the size of Denver and Aurora.
Vestas said it expects to deliver the turbines, the V100-2.0 megawatt model, to EDF's Texas wind farms in the second half of 2014.
The EDF order announced Friday is the second one Vestas unveiled this week. The company announced Wednesday it had received an order from Enel Green Power North America Inc.
To date in 2013, Vestas has announced "firm" orders for 1,420 megawatts worth of turbines in the United States and Canada, enough to meet the needs of a community of nearly 500,000 homes — or all of Denver, Aurora, Centennial, Greenwood Village, Englewood and Littleton combined. All but one of those orders was announced in the second half of the year.
The crush of orders is due to wind developers rushing to meet an end-of-the-year deadline to "start construction" on their project in order to qualify for the federal Wind Production Tax Credit (PTC). The credit is worth $23 for every megawatt of electricity the wind farm produces for the first 10 years of its existence.
To qualify for the credit, developers have until Jan. 1, 2014, to do one of two things, under rules crafted by the Internal Revenue Service: Either physically move dirt at a site, or sign contracts and make down payments equivalent to at least 5 percent of the project's total cost.
"The PTC is a huge market driver, and it has been a driver for the recent orders," said Vestas spokesman Andrew Longeteig.
In 2012, when the credit was set to expire at the end of the year, wind developers held back on projects. The result was a dismal year for Vestas in North America. The company reported it received a mere 252 megawatts worth of orders — or enough to meet the needs of about 30 percent of Denver's homes.
Vestas responded by laying off hundreds of workers at its four Colorado plants in 2012, but the company is now ramping up its hiring efforts in response to 2013's orders.
Vestas has said it expects to hire hundreds of workers at its three plants in Brighton and Windsor in 2014.
"This order also will help to create more American jobs at our blade, tower and nacelle factories in Colorado," said Chris Brown, President of Vestas' sales and service division in the United States and Canada.
"Vestas looks forward to working with EDF Renewable Energy to build more clean-energy projects in Texas. It's one of the strongest wind-power markets in the world, and where we have already supplied turbines to nine major wind power plants in the state," Brown said.