Uber starts robot taxi service in SF for its own self-driving team
Source: By Carolyn Said, San Fransisco Chronicle • Posted: Thursday, March 8, 2018
Photo: Santiago Mejia, The Chronicle. Test operator Robert Phung backs up one of Uber's self-driving cars at the company's facility in San Francisco.
There's a new robot taxi service in San Francisco — but it's only for people working on Uber's self-driving car project.
The 300 local employees of Uber's Advanced Technologies Group can use a modified Uber ride-hailing app to request one of its self-driving Volvo XC90 sport utility vehicles to take them to and from their new offices at Pier 70 on the city's eastern waterfront. The free rides, which start Wednesday, will operate only in San Francisco.
The purpose is twofold: to give engineers a visceral sense of the technology they're developing and gain real-life feedback on operating a robot-taxi service — which is Uber's eventual goal.
"It's a really nice connection for engineers to have to what they're working on," said Brian Torcellini, Uber senior manager of testing operations. "You can look at metrics on paper, get emails and feedback about a vehicle's performance, but to actually, physically experience the nuances of the self-driving software is powerful. Having that connection keeps them focused on the overall context rather than one engineering challenge at a time."
As is true for all self-driving vehicles on California public roads, the cars will have backup drivers. The Department of Motor Vehicles recently created a system for companies to test self-driving cars without backup drivers but has not yet issued permits for it.
General Motors' Cruise division also operates a robot-taxi service with backup drivers for some of its South of Market workers. It has licenses to test 110 autonomous Chevrolet Bolts, according to DMV records.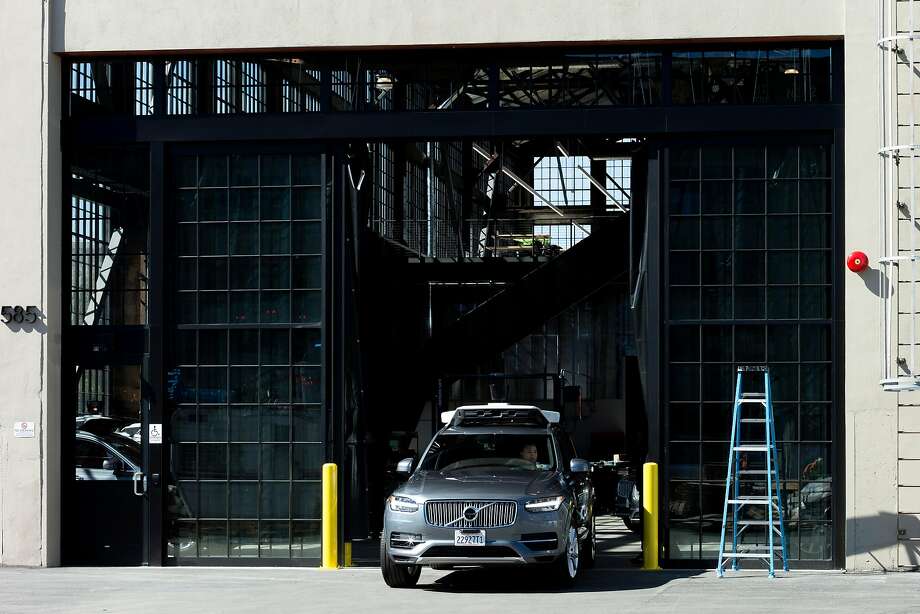 Photo: Santiago Mejia, The Chronicle
Uber's robot taxis still won't be available to the public for rides. Uber sought to offer rides without permits in 2016. Regulators threatened to revoke its vehicles' licenses and it backed down.
For her job as an Uber test operator, Michelle Ortega already rides in the self-driving cars all day long, either as a backup driver or in the navigator's seat. But she's looking forward to getting a different perspective on them.
"You work on something every day, so it's exciting to experience the progress and change yourself," she said. "This will give me a better understanding of what it will be like as a (ride-hailing) service."
Uber's ATG group, which was scattered around San Francisco, last week moved into a newly renovated expansive 130,000-square-foot space at Pier 70 featuring exposed brick walls and huge windows. Its fleet of about 20 self-driving Volvo XC90s is housed in a warehouse on the pier. The metallic-gray SUVs feature spinning rooftop lidar sensors (a laser form of radar) and white map decals on the rear passenger doors.
ATG, whose mission is to develop self-driving cars, has about 1,600 employees total, dispersed among San Francisco, Pittsburgh, Arizona and Toronto.
Uber operates paid robot-taxi rides with backup drivers in Arizona and Pittsburgh. Its Pittsburgh ATG workers can also request free rides to and from work.
The 28-acre Pier 70, once a mothballed industrial area, is undergoing a massive renovation, and there are construction workers and vehicles busily rehabbing dilapidated buildings. The waterfront area is a few blocks from the Warriors' forthcoming stadium — and from Mission Bay, where Uber is building a corporate headquarters campus, expected to come online in 2020.
Other Pier 70 tenants and prospective tenants, according to the San Francisco Business Times, include a Restoration Hardware showroom; Tea Collection, a children's clothing maker; Obscura Digital, a visual and film studio; and Gusto, which handles employees benefits for small businesses.