U.S. slaps steep tariffs on imported washers, solar panels
Source: By Eric Walsh, Reuters • Posted: Tuesday, January 23, 2018
WASHINGTON/LOS ANGELES (Reuters) – U.S. President Donald Trump slapped steep tariffs on imported washing machines and solar panels on Monday, marking his first moves to erect trade restrictions under seldom-used trade laws that allow unilateral actions.
 The decisions in the two "Section 201" safeguard cases followed findings by the U.S. International Trade Commission that both imported products "are a substantial cause of serious injury to domestic manufacturers," U.S. Trade Representative Robert Lighthizer said in a statement.
The washer tariffs exceeded the harshest recommendations from ITC members, while the solar tariffs were lower than domestic producers had hoped for.
Trump will impose a 20 percent tariff on the first 1.2 million imported large residential washers in the first year, and a 50 percent tariff on machines above that number. The tariffs decline to 16 percent and 40 percent respectively in the third year.
A 30 percent tariff will be imposed on imported solar cells and modules in the first year, with the tariffs declining to 15 percent by the fourth year. The tariff allows 2.5 gigawatts of unassembled solar cells to be imported tariff-free in each year.
Whirlpool Corp (WHR.N), which brought the washers "safeguard" case against rivals Samsung Electronics (005930.KS) and LG Electronics (066570.KS) after years of anti-dumping cases, stands to benefit from the decision.
"This announcement caps nearly a decade of litigation and will result in new manufacturing jobs in Ohio, Kentucky, South Carolina and Tennessee," Whirlpool Chairman Jeff Fettig said in a statement. "By enforcing our existing trade laws, President Trump has ensured American workers will compete on a level playing field with their foreign counterparts."
The move punishes Samsung, which recently began washer production in South Carolina, and LG, which is building a washer factory in Tennessee.
LG said in a statement that the decision hindered the ramp-up and employment prospects of its new plant, which will not begin production until later 2018 or early 2019. Sears Holdings' (SHLD.O) Kenmore brand sources its washers from LG factories in South Korea.
Production operator John White checks a panel at the SolarWorld solar panel factory in Hillsboro, Oregon, U.S., January 15, 2018. REUTERS/Natalie Behring
"We are very disappointed in this misguided decision, which far exceeds what the (ITC) recommended," LG said. "This is a textbook case about how certain companies can game the process to use trade laws to try to accomplish what they can't accomplish in the marketplace."
FIRST OF SEVERAL POTENTIAL ACTIONS
The decisions were the first of several potential tariff actions that Trump may take in the coming weeks and months. He is considering recommendations on import restrictions for steel and aluminum on national security grounds under a 1962 trade law and tariffs or other trade sanctions against China over its intellectual property practices.
WHR.NNew York Stock Exchange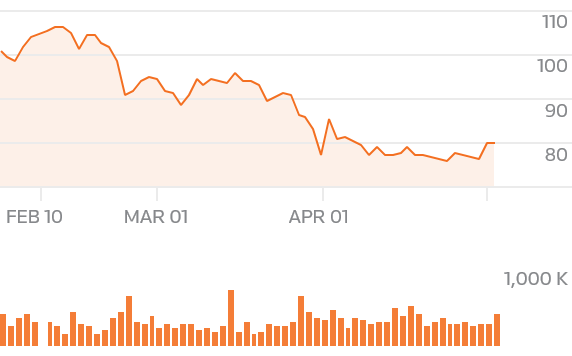 The intellectual property, washer and solar panel probes were done under a 1974 trade law that has been seldom invoked since the World Trade Organization was launched in 1995.
The domestic solar panel producers who sought the trade remedies wanted tariffs of 50 percent – the highest allowed under law. Petitioners Suniva and SolarWorld (SWVKk.F) have said they cannot compete with the influx of cheap imports, mostly from China.
Solar panel prices have dropped more than 30 percent since early 2016, benefiting buyers but harming producers across the globe.
The U.S. solar trade group, the Solar Energy Industries Association, campaigned against the tariffs and estimated the decision would effectively cause the loss of 23,000 U.S. jobs this year and result in the delay or cancellation of billions of dollars in solar investments.
"While tariffs in this case will not create adequate cell or module manufacturing to meet U.S. demand, or keep foreign-owned Suniva and SolarWorld afloat, they will create a crisis in a part of our economy that has been thriving, which will ultimately cost tens of thousands of hard-working, blue-collar Americans their jobs," said SEIA President Abigail Ross Hopper.
Suniva, majority-owned by Hong Kong-listed Shunfeng International Clean Energy Ltd (1169.HK), applauded the decision, saying: "Over the last 5 years, nearly 30 American solar manufacturers collapsed. Today the President is sending a message that American innovation and manufacturing will not be bullied out of existence without a fight."
Additional reporting by Eric Walsh in Washington; Writing by David Lawder; Editing by Mohammad Zargham and Peter Cooney