U.S. Energy Emissions Set to Rise for Second Straight Year
Source: By Benjamin Storrow, E&E News • Posted: Tuesday, December 20, 2022
Increasing demand for natural gas and oil has offset emissions reductions associated with coal and pushed U.S. energy emissions higher for a second consecutive year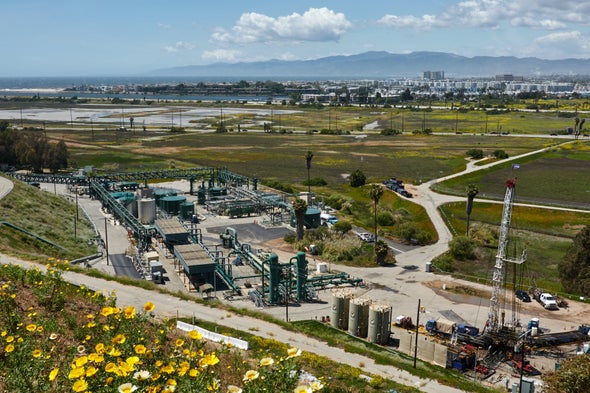 U.S. carbon dioxide emissions are set to rise for the second consecutive year, underscoring the challenges facing President Joe Biden as his administration works to curb the country's output of greenhouse gases.
American emissions from energy this year are projected to increase 1.5 percent over 2021 levels, according to recent projections from the U.S. Energy Information Administration. That followed a 7 percent increase in 2021 over 2020 levels.
Many analysts predicted emissions would rebound as the economy recovered from the Covid-19 pandemic. Still, the CO2increases over the last two years highlight the hurdles that face the Biden administration as it seeks deep cuts in CO2emissions. While coal consumption continued to fall in 2022, increasing gas and oil demand helped push U.S. CO2 output higher.
The increase comes in a year that saw Congress pass the Inflation Reduction Act, a sweeping climate bill with $369 billion in tax credits for clean energy. Yet analysts cautioned it would take time before the law helps push emissions lower. The administration has just started rolling out the tax guidance needed for those tax credits to be implemented.
"The challenge for any administration when you're doing these types of things is the results are never going to be quick," said Dan Klein, an analyst who tracks energy markets and emissions at S&P Global Commodity Insights. "Even if they are substantial, they will be delayed."
American emissions have fallen about 17 percent since 2005, driven in large part by falling coal consumption in the power sector. That trend continued in 2022. The country is on pace to retire about 11 gigawatts of coal capacity this year, or about 5 percent of U.S. coal capacity. The remaining coal facilities, meanwhile, saw power output fall. Coal generation through Dec. 14 was down 8 percent compared to the same time in 2021, according to EIA data.
The result is another drop in coal-related emissions. EIA thinks CO2 emissions from coal will fall from slightly more than 1 billion tons last year to 946 million tons this year.
Over the last decade, declining emissions from coal often were significant enough to push total American CO2 output down. But that didn't happen in 2022, as increasing demand for natural gas and oil offset the reductions associated with coal and pushed emissions higher.
Natural gas consumption is set to rise 5 percent in 2022 — driven mostly by higher demand from power plants and residential and commercial buildings. Oil demand, meanwhile, is projected to increase from 19.89 million barrels a day last year to 20.36 million barrels this year, an increase of roughly 2.5 percent. Emissions from gas and oil are expected to increase by 5 percent and 2 percent, respectively, according to EIA.
"The emission reductions we claim are almost exclusively from coal to gas and renewables switching. At some point we need to reduce other fuels other than coal in the U.S. and that is not happening fast enough," said Robert Jackson, an earth systems scientist at Stanford University. "The less coal there is the more we will have to decarbonize more difficult parts of our economy."
The United States can claim some recent progress in taming emissions. Growing renewable generation has helped temper the rebound in American CO2 output over the last two years. Wind and solar generation are up 15 percent and 27 percent, respectively, through Dec. 14, according to EIA data. That has kept American emissions below pre-pandemic levels.
Yet the road ahead is rocky. Biden wants to cut U.S. emissions 40 percent of 2005 levels by the end of the decade.
The CO2 rebound over the last two years highlights the trade-offs the administration made to pass an ambitious climate law, said Harrison Fell, a researcher at Columbia University's Center on Global Energy Policy.
Placing a cap or pricing emissions likely would have a more immediate impact on U.S. CO2 output — prompting companies to employ conservation strategies to avoid burning more fossil fuels, he said. Yet that approach lacked the political support needed for passage. Clean energy tax credits, by contrast, will take time to move the emissions needle because it will take years for companies to install the new technologies needed to cut CO2.
Subsidies also don't address the other logistical issues facing the energy transition, such as transmission capacity for renewables or backlogged interconnection cues.
"When you're not going to put a price on emissions, a cap on emissions, you're not going to get these clearly obvious reductions," Fell said. "It does raise questions about the certainty of the emission reduction you're going to get out of it. As much as everyone wants to tout the 40 percent reductions that come out of these large energy system models, a lot of things have to work."
The slow pace of U.S. emission reductions is one reason why scientists such as Jackson no longer think it is possible for the world to limit global temperature rise to 1.5 degrees Celsius.
Global emissions are up 1.8 percent through the end of October, driven largely by rising CO2 output in the United States, India and Europe, according to Carbon Monitor, an academic initiative that tracks emissions. The world likely would have seen an even bigger increase this year if not for China's strict no-Covid-19 policies, which led to economic lockdowns in the country.
The world has nine years at current emission levels before it reaches 1.5 C, according to the Global Carbon Project. While legislation such as the Inflation Reduction Act represents a welcome advance in U.S. climate efforts, it is not enough to alter the world's global emissions trajectory, Jackson said.
"I think we bear the most responsibility for not reaching 1.5 C," he said. "Our per capita emissions are higher than any major nation, including China. We are responsible for one quarter of all the fossil carbon pollution floating in the atmosphere. The world looks to us to lead on this issue and we dropped the ball."