Turbines propel Nebraska past a wind-energy milestone
Source: By NICHOLAS BERGIN, Lincoln Journal Star   • Posted: Thursday, May 4, 2017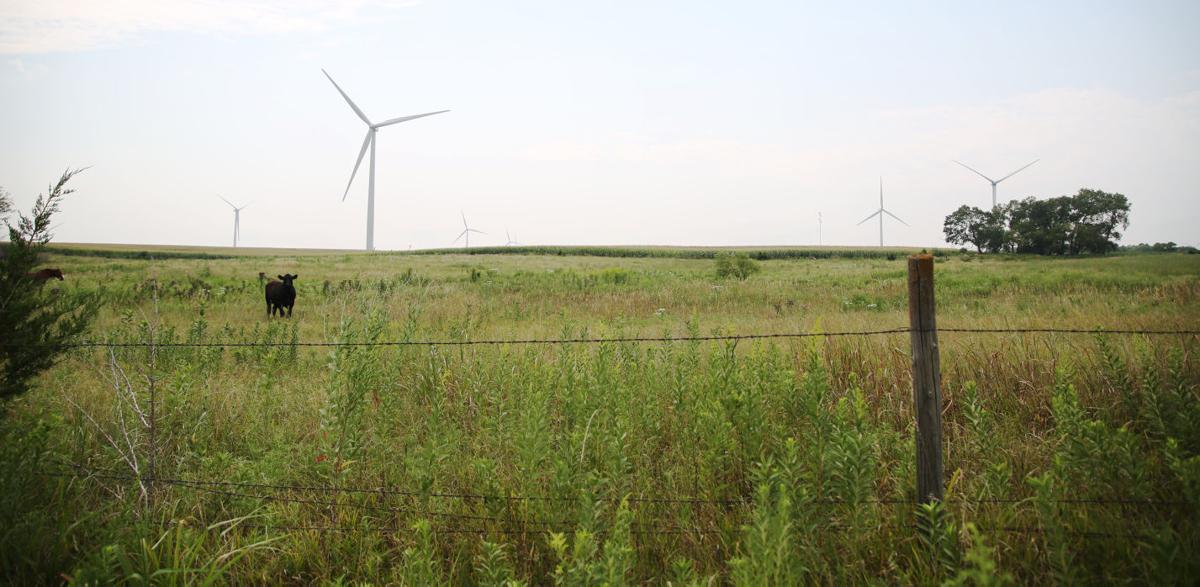 Nebraska has joined the "Gigawatt Club."
With the raising of Grand Prairie, a 400-megawatt wind farm in Holt County, Nebraska has sailed past 1,000 megawatts — or 1 gigawatt — of wind-generated capacity. It's the 18th state to join the club, according to the American Wind Energy Association.
For the first time last year, wind accounted for more than 10 percent of electricity generated in Nebraska, the association reported last month. Just five years ago, that figure was less than 3 percent, according to the federal Energy Information Administration.
Despite ranking fourth among states in abundant wind, Nebraska has long been a straggler when it comes to harnessing that resource. The state briefly climbed to 17th in wind energy production last year before being bumped down to 18th by New Mexico during this year's first quarter.
The fact that Nebraska has lagged behind other states such as Iowa — which became the first state to generate 35 percent of its electricity from wind in 2016 — could play into its favor in attracting future development, said David Bracht, director of the Nebraska Energy Office.
"Given the fact that Nebraska has really good wind and has, relatively speaking, developed less of that, we have more of our very best wind left to develop," Bracht said.
Another factor in Nebraska's favor is that its wind is some of the most-productive in the country. Turbines can only spin when the wind blows. Nebraska's turbines cranked out electricity an average of 45 percent of the time in 2016, the highest rate in the nation, according to the American Wind Energy Association.
 Nebraska's electricity is provided by a network of nonprofit public power districts that can't collect federal wind production tax credits like investor-owned utilities in other states can, a factor that has long been cited as a barrier to wind development.
Lincoln Electric System and other Nebraska utilities have tackled that obstacle by signing contracts to buy power from private turbine owners who collect the tax credits, such as Invenergy, which has a regional office in Littleton, Colorado, and owns Prairie Breeze II Wind Energy Center, a 41-turbine complex in Antelope and Boone counties.
The Omaha Public Power District recently struck a deal with Facebook to provide 100 percent wind power for a new data center to be built near Papillion.
The 200-turbine Grande Prairie is both the largest wind project in Nebraska and the biggest built in the United States during 2016. Its owner is BHE Renewables, a subsidiary of Des Moines-based MidAmerican Energy, which is in turn owned by Omaha-based Berkshire Hathaway. OPPD buys all the output it generates.
For the state to attract more wind farms, Bracht said, three things need to be present: wind, a market for selling the power and transmission lines to get the electricity to the buyer.
"We're a big state area-wise but we're a small state in terms of population. That translates to more limited transmission. That is one of the advantages that Iowa had in developing its wind, larger population and transmission all over the state," Bracht said.
The Nebraska Public Power District, the state's largest utility, is planning to build a 225-mile transmission line known as the R-Project, which could have a side benefit of creating a new highway for power to travel from rural Nebraska to power-hungry cities.
The purpose of the $361 million R-Project, initially proposed by the Southwest Power Pool, is to make electric service in the region more reliable. Based in Little Rock, Arkansas, the Southwest Power Pool oversees the electric grid and wholesale power market in 14 states on behalf of most utility and transmission companies.