Trump Can't Kill Solyndra Loan Office That Outperforms Banks
Source: By Brian Eckhouse and Eric Roston, Bloomberg • Posted: Wednesday, November 30, 2016
The federal energy program that's best-known for a failed loan to solar manufacturer Solyndra LLC is generating billions for the government and probably won't be going anywhere under Donald Trump.
The incoming president can't unilaterally kill the U.S. Energy Department's loan programs office. Only Congress can do that, with new legislation. And that's doubtful, according to the program's executive director and his two most recent predecessors, all appointees of President Barack Obama.
Not only has the program's loan portfolio generated about $1.65 billion in interest payments to date, its mission to support major energy projects fits into Trump's goal of stimulating investment in the U.S., said Jonathan Silver, a former head of the loan programs office.
"The President-elect was talking directly about significant investments in infrastructure," Silver said in an interview Monday at Bloomberg headquarters in New York. The program is intended to support not just clean-energy projects, but also industries Trump championed during the campaign, including coal, among other advanced fossil fuels. "This is infrastructure. It doesn't get any more infrastructure-ish than this."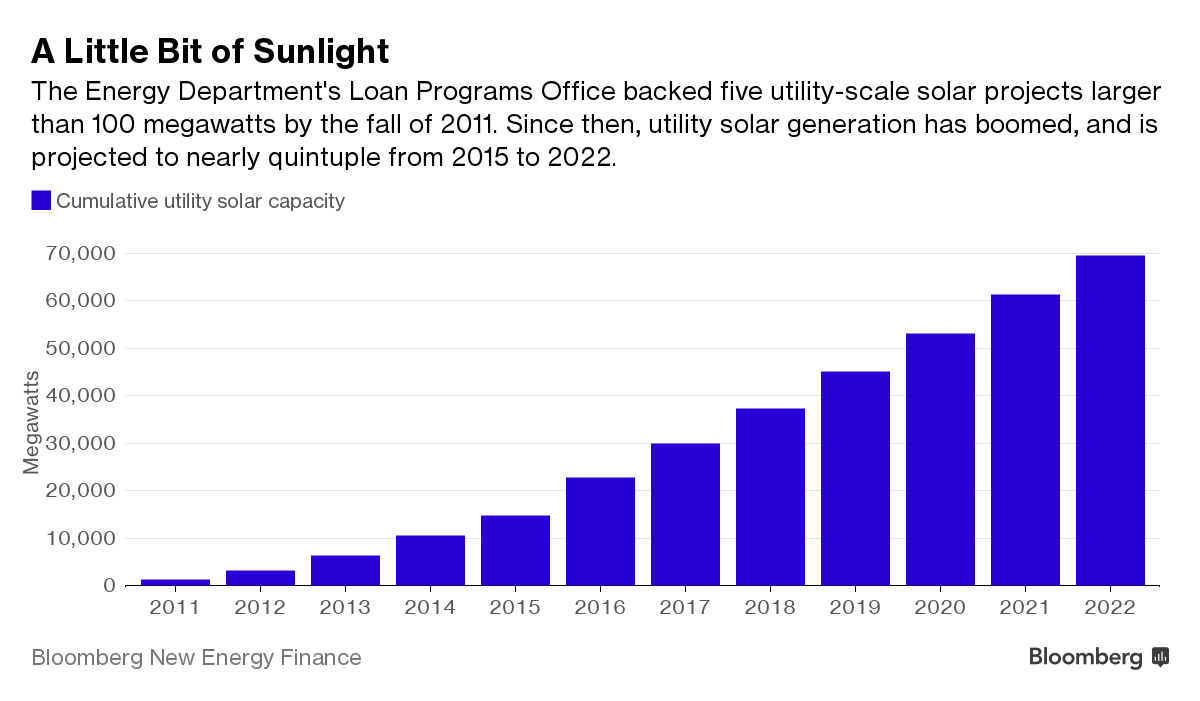 The office dates to the George W. Bush administration and was designed to offer loan guarantees to innovative energy projects that struggle to get financing from commercial and investment banks. In some cases it also approved loans funded through the Federal Financing Bank.
It supported the first big solar farms in the country and helped commercialize solar-thermal systems, advanced nuclear designs, molten-salt storage and other technologies. It has yet to finance an advanced fossil-fuel project.
Through a related automotive program, the office provided $465 million to Elon Musk's Tesla Motors Inc., which paid off the loan nine years ahead of schedule, and most recently completed a loan guarantee for a nuclear project in Georgia.
"It's not like we're competing with Citibank," said Peter Davidson, who succeeded Silver as head of the program and is now the New York-based chief executive officer of Aligned Intermediary. "Banks wouldn't make these loans because they consider them too risky."
It functions much like a venture capital investor, making bets on promising ideas, assuming some will fail while others will pay off in a big way, with the wins covering the losses. It's approved 30 guarantees and has a loss ratio of about 2.3 percent said Mark McCall, its current executive director.
That's better than most banks, Davidson added.
"It's hard to know what not to like," Silver said. "The program is intended to provide a funding source of last resort for innovative high-growth technologies in the fast-growing industry in the world."
Indeed, the program has paved the way for commercial lenders to step in later, said Silver, who's now managing director at Tax Equity Advisors in Washington. It backed the first five U.S. utility-scale photovoltaic solar farms, and since then at least 45 such projects have been developed.
Solyndra Failure
Still, the 2011 bankruptcy of Solyndra, which got a $535 million guarantee, remains its best-known miss. Republicans in Congress painted the company as a symbol of Obama's flawed energy strategy, and its collapse showed the White House "wasting our tax dollars," Trump said in a 2012 tweet. The Trump transition team hasn't announced a nominee for Energy Secretary and didn't respond to an e-mail seeking comment Monday.
While it would take new legislation to shutter the program, McCall said every new loan must be approved by the Energy Secretary. The program still has about $40 billion allocated for loans, and has pending applications seeking more than that, he said.
Whoever takes over the Energy Department could thus effectively stifle the program simply by declining to sign off on new applications.
One or more new guarantees are possible before Obama leaves office, according to Stephen Munro, an analyst at Bloomberg New Energy Finance in Washington. "That's a lever that the Obama administration can push without Congressional assent, and it's pushing every clean-energy lever before it leaves office."
The entire program is expected to bring in about $5 billion, even with the losses from Solyndra and other bets that didn't pay off.
"Solyndra is not a legacy," Silver said. "The legacy is a portfolio of projects."