Trump Budget Proposal Would Slice EPA Spending by Nearly a Third
Source: By Jennifer A Dlouhy, Bloomberg • Posted: Thursday, March 16, 2017
Proposal would axe loan guarantees for clean energy, vehicles
Budget proposes to eliminate chemical-safety watchdog
President Donald Trump is proposing sweeping cuts to federal environmental programs, including climate change research and grants meant to spur the development of advanced energy technologies.
Trump's proposal, laid out in a budget proposal to Congress being released Thursday, is sure to face bipartisan push back from the lawmakers who actually write the government's final spending plan and treasure some of the programs the president is targeting for elimination, including initiatives that help build drinking water systems in rural Alaska Native villages and protect the Great Lakes.
But the document sends a clear signal about the Trump administration's desire to dismantle the architecture former President Barack Obama built across the federal government to combat climate change and promote low-carbon energy production. It coincides with other planned policy changes to blunt the influence climate change considerations play in government decisions, from what areas should be open for oil drilling to how to boost the efficiency of household appliances.
Read more: Cutting Climate Spending Made Harder by Obama Budget Tactic
Trump's chief target is the Environmental Protection Agency, which would see its budget slashed to $5.7 billion, a 29.6 percent reduction from $8.1 billion in fiscal 2016. Roughly 3,200 employees also would be culled from the agency's 15,000-member workforce — a reduction the White House cast as a side effect of its plans to shift the EPA's focus toward its "core legal requirements" of safeguarding the air and water.
"The president wants a smaller EPA. He thinks they overreach," said Trump's budget director, Mick Mulvaney. "You can't drain the swamp and leave all the people in it."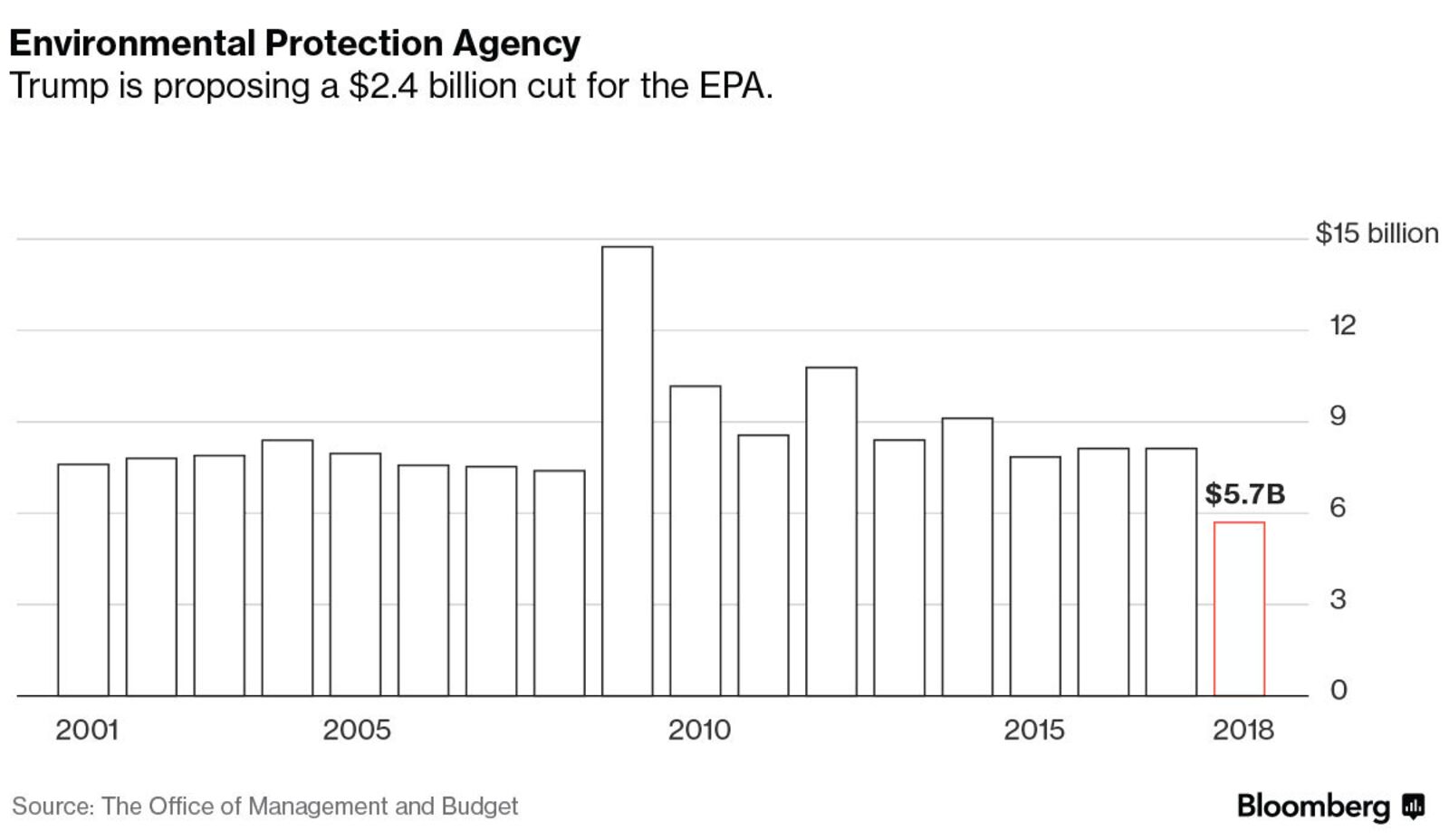 Trump also is asking Congress to stop funding $100 million worth of the EPA's climate work, including international initiatives, research programs, partnerships and for the Clean Power Plan, a rule requiring states to pare greenhouse gas emissions from electricity. EPA Administrator Scott Pruitt already is slated to rescind that regulation, which served as the centerpiece of Obama's climate agenda.
Trump has made clear that his priorities include advancing domestic oil, gas and coal development — not confronting climate change tied to the use of those fossil fuels. The president has described climate change as a hoax perpetrated by the Chinese, and Pruitt last week discounted the role humans play in driving the phenomenon.
The administration has also proposed ending funding for United Nations climate programs, including the Green Climate Fund, which helps steer money to countries hit hard by rising seas, more intense storms and other consequences of a warming planet. The fund is a key part of the United Nation's Paris climate accord.
Critics said the proposed budget cuts would undermine the leadership role the U.S. has played internationally in addressing climate change, including helping to persuade other countries to agree to reduce heat-trapping emissions.
"This administration has decided that rather than becoming part of the worldwide solution to global climate change, the United States will regress environmentally behind a mantra of laissez-faire capitalism," said John J. O'Grady, head of the American Federation of Government Employees unit that represents EPA employees, responding to expected EPA cuts initially thought to be about 25 percent.
'Starvation Diet'
"The U.S. EPA is already on a starvation diet, with a bare-bones budget and staffing level," O'Grady said in an email to fellow union members before the proposal was released. "The administration's proposed budget will be akin to taking away the agency's bread and water."
Some environmental enforcement programs could be pared, according to the White House Office of Management and Budget, which describes the administration's plans to concentrate "enforcement of environmental protection violations on programs that are not delegated to states."
At the National Oceanic and Atmospheric Administration, a slew of grants and programs that support coastal and marine management, research and education also would be eliminated.
The administration also wants to eliminate funding for the Chemical Safety Board, a federal agency that probes accidents at refineries and other industrial sites. Although the independent board's work has been hailed by safety advocates, it's viewed skeptically by some energy companies and their allies on Capitol Hill.
The Trump administration is seeking to deeply slash — and in some cases abolish — Energy Department programs Obama used to help advance clean-energy technologies, including loan guarantees and incubators. For instance, Trump aims to shutter the Advanced Research Agency-Energy, or ARPA-E, program, which steers government investment toward energy research that is risky but has the potential to yield breakthrough technologies such as flying wind turbines or motor fuels from algae.
Science Spending
Another $2 billion in cuts would be extracted from the Office of Renewable Energy, the Office of Fossil Energy, the Office of Nuclear Energy and the Office of Electricity and Delivery Energy Reliability. Those programs would be re-focused on "limited, early stage" research "where the federal role is stronger," according to a White House budget document.
Another $900 million would be trimmed from its Office of Science.
Those cuts would be offset by an increase in spending on the National Nuclear Security Administration that oversees the U.S nuclear arsenal. Overall, the Energy Department's budget would shrink about 5.7 percent — or $1.6 billion — over its enacted fiscal 2016 level.
The White House also is aiming to revive a long-stalled plan to store nuclear waste in Nevada's Yucca Mountain, a repository mandated by Congress in the 1980s but scuttled by the Obama administration. Trump is requesting $120 million to restart licensing activities for Yucca, which also has been a priority for Republicans in Congress.
The proposal seems to run counter to Energy Secretary Rick Perry's recent endorsements of the work done by ARPA-E, including his March 8 tweet that innovators supported by the program "are key to advancing America's energy economy."
At the EPA, Pruitt also appears to have lost the initial round of his battle to stave off cuts to the Superfund program that support the cleanup of toxic sites — slated to fall about 30 percent under Trump's proposal. Widely popular grants to local governments, however, would mostly survive intact, with proposals to modestly increase funding for state revolving funds and keep spending flat on the Water Infrastructure Finance and Innovation Act that supports infrastructure projects. Pruitt has made that a priority.
More than 50 EPA programs would be eliminated altogether under Trump's plan, including the Energy Star initiative administered with the Energy Department to help consumers easily identify efficient appliances and building supplies. If Congress goes along, the program could survive voluntarily in the hands of industry. A grant program to help state and tribal agencies reduce air pollution in smoggy areas also would be killed.
Many of the proposed cuts will face opposition in Congress, with Democrats and Republicans likely to try to save spending on initiatives that help communities withstand floods, hurricanes and droughts associated with climate change. On Wednesday, a group of 17 Republicans also issued a statement endorsing climate science and pledging to support measures to study the phenomenon and mitigate its impact.