Truck and Policy Makers Will Need to Tag Team Against Emissions
Source: By Nikolas Soulopoulos, Bloomberg • Posted: Tuesday, February 28, 2023
The industry is technologically capable of meeting the EU's tough targets, but massive mobilization will be required.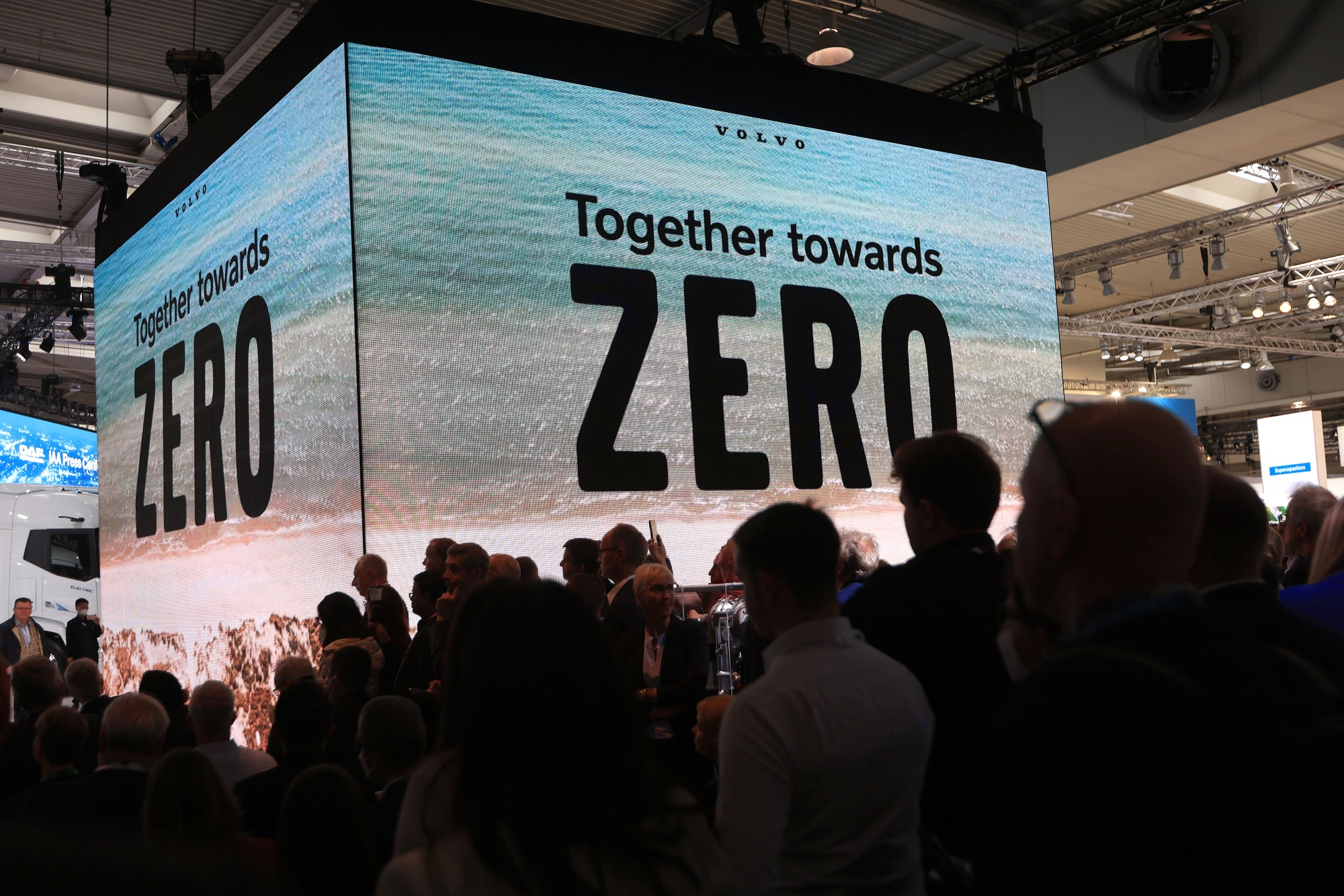 Most people have yet to see one on the streets of Europe, but the EU wants to make them ubiquitous within a few years.
Trucks using batteries or hydrogen fuel cells instead of diesel engines will need to make up the vast majority of new sales by 2040 under plans to reduce CO2 emissions from medium- and heavy-duty vehicles by 90% from 2019 levels.
When the Commission first put forward that proposal for passenger cars in July 2021, 17% of quarterly passenger vehicle sales were already fully electric or plug-in hybrid models.
By contrast, only around 700 trucks that run on batteries or fuel cells were sold in 2022 — about 0.2% of the total. The proposal also includes upping the interim target for CO2 reduction by 2030 to 45%, which could require sales to increase more than 100 times within eight years.
The passenger car and commercial vehicle industries operate at different timescales, with trucks staying in production for at least 10 years before they're renewed. This means the 2040 target falls within only two typical product cycles.
Such massive expansion in manufacturing capacity will require displacing diesel vehicle production earlier than expected. Batteries and fuel cells can replace the diesel engine only in specific duty cycles for now, due to cost, fuel availability and operational characteristics.
It seems that the European commercial vehicle sector — manufacturers, fuel providers and logistics operators — is unprepared to meet these hefty goals.
So, what does the way forward look like?
The economics of owning and operating electric and hydrogen trucks — their total costs of ownership — are improving rapidly, according to a BloombergNEF analysis. That is more so for battery-powered heavy vehicles used in urban distribution, drayage, municipal services and similar applications, which can reach TCO parity with equivalent diesel trucks within the next few years.
This has prompted some of the largest manufacturers, such as Daimler Truck, Volvo and Volkswagen's Traton, to begin series production and set sales targets for zero-emission trucks. Several new entrants, including Nikola, Tevva Motors and Volta Trucks, also have emerged in the last few years and have started selling electric and hydrogen models. BNEF data show that more than 200 such trucks were available for order in Europe at the start of 2023.
More supply and better economics, especially for battery-electric trucks, will support higher sales but are not enough to lead to the adoption rates required under the Commission's proposals.
Electrifying vehicles carrying heavy loads over longer distances is particularly difficult. Here, all-battery trucks also will be the first to be used, as close to 60% of road freight in Europe consists of trips less than 500 kilometers (311 miles). Models from Daimler and Volvo with electric ranges between 300 and 500 kilometers will be on sale by next year, while Tesla has said that its Semi — which is only available in the US for now — can travel about 800 kilometers on a charge.
These early deployments, development of the supply chain and familiarity with battery technologies could leave a smaller market for hydrogen fuel cell trucks, which are set to be introduced en masse later in the 2020s.
Regardless of the technology, the economics of zero-emission long-haul trucking will remain challenging. The recharging and refueling infrastructure will be a constraint for mass deployment. It'll be hard to meet the EU's proposed CO2 reduction targets without addressing both these issues.
A blueprint for support are the generous tax credits and grants provided by the Inflation Reduction Act and the Bipartisan Infrastructure Law in the US. Such policies are already drawing investment in clean-vehicle supply chain in the country at a time when European policies are far less comprehensive.
Meeting the EU's targets is within the industry's technological capabilities, but will require a massive mobilization of entrepreneurial resources from both businesses and policymakers.