Top Wind Turbine Maker Plans to Raise Prices
Source: By Will Mathis, Bloomberg • Posted: Thursday, May 6, 2021
One of the world's biggest wind turbine makers Vestas Wind Systems A/S will hike its prices as the costs of steel and transportation increase amid a global commodities boom that's contributing to a rising risk of inflation.
It's an early sign that the surge in commodities prices and disruptions in supply chains could interrupt a trend of perpetually falling costs for green energy.
Benchmark prices for steel in China, the world's top producer, have gained 25% this year, pushing up the cost of one of the main materials in wind turbines. At the same time, Vestas has seen freight rates soar, increasing the cost of transporting its products to its customers around the world.
"There's no way we will and can absorb that," Vestas Chief Executive Officer Henrik Andersen said Wednesday in an interview. "Projects that come in now will see a reflection that it has become more expensive to get the turbines."
Commodities Jump to Highest Since 2011 on Rebound From Virus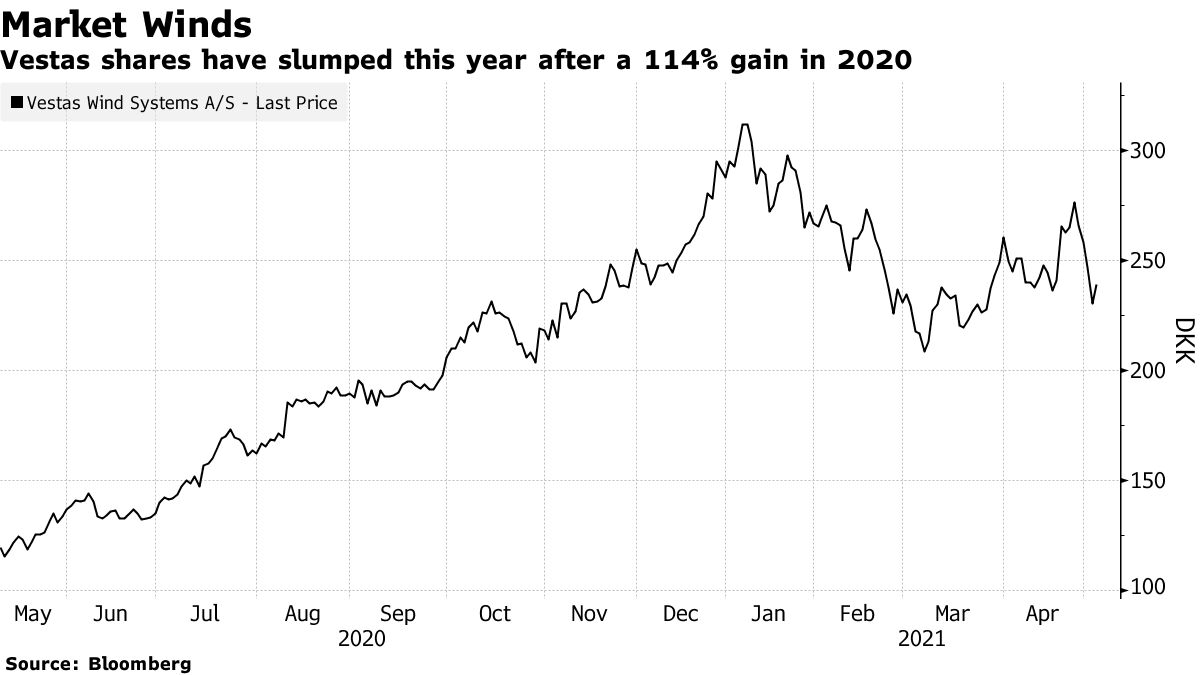 Earlier Wednesday, the Denmark-based firm reported a first-quarter loss before interest and tax and before significant items of 71 million euros ($85.2 million), compared with analyst estimates for a gain of 51.7 million euros.
Despite the company's first-quarter results suffering from supply-chain bottlenecks, Vestas rose as much as 9% on Wednesday paring its decline for this year to about 14%. It follows a 114% surge in 2020.
Vestas had previously said the first three months of 2021 would be slow and it typically reaps most of its earnings in the second half of the year. But the company has also suffered from supply chain issues, including having some containers held up when a ship was stuck in the Suez Canal in March. At the same time, there have been long wait times in some harbors that it relies on to move components and turbines.
Inflation Risk Intensifies With Supply Shortages Multiplying
"I didn't have one day where things went positively, from the world of supply chain or logistics or pricing of components," Andersen said. "If we have components or parts stuck in the harborside it does slowly ripple up."
The rocky start to the year comes as competition is heating up in the wind turbine market. Last year, BloombergNEF found Vestas had been knocked off its spot as the world's biggest turbine supplier by General Electric Co. While the Global Wind Energy Council reckons Vestas remains the largest player in the market, either way, the company will need to maintain rapid growth as the market for wind turbines surges in the coming years.
Vestas said it plans to make up for the slow start to 2021 and maintained its guidance for the full year. The company expects full-year revenue between 16 billion euros and 17 billion euros. First-quarter revenue was 1.96 billion euros, a 12% drop from a year earlier.
(Updates throughout with additional details, CEO comments on rising prices.)