This Is What the Gas Station of the Future Will Look Like
Source: By Danny Lee, Bloomberg • Posted: Sunday, October 16, 2022
As EV sales grow, Shell is reimagining the filling station as a place with coffee, snacks, and space to hang out while recharging the car
Drivers filling up at the Shell station on Fulham Road in southwest London can get coffee, sodas, snacks, and basic groceries such as milk and eggs. One thing that's not on offer: gasoline. Since January the station has been all-electric, with the old gas pumps replaced by 10 rapid chargers set under soaring wood awnings where people can plug in and top up. "It gives us all a glimpse into the future of mobility," says Istvan Kapitany, who oversees Shell's global retail operations.
With 46,000 stations in 80 countries, Shell is the world's biggest gasoline retailer. The Fulham station is one of several prototypes it's planning as more cars shift to battery power, aiming to get feedback on what works while laying the groundwork to hit a target of net-zero emissions by 2050. Shell says it has 9,000 branded charging points like those in Fulham and operates an additional 95,000 in places such as garages and office parks. It aims to hit a half-million by 2025—putting it well ahead of rivals such as Exxon, TotalEnergies, and BP.
Charging can be done more or less anywhere there's a plug, so the issue is one that the oil giants, regional chains, and independents that run the world's 770,000 filling stations will confront in the coming decades. What's the value of their real estate in cities and on highways worldwide? Will people still show up if recharging takes 30 minutes or more? Is there a business model that will work for filling stations when people can also charge up at home, the office, or the mall?
One advantage they can bring is faster fill-ups: as little as 10 to 20 minutes vs. many hours when using a standard charger at home. And they typically occupy prime locations with lots of traffic, where tired and hungry drivers are likely to grab a coffee or a snack while charging their cars, says Rob Smith, an analyst at S&P Global Commodity Insights. "In some ways, fuel retail has more opportunity to ride the energy transition wave than fuel refining or oil production," he says. "But as fuel demand declines, they must become purposeful destinations for customers."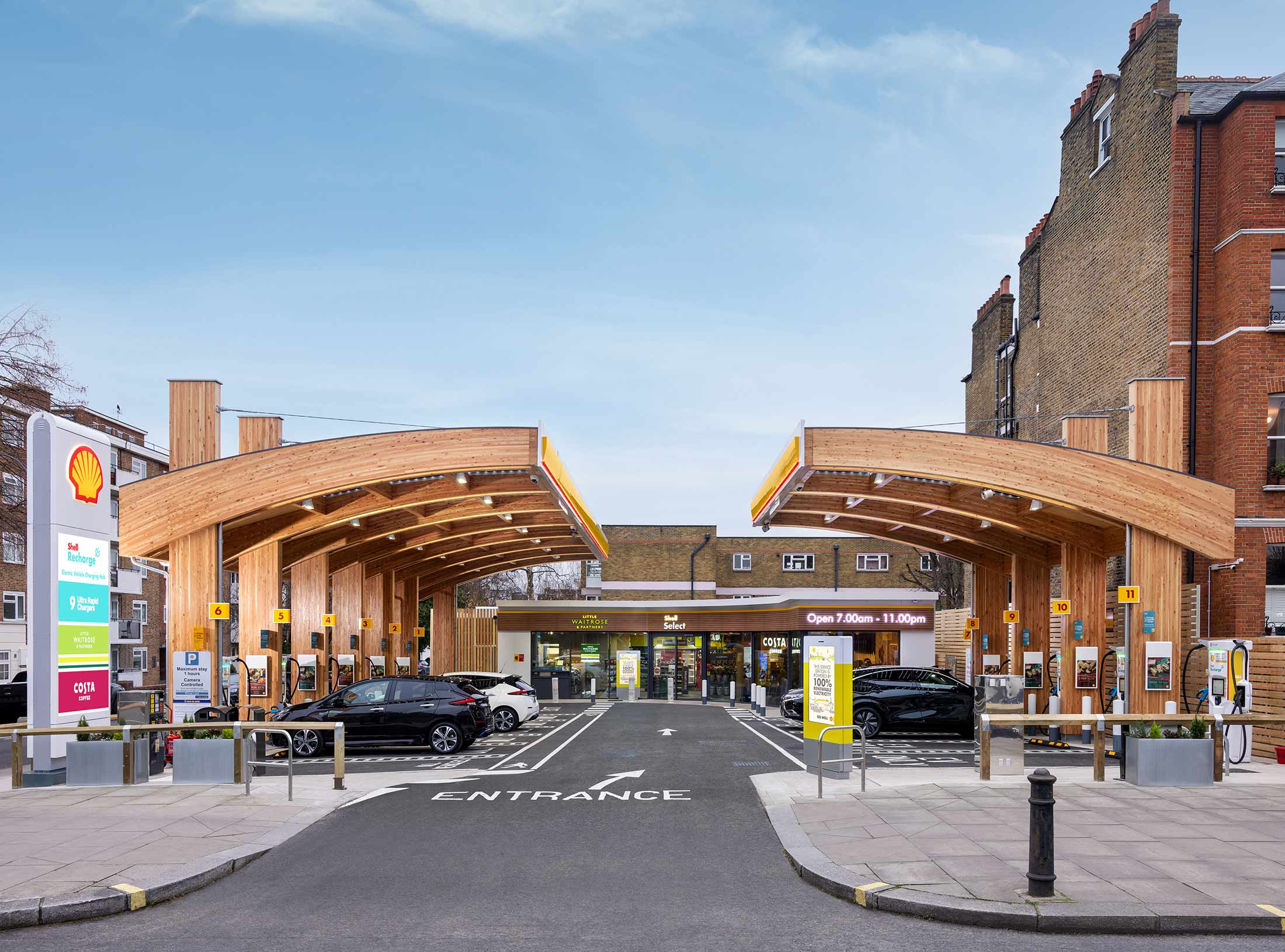 McKinsey & Co. expects demand for gasoline to fall to $79 billion by 2030 from $87 billion in 2019. Nonfuel retail sales at stations will rise by more than a third over the same period, to $30 billion, and EV-charging revenue will hit $20 billion by 2030, McKinsey predicts. But McKinsey expects about 80% of charging to be done at home or the office, leaving Shell and other gas station operators to tussle over the remaining 20%.
And even there, they'll face growing competition from the likes of Tesla Inc., which runs 35,000 supercharger stalls globally, and dedicated providers such as ChargePoint, Blink Charging, and Volkswagen's Electrify America. Another threat is swapping stations, where a spent battery is removed from the car and replaced with a fully charged one. Most companies offering charging services, though, don't have a retail component to generate extra sales.
Even though EVs will account for more than half of passenger car sales as early as 2033, BloombergNEF predicts, tens of millions of gasoline-powered cars will still be on the road for at least a decade after that. So Shell says it has no plans to reduce the number of its outlets, and while it's rebranding them as "mobility sites," few will go all-electric anytime soon. But the company is hedging its bets with stations that can provide various other fuels such as liquefied natural gas and hydrogen.
At the Fulham facility, where the underground tanks were dug out and the awnings are topped with solar panels, fully charging a Tesla Model 3 takes about a half-hour and can cost more than £35 ($39). For now, a more likely model is Shell's station at Tampines, a residential neighborhood near Singapore's airport. The company has added two charging points to its 14 fuel pumps, and there's also a McDonald's, a car wash, and a space with comfy chairs and tables where drivers can hang out while their vehicles are plugged in.
Shell is busy cementing deals with fast-food and coffee chains for its stations in various markets. And in China, the world leader in EVs, it's in the midst of a rapid expansion, with 3,000 chargers there. In one station in the coastal city of Xiamen, it has a dozen charge points, 28 fuel pumps, and a facility for swapping out batteries using a system designed by Chinese EV maker Nio Inc. Shell has 100 such sites in the works in China, and it's planning to introduce them to Europe this fall. "We are preparing for the future, which starts now," says Amr Adel, chief of Shell's retail business in Asia. "Our growth ambition continues."