This Huge Wind Turbine Floating on Water Is Fukushima's Energy Solution
Source: By Bryan Lufkin, Gizmodo • Posted: Wednesday, June 24, 2015

A mere 12 miles from the wrecked Fukushima Daiichi nuclear plant will soon sit a 620-foot, 1,500-ton windmill atop a 5,000-ton podium. It'll be the biggest floating wind turbine on Earth, and it could usher in a new age of green energy for a region largely fed up with nuclear energy.
The turbine, completed Monday, will generate up to 7 megawatts of electricity, making it Japan's most powerful wind turbine, and the most powerful floating turbine in the world. That's good news for Japan, a country that's shut down nuclear power plants in the wake of the 2011 earthquake and tsunami and subsequent meltdown.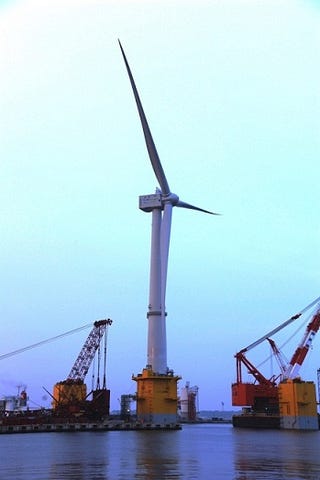 The beast of a turbine sports three 270-foot-long blades and is built to stand against winds nearly 200 mph. It'll be part of a wind farm that will include three turbines total, and will be stationed in the Pacific in the coming months. One is already in place in the ocean—that smaller one generates 2 megawatts of electricity.
The $401 million Fukushima wind farm project is a government-sponsored collaboration among 11 companies and research orgs, like Mitsubishi, Hitachi, and the University of Tokyo.
Japan's a mountain-filled island, so land is at a premium, making it hard to build sprawling energy infrastructure. Luckily there are a lot of reservoirs that irrigate the country's huge rice industry, so the country's been plopping massive solar panels on such water bodies. Countries like the UK and India have also rolled out buoyant solar panels recently, so it's a trend that's catching on outside of Japan. As far as wind turbines go, putting them out to sea is a plus because you don't have to worry about land restrictions, and you get the benefit of stronger winds.
In the future, we'll be getting our energy from more offshore, floating behemoths like this one in Fukushima.