The Massive Wind Park the Virus Couldn't Stop
Source: By Lars Paulsson and William Mathis, Bloomberg • Posted: Thursday, June 11, 2020
The pandemic stalled projects all over the world, but some renewable energy companies saw it coming.
 Deep in one of Sweden's many fir forests, a 150-meter crane juts out between the tree tops. Built especially for the job, one by one it hoists three 68-meter blades to complete a wind turbine as tall as the London Eye. The yellow crane is then slowly dismantled, moved piece by piece, and rebuilt to repeat the maneuver.
It's painstaking work for an industry in a hurry.
The $8 billion Markbygden site, set to be Europe's largest onshore wind farm, kept construction going through lockdown, helped by Sweden's laissez-fire approach to the virus. But it's emblematic of an industry that—globally—has weathered the pandemic better than its peers in conventional energy.
As nations plan to invest almost $10 trillion in wind and solar energy by 2050 to hit climate targets, the pressure to keep installing turbines as tall as skyscrapers and put ever more solar panels in fields has never been greater.
"Over this period we've managed to demonstrate just how resilient and robust our business model is," said Jonathan Cole, the managing director for offshore wind at Iberdrola SA, which completed a U.K. wind project and a Spanish solar plant at the height of the crisis. "We barely missed a step."
There are almost 400 onshore wind parks underway in Europe, according to Oliver Metcalfe, an onshore wind analyst at BloombergNEF.
While the renewables industry's logistics have been severely tested, efforts have been in place to keep complex global supply chains moving.
A contractor works inside a wind turbine tower waiting to be installed at the Markbygden wind park project near Pitea, Sweden, in November 2019.
▼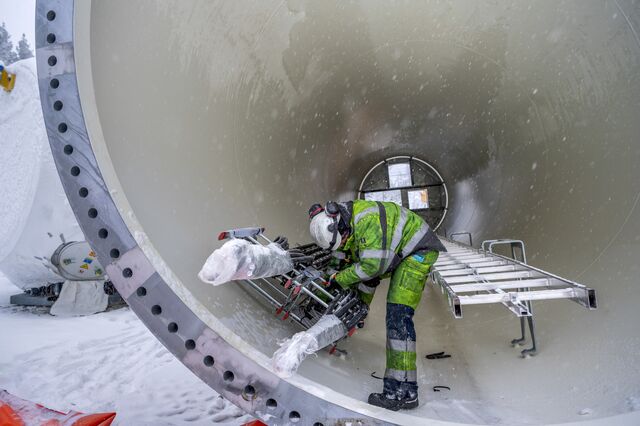 For Markbygden in Sweden, it means 1,101 turbines will be spinning by 2026, enough to meet 8% of the nation's electricity demand. Lawmakers want the technology to help replace the output of the country's aging nuclear reactors that are gradually closing.
Delays and complications at the wind farm have also been limited by the fact that the Swedish government took a different route to combat the virus than other nations. It refused to shut down its economy, instead relying on citizens to respect social distancing.
That meant regular flights to the local airport continued at a time when most of Europe's aviation industry closed. Many workers come from mainland Europe, and some from as far away as Brazil.
As many as 79 tower sections, along with rotor blades, were shipped from Spain and Portugal in March and April. All ships sail to the discharge port of Pitea, about 30 kilometers (18.6 miles) from the project site. Depending on location, it can take two to three weeks to get the pieces to the site using both sea and road transport.
"As it looks now, we'll be able to stick to our plans for this year, but there is of course a lot of uncertainty with the corona development and its impact," said Pamela Lundin, head of Swedish operations at Enercon GmbH, a turbine supplier for the Markbygden wind park.
But delays to some projects are inevitable. The International Energy Agency forecasts that renewable power installations are set to decline for the first time in decades. That's led to some of renewable energy's big-hitters to take unprecedented measures to maintain momentum.
Back in January, Gregorio Acero, the global head of quality and health, safety and environment at Spanish wind turbine manufacturer Siemens Gamesa Renewable Energy SA, heard about the spread of the coronavirus in Wuhan and called colleagues in China. Their message was to start acting fast.
Acero began stockpiling tens of thousands of masks and finding labs that could do testing in countries where the company operates before lockdowns started. While some of its factories had to shut and the company reported a 56-million-euro ($62 million) hit to its earnings because of the virus, much of its business has continued.
The measures Siemens Gamesa took meant it was well prepared about a month before any European country started implementing lockdown measures, Acero said. He was shocked that governments in Europe didn't react faster.
"The general perception was, 'Nothing is happening don't worry,'" he said. "There wasn't a single country that was really acting according to the situation."
Vestas Wind Systems A/S, another wind industry titan, has worked with governments to allow workers needed for installations to be able to enter countries that have implemented lockdowns. The company got permission from the Danish government for a group of Polish workers to travel through the country to get to a Norwegian project, said Chief Operating Officer Tommy Rahbek Nielsen.
A crane winches a section of a wind turbine tower into place ahead of installation.
▼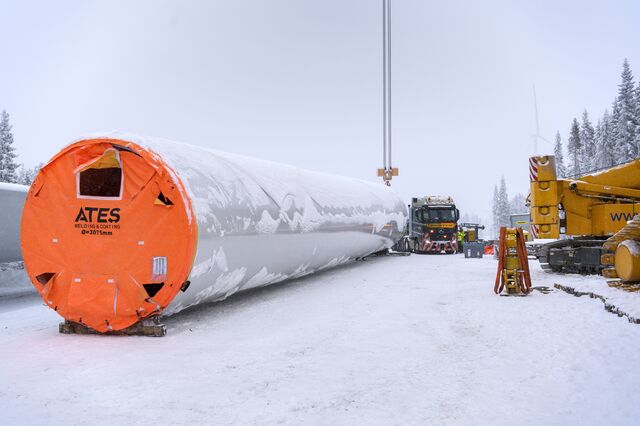 In the solar industry, transportation proved to be one of the most difficult tasks to complete during the pandemic. Most of the world's solar panels are made in China, where the outbreak began, and then shipped to ports around the world.
One of the world's biggest producers, Xi'an-based LONGi Green Energy Technology Co., shifted some of its transportation to railways to make up for lost time when factories were closed and to avoid delays in ports, according to Shang Yaohua, head of branding and public affairs.
That included sending its solar panels on a 5,000-mile freight train route from its base in Shaanxi Province, through Kazakhstan, Russia, Belarus, Poland and Germany to the Netherlands.
Taking the train is more expensive, but cuts the transportation time in half, Shang said. LONGi also moved more shipments onto railways in the U.S. because American ports have reduced capacity to process goods.
In the U.S., Florida-based NextEra Energy Inc. Chief Executive Officer Jim Robo said in April the market opportunity for low-cost renewables "has never been greater" in the current environment. NextEra, which became the world's largest utility by market capitalization thanks largely to its clean energy business, added more than 1.6 gigawatts of wind and solar projects to its pipeline in the first quarter of the year, Robo said.
Earlier last month, powerhouse Dominion Energy Inc. in Virginia issued a request for proposals soliciting bids for as much as 1 gigawatt of solar and onshore wind generation and as much as 250 megawatts of energy storage. The company said it's planning to spend almost $10 billion on renewables through 2024 as the company moves to comply with an ambitious state mandate approved by lawmakers in March.
Back at Markbygden, developed by closely held Svevind AB, it takes about a week to build a turbine. The towers stretch about 130 meters into the air and the nacelle, which houses the machinery at the top of the pole, weighs in at about 100 tons and is placed there with the help of a massive crane.
Svevind's history goes back several decades. Wolfgang Kropp, its founder and chief executive officer, had been working for a Siemens AG company in the printing business, but got his start in wind power in Germany in 1993. A friend convinced him to look at Sweden because of its good wind speeds and lower population density.
"I think we will come back and renewables will continue to grow," Kropp said. "They have to—it's the solution for the long term."