The Harder Texas Wind Blows the Further Power Prices Plunge
Source: By Harry Weber, Bloomberg News • Posted: Tuesday, November 17, 2015
Texas can thank record wind output for a slump in power prices to the lowest in five years.
On-peak power at the North hub, which includes Dallas, slid $4.08, or 23 percent, to $13.51 a megawatt-hour for the hour ended at 4 p.m. local time from Nov. 13, grid data compiled by Bloomberg show. It's headed toward the lowest full-day average since at least Nov. 9, 2010.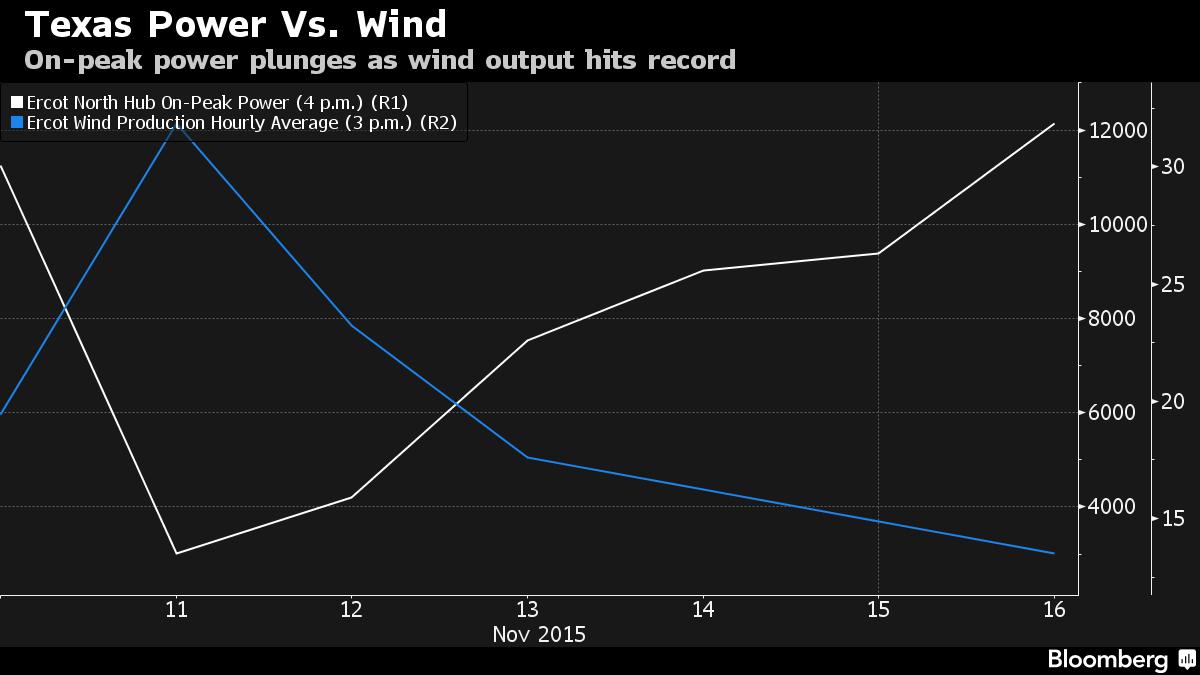 The price plunge illustrates how sensitive U.S. power markets havebecome to the swings in intermittent renewable energy resources such as wind, which accounts for more than 10 percent of generation on the Texas grid.
Wind output on the Electric Reliability Council of Texas Inc. network reached 12,354 megawatts Monday afternoon, Robbie Searcy, a grid spokeswoman, said in an e-mail. The average for the hour of 3 p.m., 12,072 megawatts, was above the day-ahead forecast of 11,540 megawatts, according to the grid's website. The previous instantaneous wind output record of 12,238 megawatts was set Oct. 22, John Julitz, a grid spokesman, said by e-mail.
Ercot's low pricing was "being driven" by the increase in wind generation, Rhodri Williams, a Boston-based Genscape Inc. analyst, said in an electronic message.