The Clean-Power Mega project Held Hostage by a Ranch and a Bird
Source: By Josh Saul, Naureen Malik and Dave Merrill, Bloomberg • Posted: Tuesday, April 12, 2022
There's a big piece of land in lonely northwest Colorado where the grassy plains meet the mountains, wide-antlered elk drink from icy rivers and sage-grouse pump their chests in wild mating dances each spring. Ranch hands still ride herd on thousands of cattle and sheep here, just as they started doing 150 years ago when Texas cowboys first drove cows north into the high country.
The Cross Mountain Ranch is one of the last pieces of a historic American West that's since been eaten up by subdivisions and strip malls. It's also been a burr under the saddle of one of the richest men in the world. Philip Anschutz, 82, the billionaire who made his fortune drilling for oil and who owns the Los Angeles Kings hockey team and sold his third of the Lakers last year, has been trying for the past decade to build a potentially lucrative $3 billion power line called the TransWest Express that would connect his massive new wind farm in Wyoming to the southwestern U.S. It would supply renewable energy to about 2 million customers.
The U.S. needs thousands of miles ​​​of ​​​new power lines to bring wind and solar power from prairies and deserts to cities in the transition away from fossil fuels. The troubled story of TransWest lays bare just how difficult that will be.
TransWest Express LLC, an Anschutz Corp. subsidiary, spent years lining up hundreds of permits and easements from local governments and landowners along the route. It secured all that it needed—except one, for Cross Mountain. And now, 17 years after the start of the project, not a single wire has been strung.
Cross Mountain Ranch is owned by the family of the late Ronald Boeddeker, a real-estate developer who purchased it back in the early 1990s. The Boeddekers have bitterly fought the power line, which would traverse 30 acres (12 hectares) of their 56,000-acre property. Ronald Boeddeker, who died in 2010, founded the Santa Barbara-based Transcontinental Corp., which built the sprawling Lake Las Vegas development in Nevada and the Waikoloa Beach Resort in Hawaii. Cary Boeddeker Egan, a daughter of Ronald Boeddeker, told a Bloomberg journalist in 2017 why protecting the ranch is so important to her and her siblings. "I think when my dad passed away as patriarch we sort of felt like we wanted to make sure it was passed on to the next steward of the land," she said. "It was just such a magical place for us that we don't want it to lose that magic."
Philip Anschutz's 300,000-acre Wyoming ranch sits on some of the best wind resources in the U.S. The billionaire is building the largest wind farm in America there.
He also wants to build a 730-mile transmission line, the TransWest Express, to take that power from Wyoming to major population centers. Initial planning for the line started 17 years ago.
But ​by 2014, ranchers along the proposed route secured conservation easements that have made TransWest and a second transmission line, Gateway South, difficult to build.
In 2014, the family secured a conservation easement that protects the land as sage-grouse habitat and farmland, restricting power lines or any other development. The Boeddekers' opposition to TransWest complicated another clean-power transmission project, too: the Gateway South line planned by Warren Buffett's PacifiCorp, which would run parallel to a section of TransWest.
New lines face steep resistance
The battle of Cross Mountain is one of a number of recent fights that have slowed or defeated renewable-energy transmission lines nationwide. Last November, Maine voters halted a $1 billion, 145-mile (233-kilometer) line that would have carried clean hydropower from Quebec. Local activist groups said the line would be "a scar" across the state's forests, and they were supported by companies that operate natural gas plants. Likewise, a 550-mile line meant to carry wind power from New Mexico to Arizona has been hung up for years over concerns it'll both hurt bird habitats and hinder operations at the U.S. Army's White Sands Missile Range.
Clean power generated in oceans and prairies needs some way to get to the urban areas where most Americans charge their phones and run their dishwashers. That journey often puts it in conflict with wildlife and landscape conservation goals, as well as with locals alarmed at the prospect of development encroaching into open spaces or on their property rights. The resulting struggles are one reason why it takes an average of 10 years to build a new transmission line in the U.S. The longer it takes, the harder it will be for the country to quickly slash greenhouse-gas emissions and limit the extent of global warming.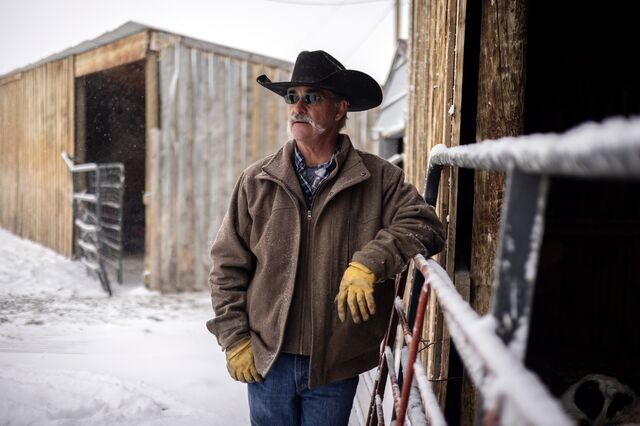 Andrew Maneotis Jr., a 58-year-old cattle rancher and neighbor of the Boeddeker property, eventually signed a settlement to let the TransWest line cross his land. "What they first offered me, I mean it was an insult," said Maneotis on his land in February, as a small herd of his cows looked on, chomping grass. He said he wanted to fight, but didn't like his odds. "I can't go to federal court in Denver, standing by myself," he said. "I'm not going to beat these guys in three-piece suits."
Scott Paul, 58, owns a 60-acre parcel next to Cross Mountain. He runs the Wapiti Cross Ranch there renting hunting cabins as a source of extra income to his Florida job laying concrete. He's now trying to sell it.
"I find this place in the middle of goddamn nowhere, and this happens. To look at the mountain now, I gotta look through power lines," says Paul, who divides his time between Colorado and Florida. "That's what this is all about. They are gonna take what's better for a million people, and it doesn't matter about a little guy like me."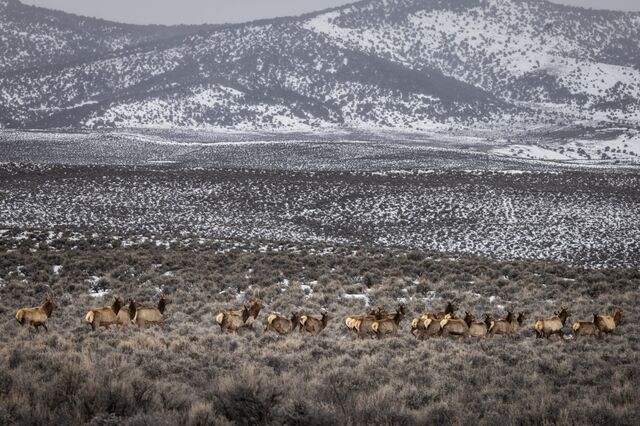 $5.6 Million to Keep Land Open
A conservation easement is essentially an agreement between a landowner and a government agency or conservation group not to develop a piece of land. The use of them has exploded in the U.S., especially in Colorado.
A Bloomberg Green examination of thousands of pages of court documents sheds new light on the Boeddekers' effort to secure an easement and block the power line connecting Las Vegas to clean wind energy. The documents also reveal the confused response from the federal government, which was often at odds with itself over conflicting priorities.
Matt Boeddeker, a son of Ronald Boeddeker, started trying to get the easement in 2012—the year after a TransWest newsletter showed plans for power-line corridors running through the ranch. The family teamed up with the Colorado Cattlemen's Agricultural Land Trust, which would actually hold the easement. "Our goals are to ensure the integrity of this legendary ranch will be preserved in perpetuity," Boeddeker wrote in 2013 to the Natural Resources Conservation Service, an agency within the U.S. Department of Agriculture.
With many easements, no money changes hands, although property owners can claim an income-tax deduction. But under an NRCS program, the agency pays cash to farmers and ranchers in exchange for easements. Federal law forbids anyone with gross income over $900,000 from receiving payments. Some of the Boeddekers were not eligible, according to government records, but applied for a waiver and received one. They were awarded $5.6 million in exchange for a promise to never develop or add power lines to 16,000 acres of the ranch—something they had made clear they didn't want to do anyway. Ironically, an exception was carved out for an existing phone tower and one additional tower if they chose to build another later.
The money came from a combination of federal tax dollars, the Colorado Lottery and the New Venture Fund, a nonprofit backed by the David & Lucile Packard Foundation.
Protecting the greater sage grouse was part of the rationale for the Cross Mountain easement. Yet at least one expert voiced doubt that it's an optimal habitat for the iconic bird. "Biologically speaking, there are better places to make a national priority for sage-grouse funds," a biologist with Colorado Parks and Wildlife wrote in an email in 2013. "In the future we should be very diligent about our third party easements that we are funding and making sure we get a good value for wildlife."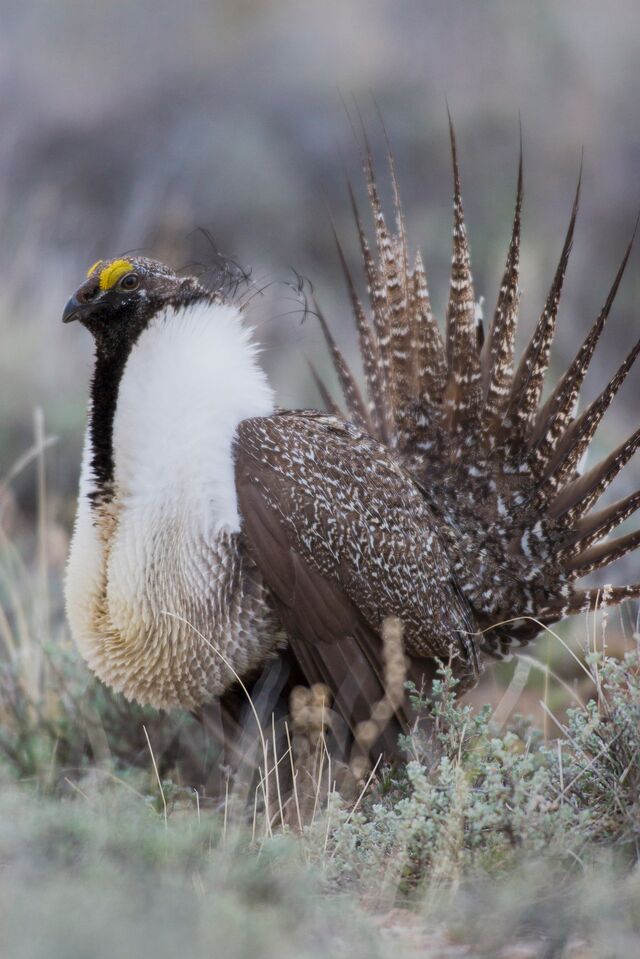 Cary Boeddeker Egan, a director of Cross Mountain Ranch, sent a statement on behalf of her family that said they support an environmentally sustainable future and it was unfortunate that clean energy and conservation were in opposition in this case. She also said the family didn't get the easement with any knowledge that the Transwest line would cross their property. "Our primary concern was to protect the sage-grouse and elk that call the area home and preserve vital ranchland habitats in perpetuity."
Just as the deal was being finalized in 2015, officials in another branch of the federal government, the Bureau of Land Management, were going the civil-servant version of haywire. They had been tasked with fast-tracking the line, and now they saw their counterparts at NRCS preparing to block it. Soon the conflict between the agencies was simmering. An NRCS employee wrote in an email later that year, "While it was not directly stated, it was certainly implied that [BLM] would like NRCS to not provide funding … if they didn't agree to the appropriate language" that allows TransWest to cross a small portion of their land.
That same week, a USDA official wrote to her colleagues that she'd gotten a call from the BLM director's office about Cross Mountain and the power lines. "The two transmission lines are on the administration's fast track list and hence the BLM is quite concerned about this and wants to better coordinate with NRCS/USDA," she wrote.
A BLM representative said the agency conducts environmental review of projects but isn't a proponent or opponent of any one project. He also said NRCS cooperated on the project and denied there was conflict between the two agencies. The USDA declined to comment.
Meanwhile, TransWest officials tried to cut a deal with the Boeddekers. There was a meeting moderated by BLM where Matt Boeddeker said he was opposed to any transmission lines crossing the ranch, and a TransWest representative replied that the Boeddekers had been notified about the lines' path in advance and they had put the easements in place with knowledge of it. At another meeting, TransWest said the Boeddekers were asking for too much money, and by 2019 both Boeddeker and his lawyer were sending angry letters to the NRCS demanding the agency defend the easement.
"We (as landowners) agreed to permanently restrict (from development and for the protection of important wildlife) a very large part of one of the largest private ranches in Colorado in exchange for the govts part in full protection against power lines and other damaging items of development," Matt Boeddeker tapped out on his iPhone one morning in 2019.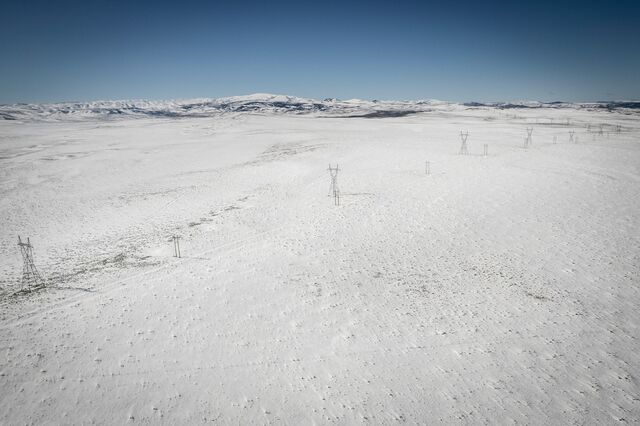 In December 2021, the warring parties all finally signed an agreement, settling on an undisclosed sum that TransWest and PacifiCorp would pay the Boeddeker family. That means the Boeddekers received the $5.6 million for the 2014 easement, plus the settlements from each company, with the transmission route subordinating the conservation easement. Before starting construction, TransWest now needs a "notice to proceed" from the Bureau of Land Management, which a company representative says should come by the end of 2022. It could be finished in 2026.
Erik Glenn, executive director of the Cattlemen's land trust, says he's sympathetic to the need for more big lines to carry clean power but considers the decision to allow the TransWest line to cross the ranch a political one. "What was more important from the [Biden] administration's perspective, renewable energy or habitat protection?" he asks.
Some environmental advocates say the costs to wildlife may outweigh the benefits of the line. Soren Jespersen, a field director at the Colorado Wildlands Project, noted the line will cross the Greater Dinosaur Landscape, home to some of North America's largest elk herds and other wilderness character. "There is nothing renewable about permanent habitat loss in one of the wildest areas of the American West," he said.
TransWest contends that it's not an either/or issue. In an email, a spokesperson pointed to an NRCS environmental assessment that found the project's impacts to sage grouse "would not be significant" because of mitigation actions the company has pledged to take. The same assessment found the project would be in the public interest because it facilitates the reduction of greenhouse-gas emissions. If the line isn't built, "Progress toward the nation's climate and energy goals would be slowed. Good-paying union jobs would not be created," the spokesperson wrote.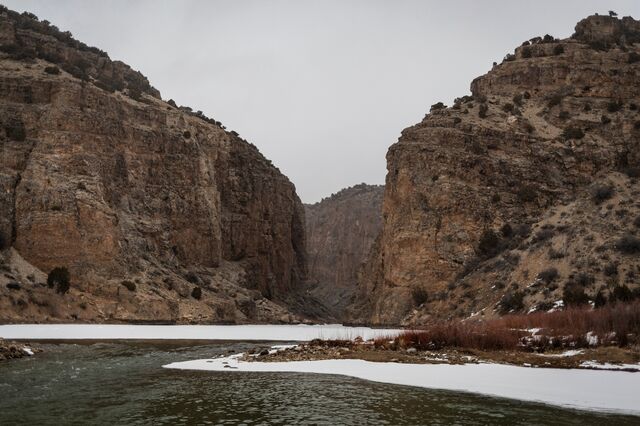 Anschutz, TransWest's owner, initially made his money in oil and has donated heavily to Republican candidates and causes. His big bet on wind isn't motivated by climate concerns first and foremost, according to a 2019 Forbesprofile: "We're doing it to make money," he said, in light of California's law mandating a shift to 100% renewable energy by 2045.
Ari Peskoe, director of the Electricity Law Initiative at Harvard Law School, says the U.S. grid sorely needs the TransWest line. He argues that families like the Boeddekers—who don't live at Cross Mountain full-time—are living an energy-intensive lifestyle by definition and should be willing to accept some inconvenience.
"You want to live in a world where that lifestyle has no consequences and any social costs of that should be borne by others and you shouldn't have to be inconvenienced by seeing that from your second home?" he said. "I have zero interest in their concerns."
The bread basket for renewable energy is a roughly 500-mile corridor from Northern Texas to the Canadian border, says Michael Wise, an executive at Golden Spread Electric Cooperative Inc., which serves rural electric co-ops. If the federal government is serious about the transition to zero-carbon energy, it's going to need to step in and develop national corridors for transmission, Wise says.
The Federal Energy Regulatory Commission, which oversees transmission lines, is pushing to overhaul the complicated web of rules to identify ways to build lines faster. But even with red tape removed, opposition is bound to keep flaring up, and delays are almost guaranteed.
Laying higher-voltage wires over the current grid today would be the equivalent of U.S. President Dwight Eisenhower building the interstate highway system in the 1950s, says Wise. "How do we get all this beautiful renewable energy—tens of thousands of megawatts of wind and solar—connected to the grid?" he asks. "We need to have a plan."
Back in Colorado, a more personal fight over Cross Mountain Ranch is under way. Three of the Boeddeker siblings sued their brother Matt last year, accusing him of blocking the sale of a piece of the higher-elevation Upper Ranch, for $15 million because he wanted to keep using the land himself. Matt fired back in court papers that selling was contrary to his parents' wishes and blamed the ranch's financial losses on the luxury lodge and trophy horse operation run by his sisters. Settlement talks in the family fight have been ongoing, and the siblings are slated to sit down in a Denver courtroom on Friday.
And after all the conflict over the easement and power lines, the Boeddekers have put the 28,000-acre Lower Ranch, which includes the easement, on the market. The family that fought to preserve its "magical place" is moving on.
Assist: James Tarmy
Editors: Amanda Kolson Hurley and Chloe Whiteaker