Texas Joins 10% Club for Wind Energy 
Source: By SustainableBusiness.com News • Posted: Thursday, February 26, 2015
Texas has joined the 10% club – the group of states that get more than 10% of their electricity from renewable energy.
Last year, wind supplied 10.6% of electricity, up from 6.2% in 2009, according to ERCOT, the grid operator that covers most of the state. The leap is due to a combination of big wind farms coming online and the ability to carry that energy to population centers through a $6 billion investment in an expanded transmission system.
Because of new transmission capacity, wind generation nearly doubled between 2009-2014, says ERCOT, from 18.8 million megawatt hours (MWh) to 36.1 million MWh. As transmission  constraints were removed, electricity from far flung wind farms in the northwestern part of the state began reaching population centers.
Wind energy provides power for about 3.5 million people in Texas.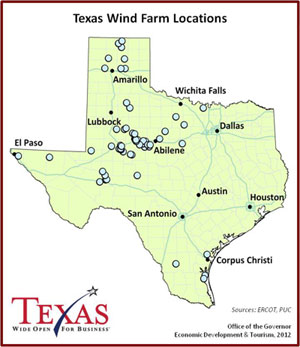 Texas, the top state for wind capacity, has more than 14.1 gigawatts (GW) installed in 127 projects and there's 7.6 GW more in the pipeline. ERCOT expects to get 15% of electricity from wind by 2017. 
Houston's wind energy purchase  – enough to supply half its electricity for the next two years – makes it the largest municipal buyer of renewables in the US.
The state has zoomed past its Renewable Portfolio Standard which requires 5.88 GW of renewable energy by 2015 and 10 GW by 2025!
Texas is the 10th state to reach the 10% milestone. The numbers aren't out yet for 2014, but here are the top states for 2013: