Tesla's Foe in Fight Over Electric Vehicle Rebate: Utilities
Source: By John Lippert, Bloomberg • Posted: Tuesday, May 1, 2018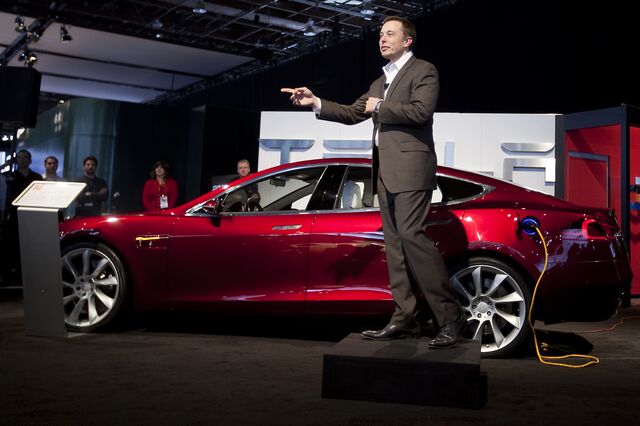 Early adopters of the electric car often band together in what can seem, in the age of Donald Trump and resurgent sport utility vehicles, like a lonely defense of an unloved technology. But today in California, the state doing the most to cultivate emission-free driving through lucrative incentives, the businesses trying to profit from electric vehicles fought each other.
At issue during a California Air Resources Board hearing in Sacramento on Friday were rebates the state pays to EV buyers using proceeds from the sale of Low Carbon Fuel Standard credits. Under the program, energy producers who fail to meet the state's low-carbon fuel targets buy credits from those who've already complied. Following state guidelines, the sellers use a portion of the proceeds to pay rebates that range from $50 to $599 for each electric vehicle, which are paid out by the utilities who provide electricity for residential and workplace recharging.
Tesla Inc. and Ford Motor Co. have urged the state's powerful emissions regulator to let automakers pay out the rebate at the moment they sell the car, as a way to boost sales, instead of making consumers wait for a check from their utility or a credit on their bill. Ken Morgan, Tesla's director of business development, said before the hearing that the electric carmaker might even boost the rebate beyond what utilities offer.
Tesla's proposal comes as Model 3 production delays are draining its cash and the company is close to exhausting the availability of a $7,500 federal tax credit. But whoever doles out the rebates would be required to use all money earmarked for low-carbon rebates to pay consumers or associated expenses. "This gives us no direct benefit other than to help everybody sell more electric cars," Morgan said.
Even so, passing out free money is a great way to build brand loyalty, and Tesla and utilities are elbowing each other hard for the privilege. Eileen Tutt, executive director of a trade association whose board includes California utilities, said in an interview before the hearing that she's "adamantly opposed" to letting automakers pay out the rebates. She said the utilities should continue doing so, though she's meeting with Tesla and others to discuss possible improvements.
California certainly wants to help Tesla, Ford and other automakers sell EVs—and already levies stiff penalties if they don't. But utilities have also emerged as aggressive advocates of electric transportation, since ratepayer-funded charging stations represent their first big new revenue opportunity in decades.
Tutt said before the hearing that she's opposed to letting automakers pay out the rebates because, for one thing, their financial disclosures are skimpy compared to those of heavily regulated utilities. "The automakers are saying, 'Just trust us,'" said Tutt, executive director of the California Electric Transportation Coalition in Sacramento.
At Friday's hearing, the ARB directed its staff to meet with utilities, automakers and others to develop a proposal that could have rebates delivered to customers at the dealership. Nichols said the plan should apply uniformly across the state and added that "we need to make the cars affordable,'' referring to the zero-emissions vehicles that the state is trying to promote. Another ARB member, Dan Sperling, estimated that the state is losing half its ability to alter consumer behavior by keeping rebates from being paid at the point of sale.
Morgan and Tutt both pledged during the hearing to meet with the ARB to come to an agreement. ARB is scheduled to make a final vote in September.
California started on a path toward writing its own clean-air rules in 1972 when Mary Nichols, now the ARB chair, argued the first federal lawsuit to make the U.S. Environmental Protection Agency enforce the Clean Air Act. A dozen other states have opted to model their own clean-air rules after California. This has prompted the current EPA administrator, Scott Pruitt, to warn that California shouldn't be allowed to "dictate" clean air policies for the rest of the nation.
Tesla has been a major beneficiary of California's clean-energy push, which also targets automakers. Since 2008, the company has sold more than $1.3 billion in regulatory credits to other automakers who don't meet the state's requirements for zero-emission vehicles or greenhouse-gas emission reductions.
The debate comes as California prepares its first major update to its low-carbon fuels standard since 2009. Among other things, the state wants to boost the required low-carbon content of its transport fuels to 20 percent by 2030, from 5 percent this year. This would take the state about a tenth of the way toward its legislative mandate of cutting overall carbon dioxide emissions by 40 percent from 1990 levels by 2030.
Companies comply with the standard by blending low-carbon fuels into their existing gasoline or diesel supplies, or by buying credits from those who don't need them. The credits are getting more expensive as California's emission targets get tougher. On March 20, the credits sold for a record $152 per metric ton, about five times more than the price three years earlier, according to ARB data.
By 2030, the program could be generating credits worth $3.75 billion a year, up from $1.4 billion this year, according to Jeremy Martin, an analyst with the Union of Concerned Scientists in Washington, D.C. Since 2009, this potential windfall has helped spark investments worth $2 billion in low-carbon fuels, said Simon Mui, director of clean vehicles and fuels at the Natural Resources Defense Council.
California policies have started changing the state's fuel supply. Renewable sources like biomass and bio-methane now make up about 20 percent of all diesel sales, state figures show. Corn-based ethanol producers are switching to natural gas and other lower-carbon heat sources, and as a result the carbon intensity of  this fuel has dropped by 21 percent. Aera Energy LLC and GlassPoint Solar Inc. are building the state's largest solar farm to generate steam for oil extraction near Bakersfield. By 2030, the state plans to triple the amount of low-carbon electricity used as a transport fuel.
Drivers of conventional vehicles have felt the impact. Gasoline costs about $3.60 per gallon in  California, or 80 cents more than the national average, according to AAA. The low-carbon credits account for about a dime's worth of this difference, state figures show.
Critics include the Western States Petroleum Association. "These standards are  still too aggressive," wrote Catherine Reheis-Boyd, the group's president, in  a filing prior to Friday's hearing.  Poet LLC, a South Dakota-based ethanol producer, has been battling the low-carbon credits in court for years, accusing the state of undercounting nitrogen oxide emissions from low-carbon diesel. As a result, the state plans to delay further increases in the diesel portion of the requirement for about a year.
The rest of the state's low-carbon regime will get tougher, though, even as President Trump attacks what he calls California's "out of control" state policies. California Governor Jerry Brown will wrap up his final term in January, and his replacement will be left with the task of overseeing regulations for low-carbon jet fuel and for carbon capture and storage at ethanol plants—measures that would be new even in California, which is at the vanguard of U.S. environmental policy.
With the EPA currently sidelined by Trump's anti-regulatory agenda, California will play an even greater role in providing a model to other states such as Oregon—and even countries such as Canada and Brazil—that are now writing their own low-carbon fuel mandates, Martin said.