Survey: Kansans overwhelmingly back renewable energy
Source: Bobby Burch, Reporter, Kansas City Business Journal • Posted: Monday, February 3, 2014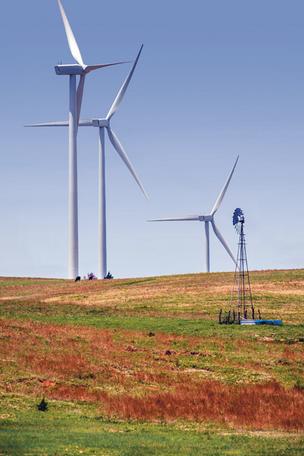 Dave Kaup | KCBJ.
Wind turbines dwarf a traditional windmill along Interstate 70 between Salina and Hays.
Regardless of their political persuasion, Kansans vigorously support the use of renewable energy, a recent survey found.
The survey's findings come as the Kansas Legislature is mulling a bill that would repeal Kansas' Renewable Portfolio Standard.
Completed by North Star Opinion Research, the survey shows that 91 percent of respondents are either strongly or somewhat supportive of using renewable energy. While those surveyed said they support expanded use of solar, hydroelectric, geothermal and other sources, 76 percent said they would like to bolster wind energy use in the next decade, making it the most popularly sought-after source.
"This poll only validates what we've been hearing from Kansans across the state," executive director of the Climate and Energy Project Dorothy Barnett wrote in an email. "Last winter, we hosted a series of energy roundtables for business and community leaders to discuss how renewable energy has impacted them. Time and again, the discussion centered on increased sales tax revenue, full motels and restaurants and better roads in rural communities."
The Kansas' Renewable Portfolio Standard, enacted in 2010, requires that state's investor-owned and cooperative utilities reach certain renewable energy-use milestones. By 2020, the statute requires such groups to purchase at least 20 percent of their electricity from eligible renewable resources. Such sources include wind, solar thermal, photovoltaics, hydropower, fuel cells using hydrogen and others.
Asked why she thinks certain legislators are interested in repealing the standards, Barnett said some are operating with erroneous data.
"I think some legislators are getting faulty information on the rate impacts of the Renewable Portfolio Standard," she wrote. "The law requires the Kansas Corporation Commission to report on both retail and wholesale impacts of the law annually. The KCC's most recent report says the average rate impact of implementing the (Renewable Portfolio Standard) is 1/16th of a cent. Instead of putting their faith in outside, modeled data from an agenda-driven group, I wish our legislators would listen to our own KCC."
The survey also found that Kansans also believe that employing renewable energy is not only economically beneficial, but also morally right. Ninety percent of respondents agreed that using renewable energy is "the right thing to do for the future of our state and our country" while 89 percent say such energy "makes us good stewards of the environment." Similarly, 81 percent believe increasing renewable energy use will make the Sunflower State more economically competitive with neighboring states.
Asked if she thinks legislators will reflect their constituents' thoughts, Barnett said she's optimistic.
"Last year, our Kansas Senators voted to keep the (Renewable Portfolio Standard) and a strong majority of our representatives have been supportive of the wind industry," she said. "I believe the poll is one way for legislators to find out what Kansans think, however, it's also very important for Kansans to speak directly to their legislators on an issue nearly 40 percent of Kansans say impacts how they vote."
The measure to repeal the energy standards is supported by the Kansas Chamber of Commerce, whose president, Mike O'Neal, previously was speaker of the Kansas House. However, O'Neal previously said that the chamber isn't "anti-wind."
"We are against government picking winners and losers," O'Neal said in an Associated Press article. "Wind energy has its place, but those investments have to be self-sustaining."