Sunshine State Is Set to Get More Solar After Florida Ruling
Source: By Brian Eckhouse, Bloomberg • Posted: Monday, April 23, 2018
Expect to see a lot more solar rooftops in Florida.
The Sunshine State is removing what solar installer Sunrun Inc. has seen as a roadblock to consumer panel leasing, an arrangement that drove a boom in rooftop power systems elsewhere in the U.S. A ruling by Florida regulators on Friday will allow Sunrun, the largest U.S. residential-solar company, to expand in the state, the company said. The San Francisco-based installer jumped 4 percent to $9.27 on Friday.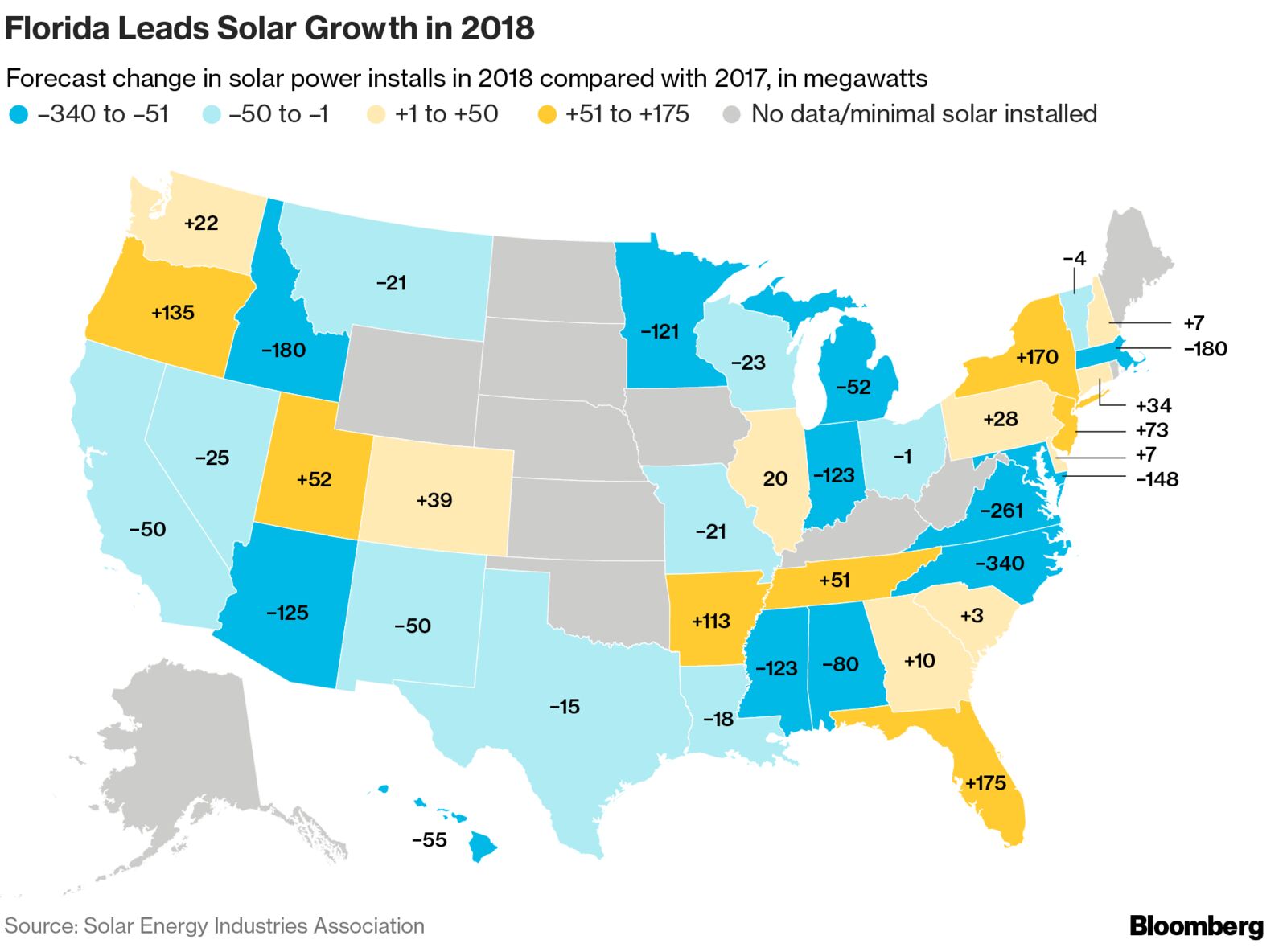 Utilities are the only entities that can legally sell electricity in Florida. Sunrun requested a clarification to that policy, and the Florida Public Service Commission ruled that the company's 20-year solar-equipment leases don't constitute a retail sale of electricity.
The commission said Friday that Sunrun didn't require its approval before starting to lease panels. Julie Brown, a member of the agency, went as far as to tell the company during a hearing that it didn't need to seek action. But the company saidthat households in Florida were unable to lease solar until Friday's decision.
"The commission's vote to grant our petition is a critical step toward broadening access to solar energy for Floridian households," Anne Hoskins, chief policy officer for Sunrun, said in an emailed statement.
Leases let consumers get rooftop panels with little or no upfront costs. Absent leasing, homeowners have to pay for the systems themselves or finance them — a barrier that has helped utilities like NextEra Energy Inc.'s Florida Power & Light Co. fend off a wave of residential solar. NextEra declined to comment.
While Florida doesn't have clean-energy targets, it ranks third in the U.S. in terms of potential rooftop solar and 12th in installations, according to the Solar Energy Industries Association.
"Florida was already going to be a growth market," Hugh Bromley, an analyst for Bloomberg New Energy Finance, said in an interview. "This could supercharge that."
— With assistance by Mark Chediak