Solar Power Is About to Hit Texas Generators Where It Hurts Most
Source: By Jonathan Crawford, Bloomberg • Posted: Wednesday, October 12, 2016
A boom in solar energy in Texas is about to spoil power generators' favorite time of day.
Developers are expected to build about 4 gigawatts of commercial-scale solar panel capacity in the Lone Star state by the end of the decade, according to a report by Bloomberg New Energy Finance Tuesday. Cheap solar energy threatens to depress electricity prices during peak midday hours, when generators profit most as consumers blast air conditioners, driving electricity demand higher.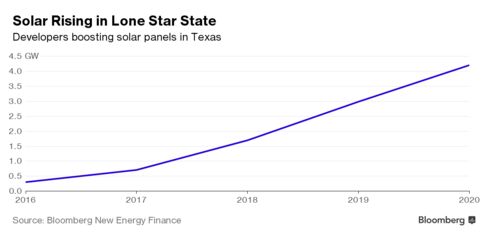 Solar power marks the latest threat to the coal- and natural gas-fired power producers in the Texas market. Conventional generators have already been buffeted by historically low gas prices, competition from abundant wind power and stagnant power demand.
"The impact from the solar panels is going to be concentrated on those on-peak hours, when the prices have historically been higher," Nicholas Steckler, an analyst at BNEF, said in an interview Tuesday. "It's a significant hit to everyone."
Solar is expected to lower power prices by about $2.58 per megawatt-hour during peak hours by 2020 in Texas's west hub, the report by BNEF found. Developers are lining up to add projects with a total of 3.9 gigawatts of capacity set to be online by the end of the decade, up from 559 megawatts this year, thanks to cheap land and sunny conditions.
"Just having this new influx of daytime energy production is going to bring down energy prices on average during the day," Steckler said.