Solar Moves in a Curious Direction Since Trump Quit Paris Deal: Up
Source: By Joe Ryan, Bloomberg • Posted: Wednesday, July 5, 2017
In the month since President Donald Trump vowed to
withdraw
from the
Paris climate accord
, shares of U.S. solar companies have taken a curious turn.
They've gone sharply up.
Sunrun Inc. and Vivint Solar Inc., the two largest independent U.S. rooftop panel installers, have embarked on their biggest rallies of the year since the president's June 1 announcement. Sunrun is up 42 percent, closing Thursday at $7.27. Vivint has risen 86 percent, to $5.75. And SunPower Corp., the second-largest American panel manufacturer, has gained 19 percent, to $9.49.
The rally—which comes as oil and energy stocks at large have dipped—appears to have nothing to do with Paris. Rather, analysts say it's fueled by the dynamics that typically drive clean-energy installations: state policies and equipment prices.
"There are certainly things that Trump and Congress can do to affect this industry in a significant way in the short run," said Ethan Zindler, a Bloomberg New Energy Finance analyst. Paris, he added, isn't on the list.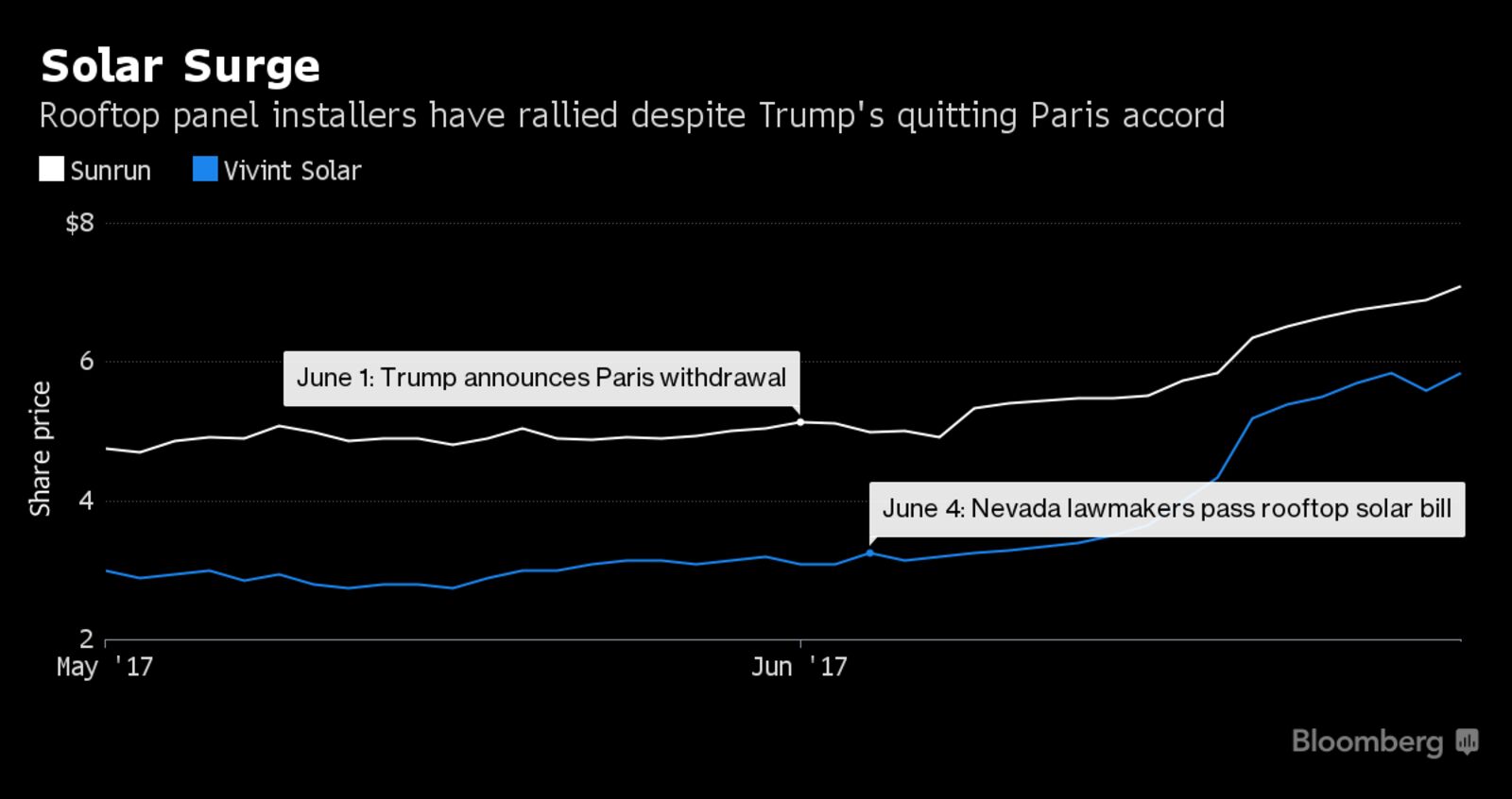 The rally began days after Trump's announcement, as state lawmakers in Nevada began advancing legislation to make solar more affordable for homeowners. Nevada gets more sunshine than almost anywhere in the nation, but it's been a dead-end market for solar since regulators slashed rooftop panel subsidies in 2015.
The new legislation, already signed by Gov. Brian Sandoval, largely restored those credits.
"Nevada is an especially important market, particularly for Sunrun and Vivint," said Pavel Molchanov, an analyst at Raymond James Financial Inc. "So this new legislation really helps."
SunPower, which manufactures panels and develops large-scale solar farms, is rising on different dynamics. Average panel prices, which plummeted 35 percent last year, have begun to stabilize, falling just 8 percent since December, to 33 cents per watt. In some instances, panel prices are even rising, helping shore up manufacturers' margins.
The shift in prices comes as solar developers are aggressively stocking up on panels, fearing that a pending federal trade case could lead to tariffs on imported equipment. The complaint, filed by bankrupt solar manufacturer Suniva Inc., argues tariffs are necessary to compete with a surge of cheap panels from Southeast Asia. The U.S. International Trade Commission will conclude its investigation by Sept. 22.
"Guys are buying a little extra before any potential tariffs kick in," says Brad Meikle, an analyst at Coker & Palmer Inc.
Trump does, of course, have some ability to influence clean energy markets.
Lastly, Trump will have the ultimate say whether to impose tariffs on imported panels after the trade case investigation concludes. If duties are high enough, analysts warn they could slow installations by as much as two-thirds.
But for the moment, said Axiom Capital Management analyst Gordon Johnson, "solar is going gangbusters."