Siemens freezes new UK wind power investment following Brexit vote
Source: By Arthur Neslen, The Guardian • Posted: Thursday, June 30, 2016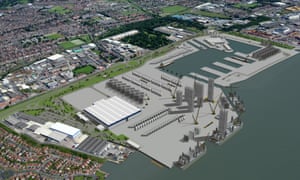 Siemens is putting new wind power investment plans in the UK on hold due to uncertainty caused by last week's Brexit vote, the Germany energy company has told the Guardian.
A £310m manufacturing hub in Hull that employs 1,000 people will not be affected by the decision, and should still begin producing blades and assembling turbines next year.
But Siemens, one of the few firms to openly back a Remain vote, will not be making new investments until the future of the UK's relationship with Europe becomes clearer.
Juergen Maier, the firm's UK CEO, said that an existing blueprint to export offshore wind turbine machinery from the Hull hub was now up in the air.
He said: "Those plans were only beginning to happen and I expect that they will stall until we can work out exactly what the [new government's] plan is, how we can participate in EU research programmes, and until all the issues around tariffs and trade have been sorted out."
It is unclear how much money the EU gave to the Hull project but it has put up £525m for the Beatrice windfarm project in Scotland, whose developer will be a major buyer of the Hull factory's turbine blades.
The firm also agreed a contract with a Belgian consortia which received a £250m loan from the European Investment Bank for the supply, servicing and maintenance of 42 offshore turbines.
Despite this EU support, the people of Hull voted overwhelmingly for Leave in what a local councillor described as "a cry of rage".
Maier called on the government to urgently start negotiations with the wind power sector before formally notifying Brussels of a decision to leave the EU.
"We definitely can't wait until Article 50 has been triggered," he said. "People will be holding off on major investment decisions and this is why we need to get together as soon as possible and see that a plan is put in place."
Uncertainty over Britain's political leadership, future access to the internal market and financial volatility buffeting the pound and interest rates are all contributing to a sense of malaise.
Many wind investors responded cautiously to the Leave vote, stressing the sound fundamentals of UK climate change laws, and an intent to wait and see how Brexit plays out.
A spokesperson for Dong Energy, the single biggest investor in UK offshore wind, said: "We will await clarity over the implications of the vote to leave the European Union. However, we don't believe that UK energy policy is dependent on EU membership."
Privately though, industry and EU sources expect the vote to have a detrimental effect on the energy union process of linking Europe's electricity grids so that clean power can be transferred across borders in real-time, without need for storage.
"Something is still being baked but it will now be baked without the UK expressly in mind," a source said.
There are also concerns that the EU's target of a 27% share for renewable energy, averaged across Europe by 2030, could now be too ambitious. The UK has outperformed several EU states in attracting investors, last year taking €26bn – around half of all Europe's wind energy investment.