Rigging the System Against Clean Energy
Source: By Martin Heinrich, Bloomberg • Posted: Wednesday, February 12, 2020
A new order from President Trump's energy regulators bails out coal plants and prevents investment in renewables.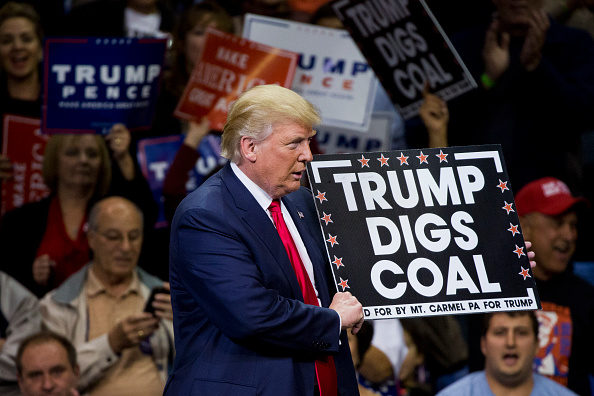 Changing the way we generate electricity is one of the most important ways we can reduce our carbon pollution and combat climate change. Fortunately, in recent years, cleaner power sources like wind, solar and natural gas have outcompeted older, dirtier coal-fired power plants as the most cost-effective sources of electric power.
These market forces have led to a precipitous drop in Americans' coal consumption in the last decade. In 2019, the use of coal for power generation in the United States fell by 18% — the greatest decline ever recorded. Our nation is now burning less coal for energy than it has since 1975. Meanwhile, competitive prices and customer demand for renewables are creating thousands of new careers in the booming clean energy industry. That's good news for the environment, and for families seeing significant savings on their electric bills.
But now, in the latest attempt by the Trump administration to obstruct the clean energy transition and artificially revive a dying coal industry, the Federal Energy Regulatory Commission — or FERC — has issued an order creating new rules that unfairly favor electricity from coal plants over cleaner and less costly alternatives.
When Congress passed the Federal Power Act back in 1935, it created FERC to ensure power markets provide Americans with reliable electricity at a "just and reasonable" cost. For most of its history, FERC has operated as a nonpartisan agency that aimed to foster fair competition in the energy markets. FERC has, by law, made technology-neutral decisions based on transparent processes and expert analysis.
The current FERC, however, has become yet another casualty of President Trump's breaking of norms to promote an extreme agenda. Last year, after the death of one FERC commissioner and the retirement of another, the commission went from its normal five members down to three. The traditional bipartisan Senate process to fill FERC vacancies dissolved, leaving us with a two-to-one voting majority helmed by Chairman Neil Chatterjee, who was formerly Senate Majority Leader Mitch McConnell's energy adviser, and Commissioner Bernard McNamee, a former fossil-fuel company lawyer.
The December order, authored by commissioners Chatterjee and McNamee, represents an egregious departure from FERC's long-established way of doing business. And it could have wide-ranging repercussions for the way our entire nation produces electricity.
Specifically, the order requires PJM, the administrative organization that oversees energy markets in 13 mid-Atlantic and Midwestern states plus Washington, D.C., to distort prices for energy sources. The order is clearly intended to prop up expensive, outdated coal plants and discourage new investment in clean energy projects.
As the nation's largest administrator of wholesale energy markets in the country, PJM carries out some of the largest auctions for electric generation in the world. The resource mix PJM chooses to generate power sends a strong signal to the rest of the country and the world.
FERC's new order will add costs, in the billions of dollars, that the 65 million Americans who live in PJM's states will be forced to pay through higher bills. The order will hamstring ongoing state-level and regional efforts to address climate change. This includes the Regional Greenhouse Gas Initiative, in which 10 Northeastern states, including some of PJM's states, are working to reduce carbon pollution in their power sectors. It will also create a chilling effect on clean energy investment throughout the country.
The order is also further proof that the federal government is taking orders from President Trump's wealthy friends and donors, like climate-change denier and former coal mining CEO Bob Murray. Mr. Murray donated $300,000 to Trump's inauguration and claims to have the president's ear on energy policy, even after his company filed for bankruptcy in October.
Mr. Murray may well be one of the only people in America cheering on this FERC order. As the only other remaining FERC commissioner, Richard Glick, wrote in a blistering dissent, the order is "illegal, illogical, and truly bad public policy" and "a bailout, plain and simple."
Bob Murray and the coal industry do not deserve this bailout, and the American people should not have to pay for it. I strongly urge FERC to reconsider its decision. It's long past time to start making energy policies that invest in the clean, efficient and affordable energy technologies that will create a healthy planet and power strong economic growth for all of us.
This column does not necessarily reflect the opinion of Bloomberg LP and its owners.
Martin Heinrich of New Mexico is a member of the U.S. Senate's Energy and Natural Resources Committee. He is the ranking member of the Subcommittee on Energy.