Renewables Top Nukes in U.S. Power Mix for First Time Since 1984
Source: By Patrick Martin, Bloomberg • Posted: Friday, July 7, 2017
For the first time in more than 30 years, America's nuclear plants have fallen behind wind farms, solar panels and other renewable energy suppliers as a source of electricity.
In March and April, U.S. power from utility-scale renewables topped output from reactors for the first time since July 1984, according to a U.S. Energy Information Administration report. Supplies from wind and solar rose to a record, while heavy rains in the West boosted hydroelectric power and nuclear generation dropped to the lowest monthly level since April 2014.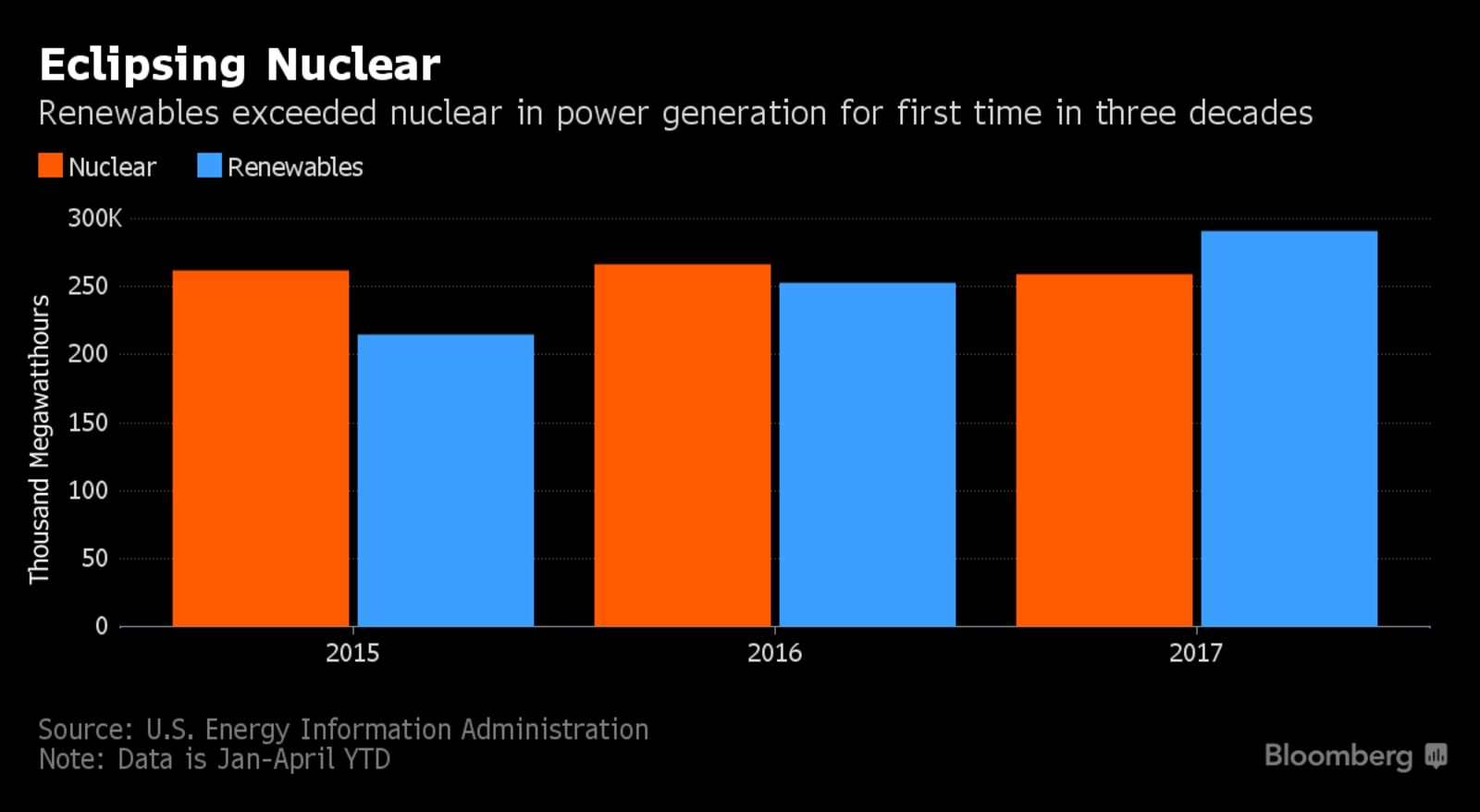 Though President Donald Trump announced plans last month to review U.S. nuclear energy policy, the surge of renewable power signals that reviving the flagging industry will be a complex and costly endeavor. Amid competition from renewables and abundant natural gas from shale basins, more than half of America's reactors are losing money, according to Bloomberg New Energy Finance. That's prompted states including New York and Illinois to pass legislation clearing the way for nuclear subsidies.
"As renewable generation has increased, net generation from nuclear power has remained relatively flat since the late 1990s," Mickey Francis, an analyst at EIA, said in the agency's report. "Retirements of a number of nuclear plants have resulted in a slightly lower level of overall nuclear generation capacity."
Entergy Corp. is planning to close its Indian Point reactors in New York by 2021 under an agreement with the state, while plans by Southern Co. and Scana Corp. to build new nuclear plants in Georgia and South Carolina have hit roadblocks after contractor Westinghouse Electric Co. filed for bankruptcy.
Nuclear power isn't about to disappear from the U.S. electricity mix, however. Output from reactors will surpass renewable generation during the summer and on an annual basis for 2017, according to the EIA report.