Red States to Reap the Biggest Rewards From Biden's Climate Package
Source: By Saijel Kishan, Brian Eckhouse and Christopher Cannon, Bloomberg • Posted: Tuesday, April 25, 2023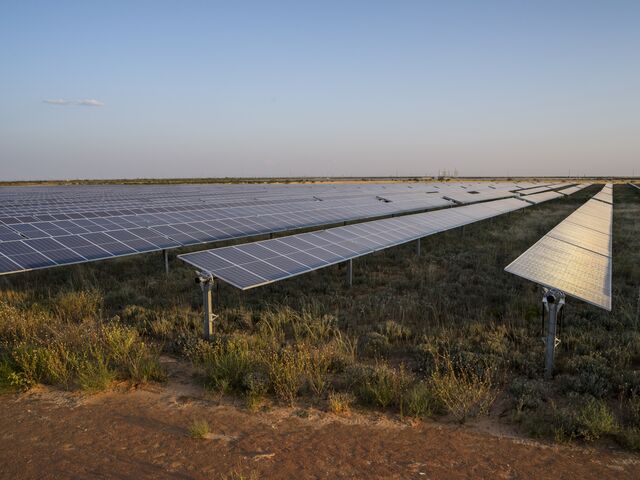 The global impact of the Inflation Reduction Act is still shaking out, but within the US it's GOP-leaning states that stand to gain the most investment.
The passage last year of the Inflation Reduction Act, with some $370 billion designated to help fight global warming, is the largest-ever climate investment made by the US. What it means for efforts to decarbonize economies globally is still evolving — and it's been the subject of debate at the two-day BNEF Summitin New York that continues on Tuesday. As significant as the US commitment is, China is by far the bigger spender on clean energy, according to data from BloombergNEF, and still controls most of the relevant supply chains. European allies of the US are rattled by protectionist aspects of the law and are planning their own policies in response.
Domestically, the unknowns include whether constraints on the power grids and permitting delays will slow the flow of the money. Yet where the uncapped money in the law and the private dollars it catalyzes are headed already looks clear. GOP-led states stand to be the biggest beneficiaries of President Joe Biden's signature climate law, despite not a single Republican voting for it. That's assuming congressional Republicans aren't successful in their bid to repeal the climate parts of the legislation: House Speaker Kevin McCarthy last week proposed removing clean-energy subsidies in negotiations over the US debt ceiling.
Red states are set to attract some $337 billion in investments for large solar, wind and storage projects through the end of the decade as a result of the IRA, according to White House estimates from August that officials say are still current. States led by Democrats, meanwhile, are set to draw about $183 billion. Here's why: If the IRA's climate section has an unambiguous bias, it's for states that boast strong solar or wind attributes — and have proven they can nurture the sun or the air. While elected officials in some parts of the country still resist clean power, such states are among the leaders in solar and wind development.
"We've seen Republicans soften their opposition to climate change," says Timothy Fox, an analyst at research firm ClearView Energy Partners in Washington. "So we could see a fading of their default support for fossil fuels and default opposition to renewables as a result of the IRA. It won't be immediate, but will happen over time."
The White House's forecasts are based on a model developed by the National Renewable Energy Laboratory and depends on things like future policy action, costs and permitting of projects. They estimate the types of plants needed to be built, and where, in order to meet demand.
Texas, the top producer of wind energy, is expected to draw $66.5 billion in investments, the most of all states, according to the White House's estimates. Florida, while trailing six states in renewable energy today, ranks second with $62.7 billion. Wind-giant Iowa follows with $24.6 billion.
For blue states, New York tops the list with $34 billion in projected clean-energy investments, followed by California with $21.2 billion, according to the White House. Illinois ranks third.
Many red states' employment rules also position them as unexpected clean-energy powerhouses — ironically, given Biden's steadfast advocacy for labor. While the president had hoped a revival in domestic cleantech manufacturing would boost union jobs, many of the factories being developed are in states that make it harder for workers to unionize.
The Midwest and southern parts of the US are proving to be such big attractions for cleantech factories that they're now being called the battery belt. Georgia, a longtime red state that has seen recent gains by Democrats, is an early leader as its Republican governor and Democratic senators alike court solar, electric-vehicle and battery manufacturing. They're all keen to be associated with the growth — specifically job growth — of industries that were once the provinces of progressives and climate advocates.
Ohio may be more telling. While the former battleground state has shifted sharply right over the past decade — and moved to make renewable energy harder to site and thus develop — solar developers are flocking there anyway. It's one of the hottest markets for new solar farms. Ohio is also seeing growth in panel manufacturing and attracting other green industries.
"Clean energy, and particularly cleantech manufacturing, is steadily being equated with economic rejuvenation and opportunity," says Aaron Brickman, a principal at the Rocky Mountain Institute, a sustainability research nonprofit. "These investments are having the power of changing perceptions" about green projects, he said.
Texas, meanwhile, is poised to topple California — the nation's trailblazer in solar power — as the biggest generator of sun energy from large farms. That's as Texas Republican lawmakers and officials blame renewable energy for the state's deadly 2021 grid collapse in their bid to prop up new fossil fuel power plants that have struggled to compete with dirt-cheap solar power.
In an analysis that extends beyond renewable-energy projects, the Rocky Mountain Institute estimates red states will reap investments to the tune of $623 billion, compared with $354 billion for blue states between now and 2030 as a result of the climate law. Its analysis assumes companies and consumers adopt clean technologies at the scale needed to meet national climate targets.