Post-Pruitt Pragmatism on Display as EPA Chief Alters Course
Source: By Jennifer A Dlouhy, Bloomberg • Posted: Thursday, August 2, 2018
New EPA Chief Andrew Wheeler has adopted much of his predecessor Scott Pruitt's agenda — but not his style.
During just three weeks leading the Environmental Protection Agency, Wheeler rescinded a Pruitt promise to back off enforcing limits on highly polluting trucks while making it clear he too wanted to ease the regulation. Wheeler also made a private, last-minute plea to soften a Trump administration proposal being unveiled Thursday that aims to halt escalating vehicle efficiency standards.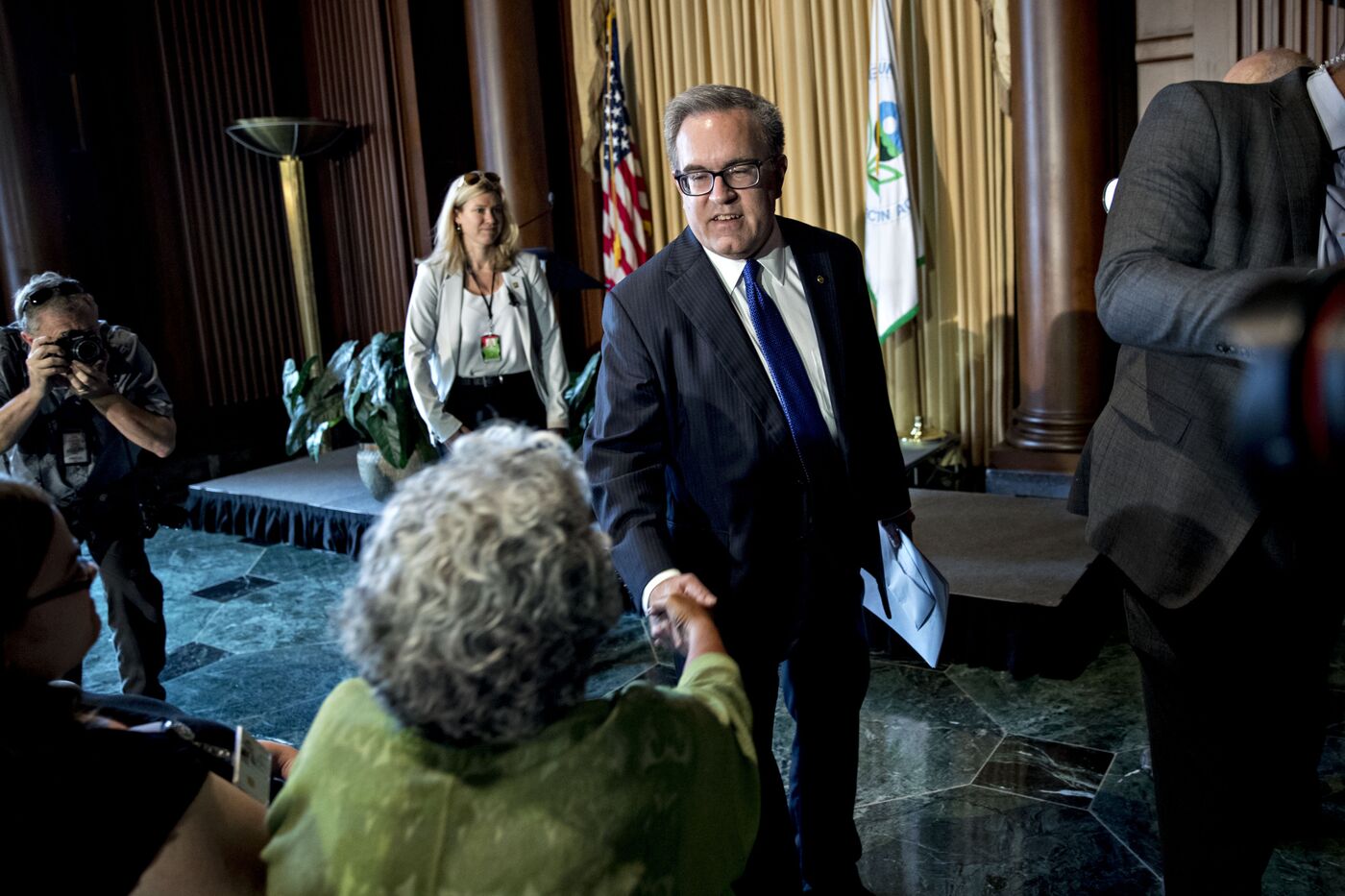 And on Wednesday, during his first congressional hearing as acting administrator, Wheeler signaledhe was willing to reach a compromise on the car standards that avoided a confrontation over California's unique ability to enforce its own air pollution regulations.
"It's my goal — it's the administration's goal — to come up with a 50-state solution," Wheeler told the Senate Environment and Public Works Committee. "We want to have a 50-state solution that does not necessitate preempting California."
Wheeler's moves on vehicle emissions illustrate how he is taking a more cautious and pragmatic approach to easing the same regulations that Pruitt targeted for repeal or revision.
It's a change in style — not substance, says John Walke, director of the clean air, climate and clean energy program at the Natural Resources Defense Council.
"He is trying to shore up the defensibility of the Trump rollback agenda, from listening to EPA experts who can advise him how to do that better, to avoiding the pratfalls of Mr. Pruitt, who lost or backed down in the face of lawsuits repeatedly," Walke said.
Wheeler was hastily installed atop the EPA on July 7 to replace Pruitt, who resignedamid a cascade of questionable spending decisions and alleged ethical missteps.
On Wednesday, some of the same senators who had aimed fiery criticism at Pruitt gave Wheeler a relatively friendly welcome. Senator Tom Carper, a Democrat from Delaware, even presented the EPA chief with a bottle of Coca-Cola emblazoned with "Wheeler," in a nod to the acting administrator's fondness for collecting memorabilia from the brand. And Senator John Barrasso, a Republican from Wyoming who leads the environment committee, said he would like to see Wheeler nominated for the EPA administrator job full time.
Wheeler fielded only one direct inquiry about his ethics, prompting him to reiterate a pledge to steer clear of former clients, including coal miner Murray Energy Corp.
And where congressional hearings with Pruitt were dominated by questions about his round-the-clock security protection, a soundproof phone booth installed in his office and his taxpayer-funded travel, Wednesday's hearing with Wheeler was dominated instead by deep discussion of environmental policies.
No fewer than six senators brought up the EPA's handling of the Renewable Fuel Standard that forces refiners to blend biofuels such as corn-based ethanol into gasoline, amid deep disputes between farmers and refiners over the policy.
Ethanol advocates unsuccessfully pressed Wheeler to commit to lifting summertime restrictions on the sale of E-15 gasoline that contains 15 percent ethanol, a week after Trump told voters in Iowa he was "very close" to making the change. Wheeler instead noted that there are disputes over the EPA's ability to allow year-round E-15 sales administratively, without involving Congress.
Wheeler also told senators that the biofuel law gives the EPA limited roomto delay or deny small refineries' requests for exemptions from annual blending quotas. "We have been sued twice for not granting enough, and we have lost both times," Wheeler said.
Wheeler was testifying before the same Senate committee where he previously worked for Republicans and developed a reputation for his low-key but politically savvy style. Both as a Senate staffer and later as a lobbyist, Wheeler has crusaded behind the scenes for decades to quash climate change legislation, promote coal and secure policy changes for a host of energy industry clients. Unlike Pruitt, who toured the country to highlight changes at the EPA, Wheeler eschews the limelight.
Some conservatives have worried that Wheeler's deep ties to the EPA — and his respect for the institution — could discourage him from broadly overhauling the agency and its policies with the same zeal Pruitt brought to the job.
Wheeler adopts the view that "slow and steady wins the race," said Tom Pyle, president of the American Energy Alliance, a free-market advocacy group. "Pruitt has always been very openly combative," Pyle said. By contrast, Wheeler "is going to be more deliberative and probably a little more cautious."
"As long as the outcome is the same, I'm less concerned about the road that's taken," Pyle said.
Some of Wheeler's moves appear aimed at insulating EPA rules and policy pivots from inevitable legal challenges.
On July 26, Wheeler withdrew a "no action assurance" Pruitt signed his last day on the job that had promised the EPA would not enforce limits on so-called "glider trucks" that are retrofitted with rebuilt diesel engines lacking modern emissions controls.
But in a memodescribing his reversal, Wheeler made clear that the EPA was not backing off its underlying plan to ease the Obama-era limits on glider trucks. And in a separate message from the EPA's Office of Public Engagement, the agency assured stakeholders Wheeler rescinded the Pruitt policy because he didn't think there were "extremely unusual circumstances" supporting it — even though the agency would "continue to work expeditiously to finalize a solution that provides regulatory relief."
Wheeler's pivot came eight days after the U.S. Court of Appealsfor the District of Columbia Circuit issued a stay blocking Pruitt's hands-off policy toward glider truck pollution. Lawsuits previously prompted the EPA to reverse course on policies around ozone pollution, landfill emissions and pesticides under Pruitt too, noted Bethany Davis Noll, litigation director at the New York University School of LawInstitute for Policy Integrity.
Separately, Wheeler has appealed for changes to a drafted plan to put the brakes on federal rules boosting fuel efficiency and curbing greenhouse gas emissions from vehicles. A draft under review at the White House Office of Information and Regulatory Affairs adopts an approach favored by political appointees at the Transportation Departmentand lays the groundworkfor an attack on California's unique ability to set its own requirements combating air pollution.
Wheeler pushed regulators to revise the drafted proposal and add more analysis of alternatives, including possible changes to give automakers more technical options for satisfying vehicle emission mandates, according to two people familiar with the discussions.
Such changes to the proposal could help pave the way for a more moderate final rule and a possible compromise with California. There is no indication, however, that regulators agreed to make any of Wheeler's requested revisions.
Ultimately, Wheeler is working to advance the same basic agenda as Pruitt, even if he is moving more deliberately, Walke said.
"I want to be cautious, and I want fellow EPA watchers to be cautious about being seduced by process and rhetoric, while the same destructive rollback agenda proceeds apace and perhaps even accelerates under the leadership of a lobbyist who flies under the radar more than an ambitious politician," Walke said.
(Updates with Wheeler comments and hearing details from third paragraph.)