Perry Challenges China Ahead of Clean Energy Summit
Source: By Bloomberg • Posted: Tuesday, June 6, 2017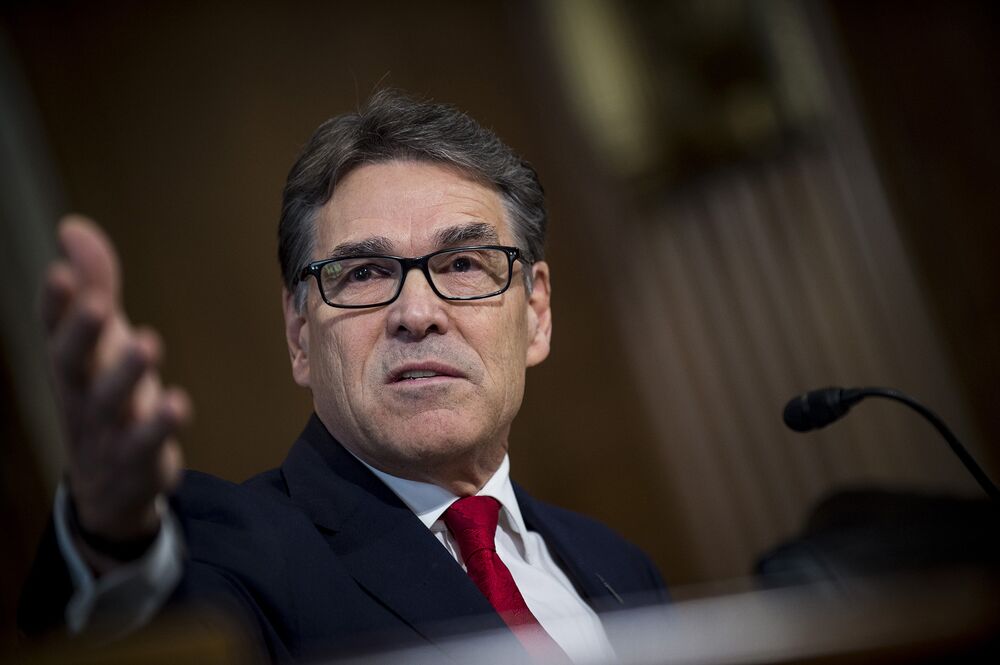 U.S. Energy Secretary Rick Perry.Photographer: Pete Marovich/Bloomberg
The man who now leads the energy department he once promised to abolish is headed to China to make the case for why the Paris climate accord doesn't work and how technology — and natural gas — can be just as effective in heading off global warming.
U.S. Energy Secretary Rick Perry is due in Beijing on Tuesday for a gathering of energy ministers and will urge his colleagues to consider the benefits of all forms of energy — including nuclear, fossil fuels, liquefied natural gas and renewables. While he insists the U.S. can continue to lead on climate issues, he's hopeful that China will rise to the occasion.
"We're not stepping back, and we haven't created a void," Perry told reporters in Tokyo on Monday before the Chinese leg of his journey. "I hope China will step in and attempt to take the mantle away. It would be a good challenge for them because I've been to Beijing, I've been to Shanghai, I've been to Shenzhen, and the air is not as pleasant as it is in Tokyo."
Perry's attendance at the Clean Energy Ministerial — a forum of environment and energy ministers discussing trends in energy — has taken on greater importance since President Donald Trump announced that the U.S. will withdraw from the Paris Agreement on climate change.
It now falls to Perry, a former Texas governor and presidential candidate, to make the case that the U.S. is shaping future trends in energy. The U.S. held the first CEM in 2010, which were one of the events to pick up the pieces of the failed Copenhagen climate talks the year before.
Challenge for China
Despite hosting the conference this year, China finds itself in an uneasy role. It is the world's largest polluter, the biggest consumer of coal, and its committed to the Paris accord includes the caveat that emissions may not peak until 2030.
"China has been quite vocal that they are in support of the Paris accord," Thomas Lapham, chief executive officer of Chinese rooftop solar developer Asia Clean Capital Ltd., said in an interview with Bloomberg Television on Friday. "They are going to do their part to try to contribute."
On a visit to Japan on Monday, Perry said the U.S. commitment to environmental issues hasn't changed. The energy secretary and his Japanese counterpart agreed to more discussions about cooperation on LNG and renewables, according to a briefing.
While in Beijing, Perry plans to attend the Mission Innovation meeting, which was established last year by 22 nations and the European Union. In 2015 each of the nations pledged to double their R&D spending in clean energy. Trump's first budget would gut that spending.
"Rick Perry has a reputation for having been supportive of renewable energy, particularly wind, in the past when he was governor of Texas and he comes with certain agenda items he wants to achieve and negotiate with China and other countries probably around clean coal and natural gas, especially the LNG trade," said Sophie Lu, head of China research for Bloomberg New Energy Finance.
Leadership Change
Perry may find himself on the defensive in China, with many world leaders highly critical of the U.S. decision on Paris. On Sunday, German Chancellor Angela Merkel's chief of staff, Peter Altmaier, said Europe will move forward with countries such as China and India.
In fact, the tilt toward a greater leadership role for China on climate has been underway for some time.
China has been the world's biggest clean-energy investor since 2012. In 2016, it spent $88 billion on clean sources of energy such as wind and solar power, accounting for about one third of renewables investment globally. According to data compiled by London-based BNEF, China invested $17.9 billion in new clean energy projects in the first quarter, compared with $4.1 billion in Japan and $9.4 billion in the U.S.
"I would expect China to step up its efforts to compete with the U.S. on advanced technology and research and development," said Anders Hove, associate director of research at the Paulson Institute. The U.S. leaving Paris "probably does cause some international scientists and experts to consider whether they should be working in this field in the U.S. versus some other places."
'Clean Coal' Proponents
Perry is likely to find a receptive audience for the idea that coal can be used in much cleaner ways than in the past.
While China has gradually reduced its reliance on coal-fired power generation, the fossil fuel still accounts for about 67 percent of its electricity production, according to data compiled by BNEF. That's much higher than in the U.S., where coal has a 30 percent market share, trailing gas at 34 percent.
"The U.S. has high hopes in terms of exporting LNG to China as a future market," said BNEF's Lu.
— With assistance by Feifei Shen