Peak Renewable Energy Investment Seen Holding Back Climate Fight
Source: By Iain Wilson, Bloomberg • Posted: Wednesday, November 2, 2016
Renewable energy investment probably has reached a peak of $349 billion that won't be surpassed for at least five years, signaling a lull in the global fight against climate change.
That's the outlook from Michael Liebreich, founder of Bloomberg New Energy Finance, who predicted funding for wind, solar and other clean-energy projects will probably fall at least 15 percent this year. At a conference in Shanghai on Tuesday, he outlined how the industry's capacity to generate power will keep growing even with lower investment.
Following are some of the charts Liebreich showed to illustrate BNEF's findings:
Clean Energy Output Is Growing While Investment Stagnates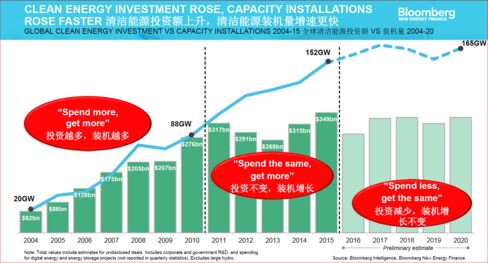 The chart above shows developers are able to deliver the same amount of generation capacity as before with less investment. That's because the costs of building wind and solar farms is falling along with the expense required to finance them. Liebreich said that trend will continue through 2020.
Bigger turbines, cheaper machines, higher towers and data allowing operators to run wind farms more efficiently mean more power flows from each farm. In solar, photovoltaic cells are becoming more efficient and grid managers smarter about how to integrate those flows into the network.
"This isn't going to stop," he said at a conference organized by BNEF, noting that most people think wind farms operate at 15 percent of their capacity. "The truth is that new wind turbines onshore work 30 percent of the time or more of the time, and that drives down the cost of wind power," he said.
Smarter Subsidy Structures Have Slashed Costs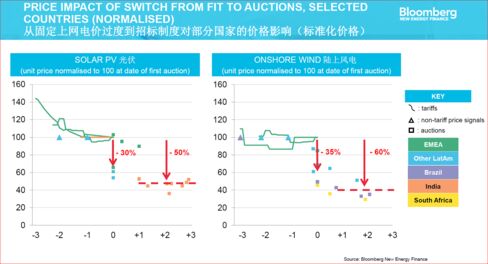 A shift in the way regulators deliver support for renewables has forced companies to slash costs. The chart above shows countries can achieve a 30 percent saving in the first year after switching away from awarding fixed prices for power in the form of feed-in tariffs. Reverse auctions, where bids are sought for developing a certain amount of capacity, force developers to bid prices for their projects.
"Policy matters in energy," Liebreich said. "This is seen again and again around the world."
Current Investment Is Short of World's Climate Goal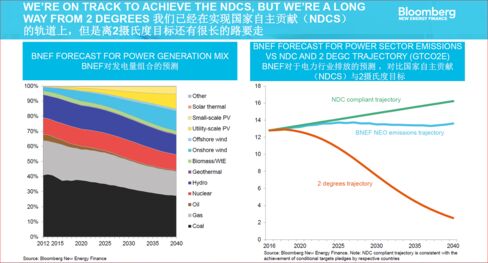 Even with more megawatts flowing from each wind and solar farm, the pace of investment in renewables is short of where the world needs to be to rein in carbon emissions. The chart above shows how the current pace of development will impact on the mix of fuels used to generate electricity from now to 2040.
The right side of the chart shows the carbon emissions expected based on that fuel mix, with both BNEF forecasts and the pledges delivered to the United Nations dramatically overshooting the "2 degree trajectory" goal outlined by the International Energy Agency.
Liebreich said renewables are growing too slowly and coal use too quickly to remain consistent with the goals on climate agreed through the UN talks.
Asia's Coal Consumption Is Rising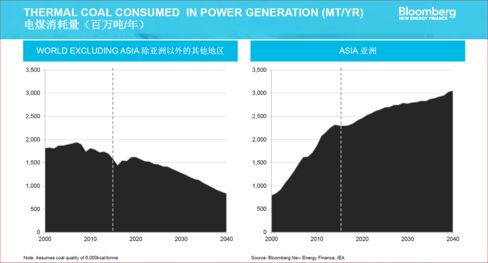 The chart above shows projections for coal use based on IEA and BNEF data for within Asia (on the right) and for the rest of the world outside Asia (on the left.)
"If Asia keeps building coal-fired power stations, then there is no way of sticking within a carbon budget consistent with 2 degrees," Liebreich said.
World leaders will be meeting in Marrakesh from Nov. 7 to 20 for the COP22 conference to implement details of their climate deal and discuss concrete steps forward. To date, 87 countries have ratified the Paris agreement, including China, the U.S. and the European Union. It will enter into force Nov. 4.