Oil Falls a Second-Straight Week Even With Macro Price Boost
Source: By Julia Fanzeres, Bloomberg • Posted: Monday, May 1, 2023
Fed rate-hike more likely; Asian oil refining margins weak WTI traded above $76, swung with equities for most of the week
Oil fell for a second consecutive week even as an earnings-driven rally on Wall Street pushed prices higher.
West Texas Intermediate rose the most in almost four weeks Friday, boosted by risk-on sentiment that benefited commodities across the board. Oil largely tracked broader market trends this week as many traders avoided staking out big positions while they await the next US central bank decision.
Crude swung sharply in April, surging to a 15-month high after the Organization of Petroleum Exporting Countries and its allies announced an output cut. Prices subsequently gave up those gains amid technical pressures and a deteriorating outlook.
Recent economic data shows that US inflation continues to accelerate, bolstering expectations the Federal Reserve will keep raising rates and heightening the chances of a demand-sapping recession. Meanwhile, supply from Russia has remained resilient despite Group of Seven sanctions, and China's rebound has been slower than some anticipated.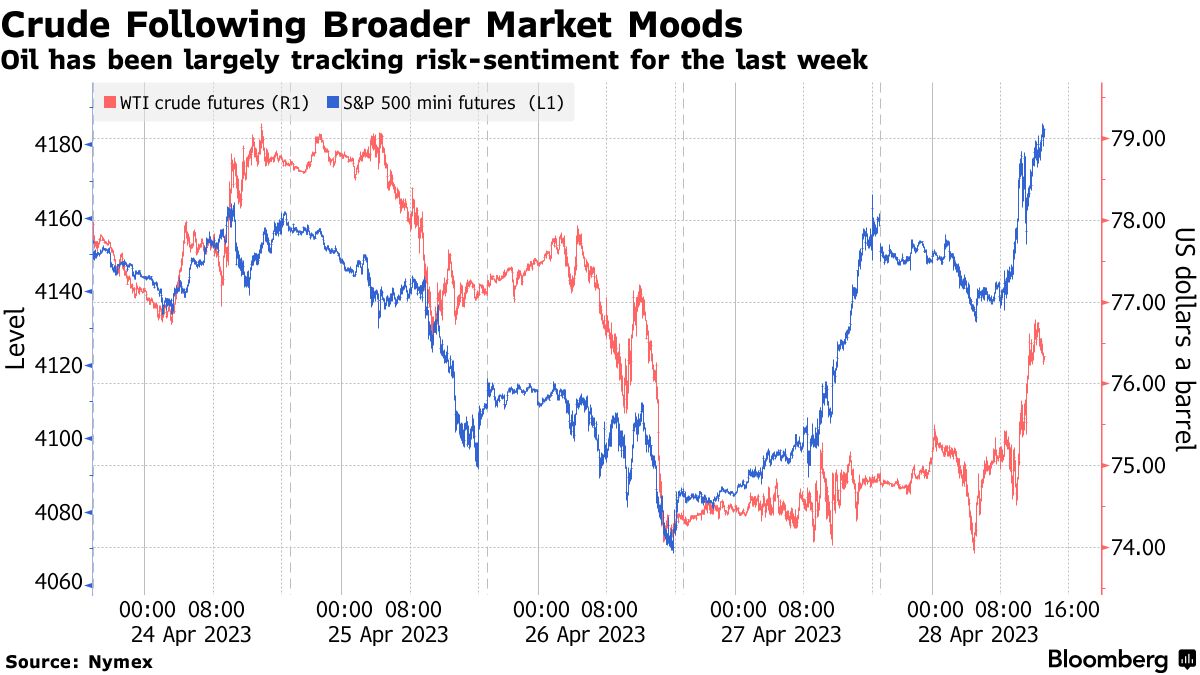 Falling profit margins for refiners in Asia are already flashing weakness in the biggest oil-importing region, but China's recovery is starting to take hold. Top Chinese refiner Sinopec said the nation's rebound will boost demand growth for refined oil products by more than 10% this year.
First-quarter earnings for oil blew out expectations with industry giants Exxon Mobil Corp. and Chevron Corp raking in profits not seen since oil topped $145 a barrel in 2008, nearly double the current price it's hovering near $75.
Energy Daily, Bloomberg's daily energy and commodities newsletter, is now available. Sign up here.
— With assistance by Sri Taylor
(An earlier version corrects headline to say tailwinds boost price.)