NPPD moratorium could stall wind energy development in Nebraska
Source: By ALGIS J. LAUKAITIS / Lincoln Journal Star • Posted: Monday, May 14, 2012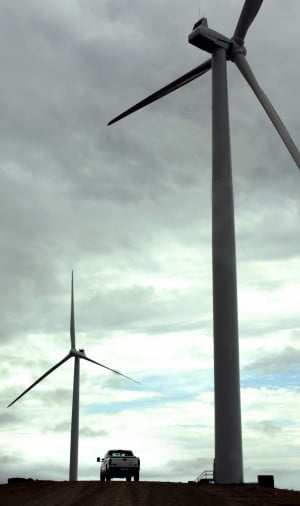 A pickup is dwarfed by massive turbines producing electricity at the Ainsworth Wind Farm. (ERIC GREGORY/Journal Star file photo)
Nebraska's gust of wind energy could be slowing to a breeze.
The Nebraska Public Power District — considered the leader in wind energy development in the state — intends to build few, if any, wind farms over the next five years.
Wind energy supporters view NPPD's decision — outlined in a resolution — as a moratorium. They say the state's largest electric utility should be doing more, not less, to develop wind energy resources.
Nebraska has the fourth best wind resources in the United States but ranks 25th in wind development, according to the American Wind Energy Association.
"If you look at the states that surround Nebraska, only Kansas has more wind resources than we do. But we have the least wind development of all the neighboring states," said Nebraska Farmers Union President John Hansen. "We're falling behind."
The resolution, passed last year on a 10-1 vote, says that after NPPD completes its involvement in two wind farm projects near Broken Bow, it does not plan to add more wind generation before 2017.
"I would not say it's an absolute moratorium," said Dave Rich, the utility's renewable energy development manager.
He said NPPD is way ahead of schedule and halfway to its goal of having 10 percent of its energy come from renewable resources by 2020.
NPPD plans to buy 10 megawatts of wind energy from a Winnebago Tribe project near Emerson in northeast Nebraska and is working on another project to buy as many as 50 megawatts of wind energy, he said.
Beyond those two projects, the utility has no plans to enter into long-term contracts with private wind farm developers, Rich said.
Board member Mary Harding of Lincoln — the sole no vote on the resolution — agreed that it may not be an absolute moratorium, but said it ties the utility's hands.
"The (10 percent) goal has become a ceiling," she said. "At one time it was a target to reach, and now it's a cap.
"I did not want to put my stamp of approval on a resolution that says we're done with wind."
Harding said the resolution already has had an effect, noting that it prohibits NPPD from adding the 10 megawatts from the Winnebago project to its generation portfolio.
"We will buy it (the wind energy) and sell it to somebody," she said. "We've tied our own hands."
Sen. Ken Haar of Malcolm, who has spearheaded wind energy development legislation and believes the NPPD resolution is a mistake, said Nebraska needs to be more aggressive.
"We have the fourth biggest wind potential in the nation, and we need to figure out a way to use that," Haar said. "Every ton of coal that comes across the border from Wyoming to Nebraska helps pay the property taxes of Wyoming homeowners."
Haar said there's no reason Nebraska can't export some of its wind energy and help reduce property taxes here.
NPPD has been on a wind energy development binge since it built the state's largest publicly owned wind farm at Ainsworth in 2005.
Since then, the utility has entered into long-term agreements to buy electricity from private companies, which can take advantage of federal tax incentives — something public utilities cannot do. Nebraska is an all public power state.
By the end of this year, NPPD will get wind energy from projects near Ainsworth, Bloomfield, Petersburg, Springview, Crofton and Broken Bow. It has 232 megawatts of wind generation resources, with a goal of 430 megawatts by 2020.
The resolution comes at a time NPPD is examining options for generating power over the next 20 years. The utility, as required by law, updates its "integrated resource plan" every five years.
As part of the process, NPPD is hosting 10 open houses across the state; two meetings remain: May 14 in South Sioux City and May 15 in Columbus.
A coalition made up of the Nebraska Sierra Club, Nebraska Wildlife Federation, Nebraska Farmers Union, League of Women Voters and Bold Nebraska is opposing NPPD's plans to spend more money on retrofitting its coal plants.
The utility is considering spending $1.5 billion to retrofit Gerald Gentleman Station near Sutherland to meet more stringent federal air pollution regulations.
Hansen of the Farm Bureau said some NPPD wholesale customers, including rural electric associations, may be pushing the utility to invest more money in coal plants, which they claim is cheaper and more reliable than wind energy.
He encouraged NPPD to look at using more natural gas, which is abundant and inexpensive, and adding more wind energy to its generation portfolio.
"Wind and natural gas partner up very nicely," Hansen said.
Rich acknowledged that natural gas is cheap today but said the price could go up because of fracking, a controversial method of underground extraction.
He also noted that the fuel costs for a coal plant are about 2 cents per kilowatt-hour compared to about 3.5 cents for wind.
Rich said the NPPD board is trying to find a balance between short-term and long-term energy needs. Now, it has excess power generation capacity.
One looming concern is the possible expiration of federal tax credits for renewable energy at the end of the year, he said. That could affect wind energy development nationwide, Rich said.
"There's a lot of uncertainty."