Norway's Top Oil Company Is Building A Huge Wind Farm Off New York's Jones Beach
Source: By Alexander C. Kaufman, Huffington Post • Posted: Wednesday, December 21, 2016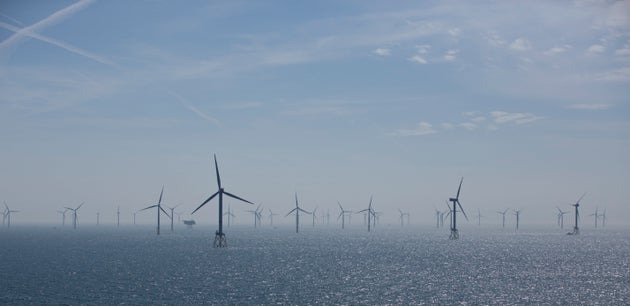 NEW YORK ― Winds off the coasts of the United States are so dependably strong, turbines built offshore could produce four times the amount of electricity that's currently generated from all sources in the country.
At least, that's what Norway's biggest oil company is betting.
Statoil, the fossil fuel cash cow that made Norway the world's seventh richestcountry, won a $42.5 million bid last Friday to lease 79,350 acres of federal waters starting roughly 14 miles off the coast of Long Island. There, the company's U.S. subsidiary plans to build a massive offshore wind farm to send clean energy back to New York City and its suburbs.
Before Statoil can begin construction, the firm plans to survey the waters, which go as deep as 131 feet in places. It's unclear how many turbines the project will include, but the first phase is expected to produce up to 600 megawatts. By 2030, New York Gov. Andrew Cuomo (D) wants to get half of the state's electricity from zero-emissions sources.
"New York state has a really good wind condition and, obviously, also a very attractive market close to the wind resource," Irene Rummelhoff, Statoil's top boss in charge of renewable energy, told The Huffington Post. "We think it's a good foothold into a potentially very exciting offshore wind market in the future."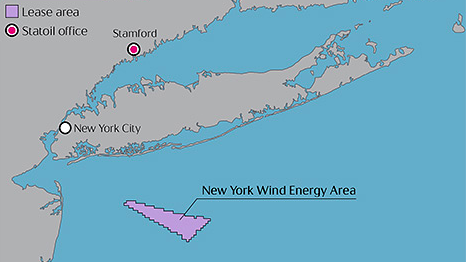 The U.S. produces roughly 75 gigawatts of wind energy already, almost all of which comes from land-based turbines in windswept states like Texas, California and Iowa. But offshore wind, popular in Western Europe, has failed to take off until this year.
Last week, the first offshore wind farm in North America ― a five-turbine operation abutting Rhode Island's vacation hub Block Island ― began producing electricity. The project, which took seven years to complete, marked a historic turning point for a long-stalled subsector of the renewable energy industry. Developers had hoped a proposed 130-turbine farm off the coast of Massachusetts might jump-start the industry. But fierce opposition delayed the project, first proposed 15 years ago, and it may now never be built.
As offshore wind languished in the U.S., the industry thrived abroad. Europe added 114 commercial offshore wind turbines in the first six months of 2016 alone. Last year, nearly 1 out of every 3 new turbines built in Europe went offshore. The cost of offshore wind energy has plunged as the supply chain for building turbines improves and competition heats up. The price of a megawatt-hour of offshore wind is now between $75 and $140, compared to $67-$72 for gas and coal, according to The Guardian.
The United Kingdom alone gets about 5.1 gigawatts of electricity from 1,465 turbines operating at 27 separate wind offshore farms, according to data from the trade group Renewable UK. In 2012, Statoil completed its first commercial offshore wind farm, an 88-turbine project called Sheringham Shoal, off the eastern coast of England. That farm now powers up to 220,000 British homes. The company is building a second farm in deeper waters, roughly 20 miles off the North Norfolk coast in England, that is expected to produce enough power for up to 401,000 homes. Statoil's third British farm, set to begin production off the coast of Scotland next year, could become the world's first floating wind farm.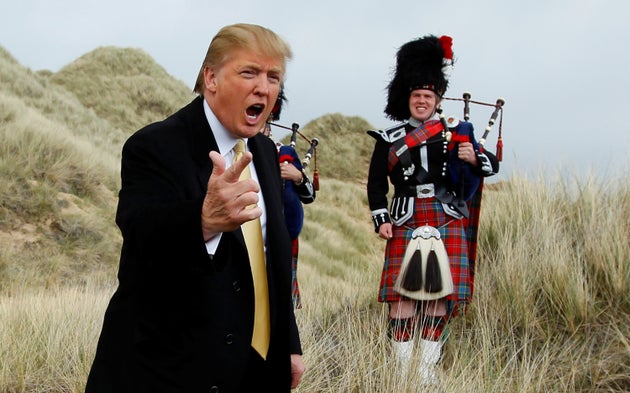 "We've seen just over the last year or so, in Europe, costs come down significantly," Rummelhoff said. "The supply chain is evolving, there's more competition and people are getting comfortable with the risk."
"We learned from our experience," she went on. "And the offshore wind industry [in the U.S.] has matured."
Still, the incoming U.S. administration could complicate the picture. President-elect Donald Trump has stacked his proposed Cabinet with fossil fuel executives and climate science deniers, and has claimed himself or through surrogates that global warming is "a hoax" and "a bunch of bunk." He has specifically targeted the wind industry, describing land-based turbines as a death trap for eagles and renewing a years-long feud over an offshore project underway in view of his golf resort in Scotland.
But Trump has also proposed spending about $1 trillion to rebuild crumbling infrastructure throughout the country. And while critics such as Sen. Bernie Sanders(I-Vt.) have slammed that plan as "corporate welfare" and "a scam," some in the wind industry hope it could provide a starting point for talks with the next administration.
"We have a great story to tell," Nancy Sopko, head of advocacy and federal legislative affairs at the industry group American Wind Energy Association, told HuffPost. "We think the story we have is jobs-focused, it's infrastructure-focused, it's focused on revitalizing ports, building ships and vessels."
"All that translates to a great opportunity for the American worker," she went on. "Those are bipartisan ― nonpartisan, even ― issues on which we think we can work together with the administration."