Norway wealth fund to assess climate risks in power, oil, materials
Source: By Gwladys Fouche, Reuters • Posted: Monday, March 5, 2018
OSLO (Reuters) – Norway's $1 trillion sovereign wealth fund will this year step up its assessment of the risks posed by climate change to its investments in power producers, oil firms and basic materials companies, its CEO told Reuters on Tuesday.
Separately, the board of the central bank will soon decide whether to blacklist from the fund one or more companies — either in the oil, steel or concrete sectors — for producing too much greenhouse gases, the central bank chief told Reuters.
The fund, which invests the proceeds from Norway's oil and gas production for future pensions in stocks, bonds and real estate abroad, is one of the world's biggest shareholders, with stakes totaling 1.4 percent of all listed companies.
In recent years the world's biggest sovereign wealth fund has become a more active shareholder, trying to influence companies' attitudes.
Among them are the way companies report on climate change, such as their carbon dioxide emissions, or whether companies have scenario analyses of how more heatwaves, droughts or floods might affect their earnings.
Chief Executive Yngve Slyngstad said the fund would first focus its efforts on electricity producers.
"That is … the sector that we will first go through and think about in this scenario. The two next ones will be (basic) materials and oil."
"By far the largest … is electricity producers, which of course has been a specific focus for us because of the so-called coal criteria," he said referring to the fund not being allowed by parliament to invest in firms that derive more than 30 percent of their revenue from coal.
The proposal to potentially exclude one or more companies in the oil, steel or cement sectors over excessive greenhouse gas emissions is under review by the board of the central bank.
"We have received some recommendations on potential exclusions based on that new criteria. The board is working on the issues … It's not going to be long," central bank governor Oeystein Olsen said, declining to give a more precise timeframe.
The moves come as the fund is proposing to drop oil and gas stocks from its benchmark index, which would reduce over time its stakes in oil and gas companies.
That proposal is under consideration at the finance ministry and will be voted by parliament at a later stage.
DOUBLED ITS RETURN IN 2017
Also on Tuesday, the fund said it doubled its return on investment in 2017, beating its benchmark, as strong global stock markets boosted the value of the portfolio. It earned a return of 13.7 percent in 2017, up from 6.9 percent in 2016.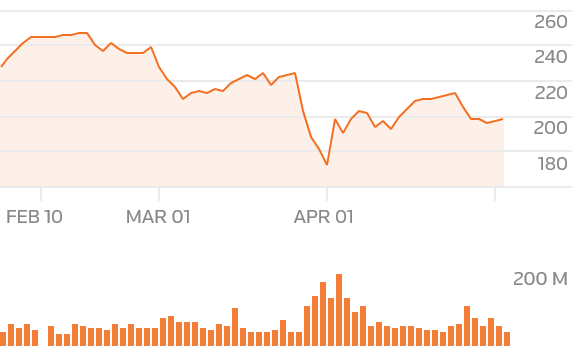 "The fund's cumulative return since inception has passed 4,000 billion Norwegian crowns ($511 billion). One out of four crowns of return was generated in 2017, after a very strong year for the fund," Slyngstad said in a statement.
"Again, our equity investments returned strongest with a return close to 20 percent."
The fund's biggest single company investment at the end of 2017 was in Apple Inc (AAPL.O), worth 66 billion crowns, ahead of Nestle (NESN.S) at 51 billion and Royal Dutch Shell (RDSa.L) at 50 billion.
Apple was also the biggest single contributor to the fund's returns in 2017, ahead of Chinese tech group Tencent Holdings (0700.HK) and Microsoft (MSFT.O).
The fund's size is equivalent to $200,000 for every Norwegian man, woman and child.
The government withdrew 61 billion crowns during 2017 to pay for public expenses, compared with 101 billion crowns in 2016.
Slyngstad earned an annual salary of 6.7 million crowns, or roughly $855,000, in 2017, while his chief investment officer for equity strategies, Petter Johnsen, earned more, with 7.4 million crowns.
By comparison, the country's prime minister, Erna Solberg, earned 1.6 million crowns.
Editing by Louise Heavens and David Evans