Nordex Global Wind Business Offers Small Cushion in Virus Crisis
Source: By Brian Parkin and William Wilkes, Bloomberg • Posted: Wednesday, March 25, 2020
Nordex SE is facing a shortage of supplies and people due to the coronavirus crisis, denting the German-Spanish wind turbine maker's ability to weather the pandemic with its increasingly global reach, said its Chief Executive Officer Jose Luis Blanco.
"It helps a lot to have a diversified business across the globe and that wasn't the case four or five years ago," Blanco said by phone. But the virus is already "really hurting us" by crimping workforce and component availability, he said, citing choked parts supplies from China as an early marker of what the virus can do.
Nordex released its most ambitious sales target ever, earmarking a jump of almost 50% this year to as much as 4.8 billion euros ($5.2 billion) as orders surge. The Hamburg-based turbine maker has factored in the hurdles that it foresees in the short-term in the 2020 forecasts, Blanco said.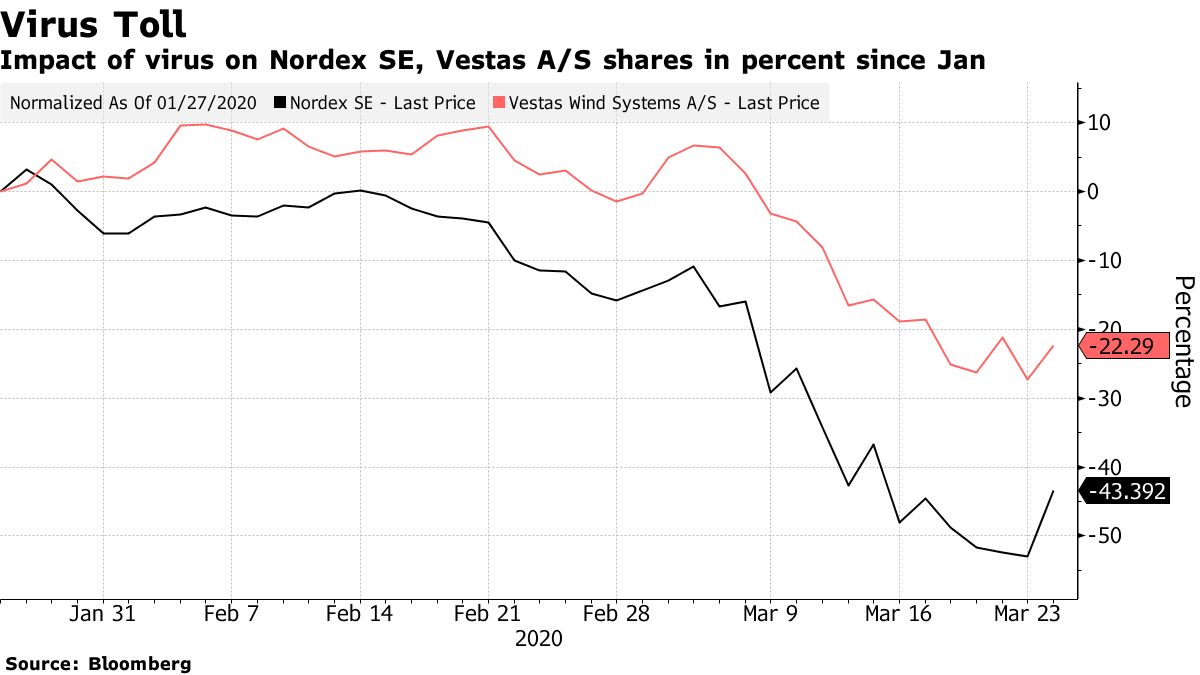 Nordex has yet to devise scenario plans for potential interruptions in its global web of supply chains, Blanco said. About 70-80% of its workforce is in Germany and its operations in Spain, one of the European countries hardest-hit by the virus, are running at about 80% of capacity.
Demand for Nordex turbines is intact and the company aims to make most of its sales growth in the second half, carving out business with its 5-megawatt Delta series turbines, he said.
Nordex' shares jumped as much as 30% today, the most since 2008, amid broad gains in global markets on optimism over the unprecedented efforts governments are making to tackle the virus.
The company will have no hesitation to tap government aid to get it over any hump in cash flows, production, component disruptions or installation snarls, he said. Wind power companies are "critical players" in protecting the climate and Nordex would ask for help if it needed it.
Nordex has some 6,000 workers and offices in 40 countries. The share of the turbine maker's total sales in its home market of Germany has shrunk to 5%, said Blanco.