New owner of stalled Grain Belt Express confident it can help the transmission project move forward
Source: By Bryce Gray, St. Louis Post Dispatch • Posted: Wednesday, February 20, 2019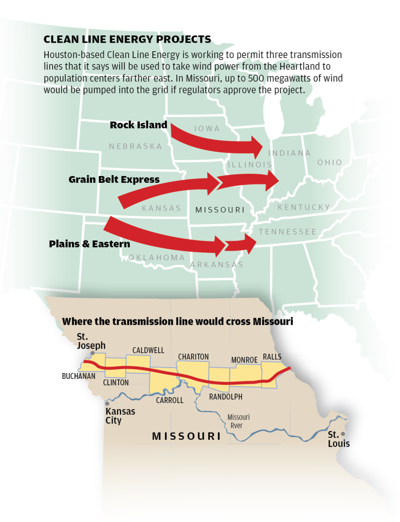 The proposed multistate transmission line, Grain Belt Express, has languished before Missouri regulators for years — with their at times
controversial rejections
representing the last major obstacle to sending Kansas wind energy east along an intended 780-mile path.
Momentum for the project finally seemed to be building last year, when court rulingssteered the matter back to the Missouri Public Service Commission with favorable opinions. Even so, the prospective developer that had shepherded the project through years of turmoil and snags said in November that it planned to sell off rights to the endeavor.
The announced sale from developer Clean Line Energy to Invenergy has stoked its own questions about whether the change in ownership affects the likelihood of the long-talked-about project finally panning out.
Some outside experts in Missouri speculate that Invenergy's bid to take over the project can only help its odds of getting across the finish line.
"I think this is good if this company is interested in this. They wouldn't be buying something that they thought was doomed," said James Owen, executive director for Renew Missouri, an organization that advocates for increased adoption of renewable energy in the state. "I think this is ultimately showing that companies out there see that there is value to this project."
The project would be accompanied by the large-scale construction of new wind energy generation in western Kansas. Although about 85 percent of electricity distributed by the project would be destined for other states, it would power approximately 200,000 Missouri households. The PSC, even in denying the project through certain legal interpretations, has agreed that it is in the public interest, and would save Missouri customers millions of dollars by promoting access to cheap wind energy.
If concerns about sustaining capital were behind the decision to sell the project, Owen said Invenergy is a "massive" company with assets that may help the "ambitious" project come together.
Invenergy also expressed that confidence, themselves.
"We do bring resources that Clean Line didn't bring to the table," said Beth Conley, a spokesperson for the company, adding that Clean Line "developed a good project and put a good case forward to the PSC."
Conley stressed that the company sees potential in the project since it would help satisfy demand for cost-effective wind power.
She added that projects like Grain Belt also aim to address transmission bottlenecksthat act as a broader "constraint" on the grid's ability to build and distribute influxes of renewable power generation.