Nebraska man doesn't use gasoline or pay for electricity and hasn't set out trash for 3 years
Source: By Omaha World Herald • Posted: Friday, October 5, 2018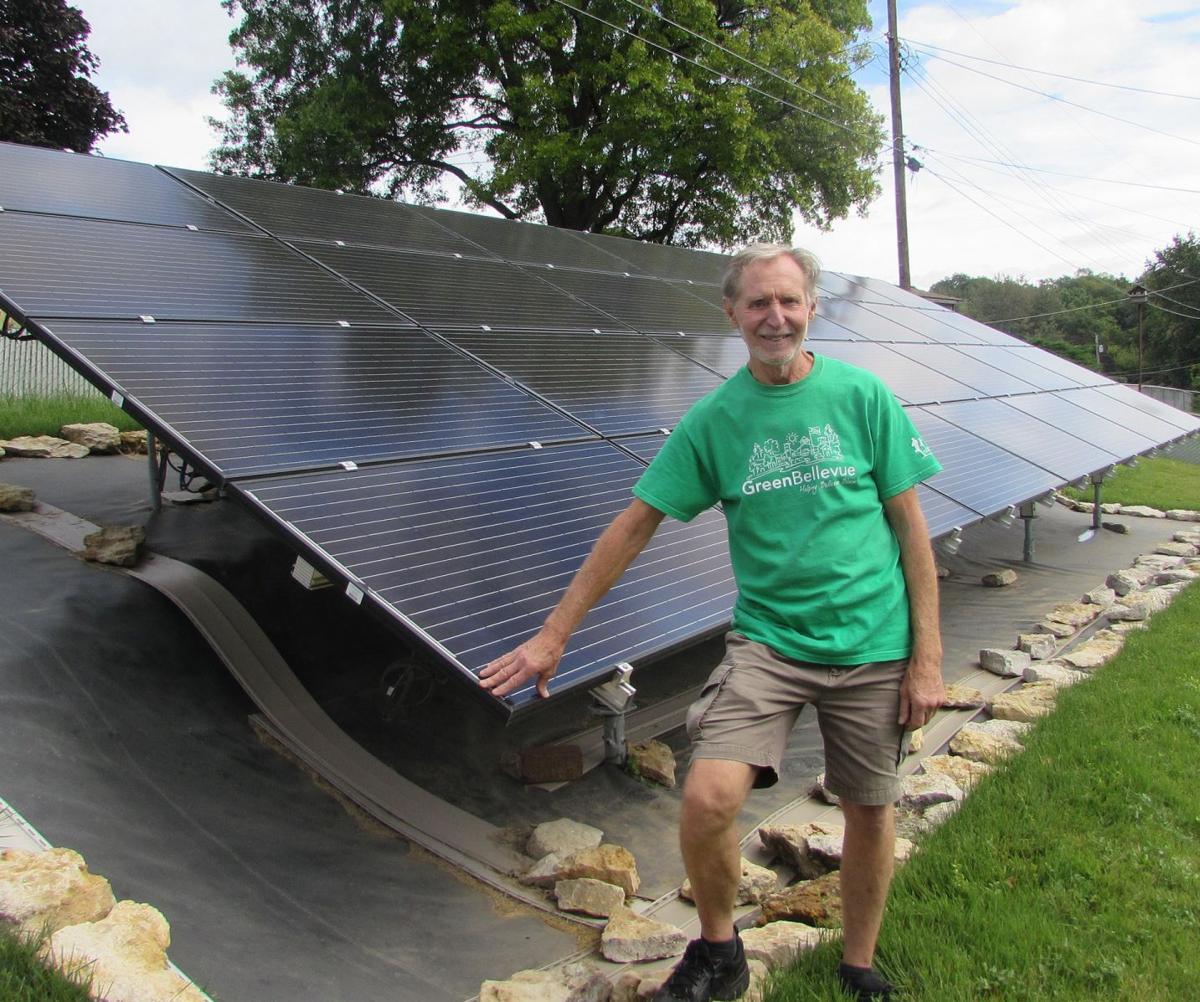 Bellevue City Councilman Don Preister with his backyard solar farm. Preister will be part of a national Open House program Saturday where people who have generated their own power explain how it's done.
Planet Earth doesn't know Don Preister exists.
He uses no gasoline, pays the Omaha Public Power District nothing, mows his lawn with one of those once-ubiquitous hand-pushed manual mowers, puts out recyclables but no trash or yard waste, and that small amount of puzzling trash — like used plastic pens — gets placed into orange "energy bags" that are delivered to a Kansas agency that breaks down petroleum-based products for re-use as "plastic lumber."
"I have not set out trash for three years," Preister said last month.
This zero-carbon-footprint achievement has caught the attention of the American Solar Energy Society, which has included Preister's home on a national list of homes that on Saturday will hold an Open Solar House. Organized locally by Green Bellevue, which Preister chairs, Nebraskans for Solar, and the Sierra Club, Preister will welcome people to his home at 4522 Borman St., from 10 a.m. to 2 p.m.
During those hours Preister, who is in his eighth year representing northwest Bellevue on the Bellevue City Council, will explain the technology that allows him to live without utility bills or gasoline.
It starts with a bank of 28 solar panels in his backyard. The panels produce all the electricity he needs to warm his house in the winter, cool it in the summer, keep the lights on and keep the oven and refrigerator performing their critical duties.
In fact, those solar panels generate more energy than Preister needs, so OPPD does what federal law requires utilities to do — it buys the excess from him in the form of credits.
The panels produce enough energy to charge Preister's Nissan Leaf electric car, which he bought for $13,000 at three years old with 36,000 miles on the odometer.
Preister spent about $20,000 to install his 28 solar panels, but is quickly recouping the cost through $1,200 a year in vanished electricity bills, a $7,500 federal tax credit and a $1,000 rebate. The panels are guaranteed for 25 years, 10 years longer than Preister estimates it will take to recover the cost of installation.
The electric automobile is the other major component of Preister's declaration of energy independence. A single overnight charge grants the car a radius of about 100 miles.
Charging stations are multiplying quickly, he said. Six are available in Bellevue and the electricity is almost always free.
For all his zero-carbon achievement, however, Preister said he would happily give up his personal solar farm in favor of community solar farms that might generate energy for entire neighborhoods, and perhaps even multiple neighborhoods.
One such solar farm has been proposed for the old Sarpy County Landfill site at Cornhusker Road and Cedar Island Road, land that is unusable for any development purpose.
Some of the 5,000 acres south of Offutt Air Force Base targeted for development by the City of Bellevue could usefully become a solar farm, Preister said.
"Not everyone has wide open access to the sun like me."