Midlands Voices: Nebraska gains as wind power grows
Source: By David Bracht, Omaha World Herald • Posted: Friday, February 1, 2019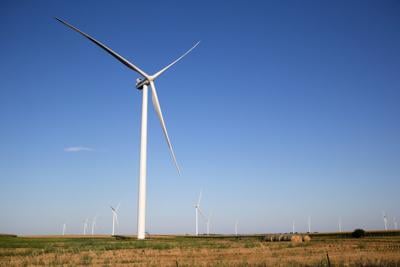 In past generations, states with significant fossil fuel resources — namely coal and oil — could count on jobs, tax revenue and economic opportunity as those resources were developed.
While not devoid of traditional energy resources, Nebraska has never topped the list of fossil fuel states. But we are at the top when it comes to wind — and that has major positive implications for our future.
Nebraska wind farms operating today can generate roughly 1,450 megawatts of electricity — enough to power more than 486,000 homes and meet nearly 15 percent of the state's total electricity demand in 2017. Beyond the energy, however, Nebraska wind also can power our rural economies.
Bolstered by more than $2.6 billion in private investment and supportive state and local policy, close to 2,000 Nebraskans work in wind today.
Those jobs, and the option for young people to return home, bring new life to communities that have been suffering population decline for decades. Wind farms need workers to service the turbines, and adding 10, 15 and sometimes 20 new good-paying jobs has had a dramatic impact in Nebraska's small towns and villages.
The bigger story is that wind's role is set to significantly expand. First, technology improvements continue to lower the cost of producing electric energy from wind.
A recently released annual study shows that the average cost of wind-produced energy declined in 2018 by nearly 7 percent. This is the seventh consecutive year of lower costs and results in a total 69 percent reduction in wind cost in the last nine years.
New wind projects today produce electric energy at a lower cost than the average cost to fuel and operate a typical coal-fired electric generator.
With another 1,428 megawatts of wind under construction or soon to start, Nebraska is one of only seven states on course to double wind capacity once the projects are completed. And much more is possible.
The U.S. Department of Energy reports that Nebraska is third in the nation for wind potential and has some of the strongest, most reliable wind in the country — our 800 existing turbines generate power at a higher rate than any other state. That means we have more of our very best wind left to develop with the newest technologies.
What does that mean for Nebraska?
It means economic opportunity in the small towns and rural counties capturing the value of wind power. Local farmers and landowners benefit from a stable cash flow for the 20- to- 30-year life of the project. All of the county's taxpayers benefit, too. At least three Nebraska counties receive 10 percent or more of their property tax revenues from wind farms already operating, relieving some of the property tax burden on other landowners.
Communities also benefit from the economic activity during wind farm construction. Wind farms constructed in northeast Nebraska meant that 600 to 800 construction workers stayed in local hotels, ate at restaurants and shopped in stores. For Norfolk, the impact contributed to unprecedented increases in sales tax receipts — an average 12-13 percent year-over-year increase during the summer months.
Wind is also attracting new businesses to Nebraska. Omaha Public Power District used an innovative rate plan and Nebraska's high quality wind to attract a $1 billion data center to Omaha. The corporate marketplace is driving new wind energy production in Nebraska, too, with companies such as Smuckers and Vail Resorts, for example, committing to buy clean power from new Nebraska wind farms.
Nebraska is at the center of an emerging national energy renaissance. In 2019, we're poised to see unparalleled growth of the renewable industry in our state. As wind power grows nationwide, meeting market demands for electricity created both cleanly and affordably, we stand uniquely positioned to reap the real-life benefits.
David Bracht served as director of the Nebraska Energy Office from 2015 to 2018.