It's hard to build transmission lines in the Northeast, so 8 states are asking the feds for help
Source: By Miriam Wasser, WBUR • Posted: Wednesday, July 5, 2023
Many states in the Northeast have ambitious clean energy goals to help fight climate change. In the coming decades, they plan to add a lot more renewable energy like wind and solar to the grid, and to use electricity instead of fossil fuels to power vehicles and heat buildings.
But right now, the electrical transmission system — the web of big power lines that move high voltage electricity over long distances — isn't robust enough to make these plans a reality.
WBUR is a nonprofit news organization. Our coverage relies on your financial support. If you value articles like the one you're reading right now, give today.
Most existing power lines are at capacity, and in many places, the buildout of renewable energy will require a lot of new transmission lines to major population centers. What's more, some parts of the Northeast grids aren't fully connected to each other, which makes sharing power challenging.
"It's generally understood that we will need more transmission to help all of our states achieve our clean energy goals," said Caitlin Peale Sloan, vice president of the Conservation Law Foundation in Massachusetts. "But it's very difficult to do."
It's challenging to site energy infrastructure in the crowded Northeast and expensive to build it, she said. So to help make sure the region moves forward in a smart and cost-effective way, the six New England states, along with New York and New Jersey, are looking to the federal government.
Last month, they sent a letter to the Department of Energy, asking it to fund and coordinate an interregional transmission planning collaborative. The effort would bring together the states, regional grid operators and, possibly, representatives from Canada. On June 28, the federal government wrote back to say it's interested in moving forward.
There are still a lot of details to be figured out, but broadly speaking, this unprecedented collaborative will assess onshore and offshore transmission needs and help find ways to improve the flow of power between the New England grid and the grids in New York and New Jersey. The goal is to increase electric reliability, make the grid more flexible and reduce electricity costs.
"We could do this individually as states, or potentially through our respective grid operators," said Jason Marshall, Massachusetts' deputy secretary for federal and regional energy affairs. "But there's a big advantage in having federal leadership participate in the process."
Specifically, the federal government employs a lot of technical experts and has set aside millions of dollars for regional transmission planning.
"We're fortunate to have partners at the U.S. Department of Energy and in the Biden administration that are really focused on upgrading the grid and supporting clean energy," Marshall said. "We're looking to take them up on their invitation and work really closely together to explore potentially different options for for interregional projects."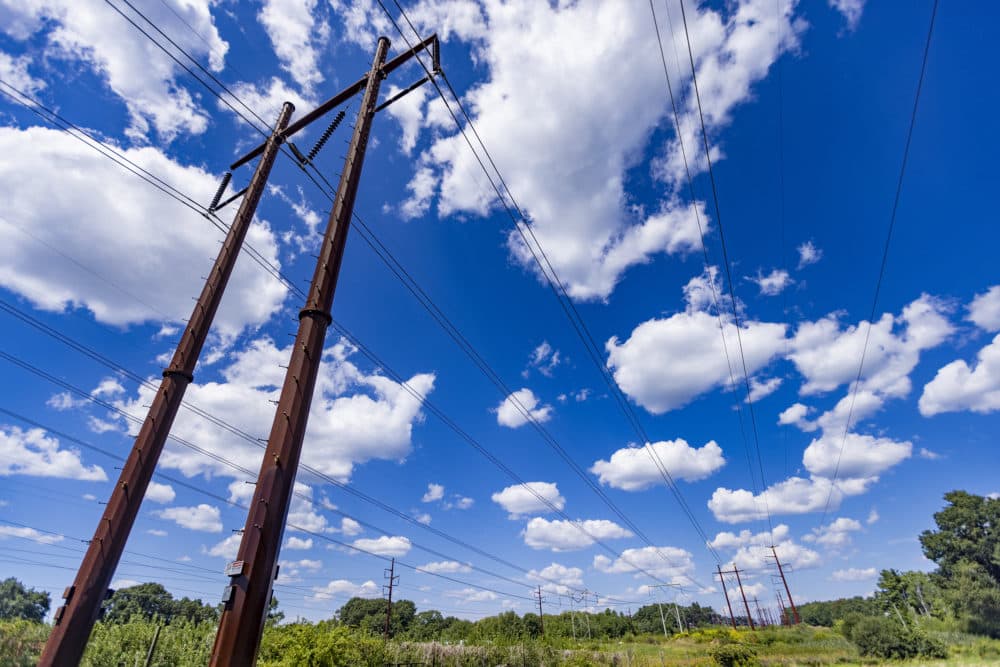 Though it's helpful to picture the transmission system across the country as a web of power lines, it's not a totally accurate metaphor. It's more of a patchwork of separate webs. New England has its own web, New York has a web and New Jersey is part of a larger mid-Atlantic web. There are some connections between them, but not enough.
New England, for example, can currently share about 1,700 megawatts of power with New York, Marshall said. But the draft of a federal study released earlier this year, which modeled likely growth in clean energy and electrification, found that the regions probably need to be able to exchange between 3,400 to 6,300 megawatts. New England and New Jersey currently have no direct ties.
More connection means greater electric reliability and cheaper power. To illustrate why, imagine that an offshore wind farm connected to Massachusetts unexpectedly goes offline on a day when electricity demand is high. Perhaps New York or New Jersey have a surplus of solar power that they can sell to New England to help meet the need. This keeps the lights on and could prevent New England's grid operator from dispatching a more expensive coal or oil-fired "peaker" power plant.
"You're creating the ability for more of that [renewable] power to flow over our borders and to displace more costly fuels or fuel-based power," Marshall said. He added that a number of studies have found that interregional transmission planning has benefits like "increased reliability and operational flexibility, and lower power prices."
The Texas grid, which is not connected to outside regions, famously failed in winter 2021 during a prolonged cold snap. The cost of power spiked and there were massive power outages. Over 200 people died, many from hypothermia. Had Texas been able to import power, the outages may have been less severe.
Having more interregional connections isn't just important for when things go wrong. It can also mean fewer power lines, in general. Consider the case of offshore wind: Right now, offshore wind developers are planning to tie each individual wind farm into the grid onshore with its own subsea power line. As WBUR has previously reported, this system is not ideal.
The alternative, a planned ocean grid, would result in fewer power lines in the ocean and require less work to upgrade the onshore transmission system. It would also be a lot less expensive.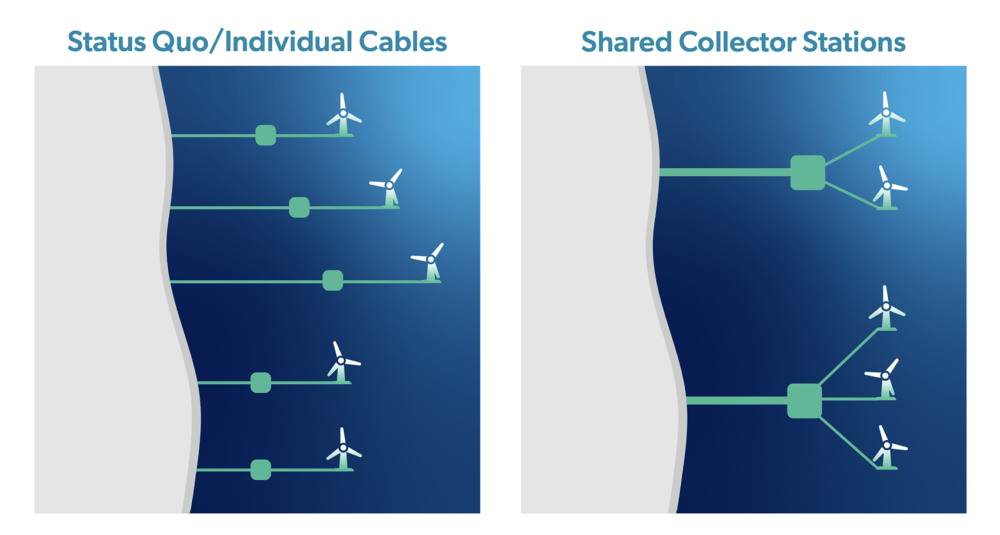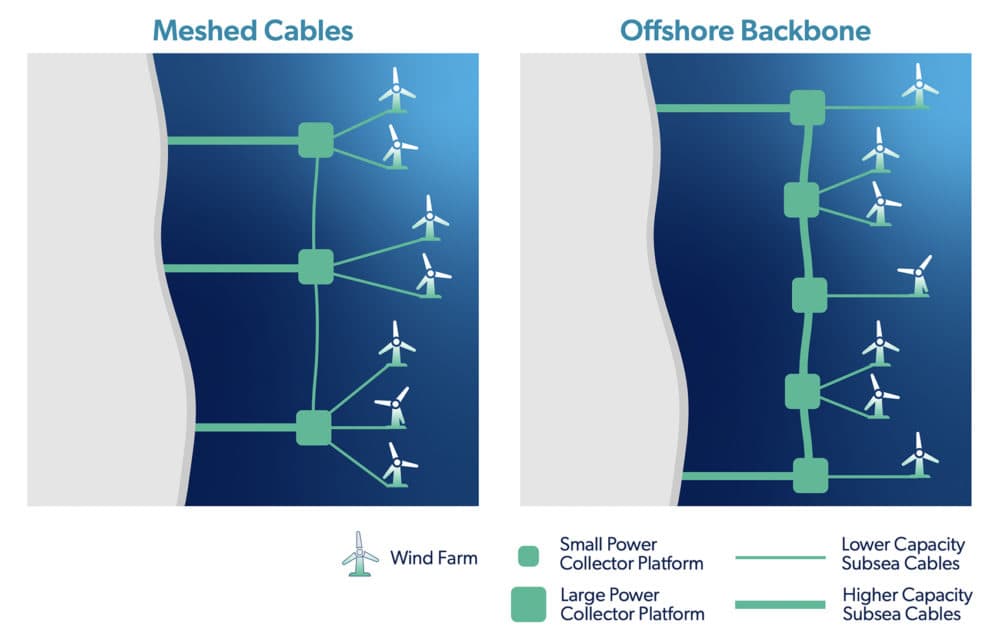 The transmission collaboration is an example of how Gov. Healey's administration "is looking to pursue innovative new approaches to accelerating our clean energy transition," Rebecca Tepper, the state's energy and environmental affairs secretary, said in a statement. Massachusetts' climate plan calls for net-zero emissions by mid-century, which will require a substantial buildout of renewable energy.
"We're grateful to our neighboring states and regions for joining together to propose this concept," Tepper added.
The request from the eight states comes as Congress and the Federal Energy Regulatory Commission are considering whether to establish "minimum-transfer requirements" between grid regions. The Department of Energy is also undertaking a two-year study of offshore transmission potential in the Atlantic Ocean.
Marshall, a state energy official, called the request from the states "complementary" to these efforts.
"We're trying to pull every lever we can to explore options to build out a cleaner grid," he said. "If we see all these potential benefits from inter-regional planning, why don't we try to do something proactively?"