Irma to Put $3 Billion Worth of Power Grid Upgrades to the Test
Source: By Jim Polson, Bloomberg • Posted: Monday, September 11, 2017
As Hurricane Irma bears down on Florida , the state's utility customers will find out exactly what $3 billion worth of power-grid upgrades got them.
NextEra Energy Inc.'s Florida Power & Light Co. used that money in recent years to replace wooden poles with concrete ones, install flood monitors to protect low-lying substations, and deploy smart meters to help track power outages.
And it's still forecasting a record blackout, with 9 million people projected to lose power — or more than 40 percent of the state's population. Restoring service will take weeks should the company need to rebuild its system, not merely repair it, Eric Silagy, Florida Power & Light's chief executive officer, said on Friday.
"These are the kinds of winds that can snap a concrete pole," Silagy said. "We have the strongest, most highly engineered, smartest grid in the U.S. but there is no way to engineer against a storm of this kind of magnitude. Even underground facilities are going to be subject to outages because of flooding and storm surge."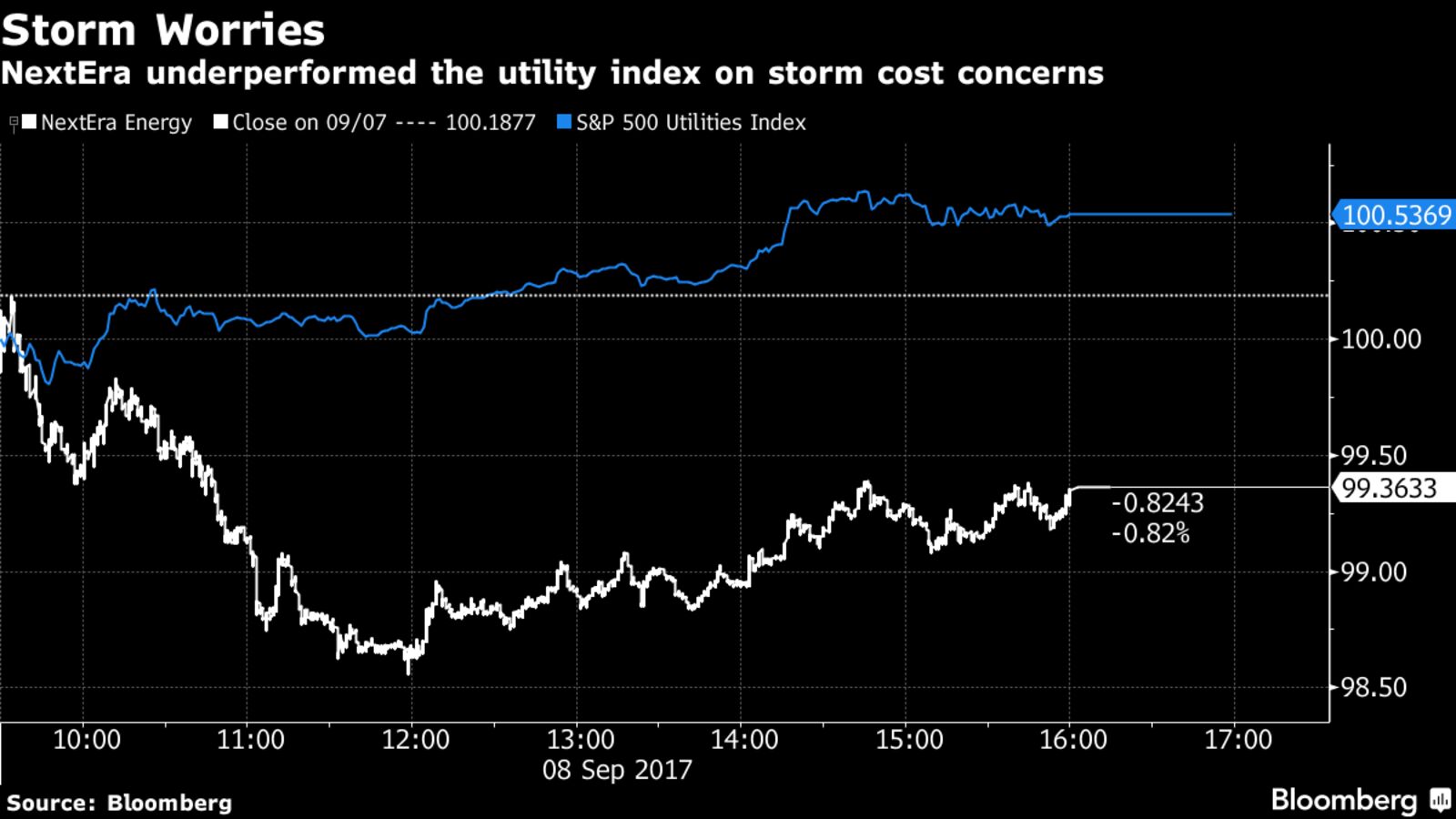 Expectations will be high after the company spent $3 billion in ratepayer funds since 2006 on shoring up the grid, said Kit Konolige, a Bloomberg Intelligence analyst based in New York. That followed Hurricane Wilma in 2005 which knocked out power to 3.5 million customers.
NextEra was the second worst performer in the S&P 500 Utilities Index on Friday, falling 0.8 percent to close at $148.26 in New York. It had fallen as much as 1.6 percent earlier in the day, the biggest decline since April.
Investors may have gotten "a little nervous" about the latest storm track, which showed Irma making a solid hit in the middle of the utility's territory, Konolige said. While utilities typically are allowed to bill customers for the costs of storm-related repairs, there is no guarantee they'll gain approval for those expenses, especially if they're high, he said.
Florida Power & Light has about 13,500 repair workers standing ready.
"Our goal is to get as many customers up and running as soon as possible," the company said in a statement Friday. With better information and crews in position, damage can be assessed and repaired quicker than before, Silagy said.
Duke Energy Corp. expects more than 1 million outages, with efforts to restore power taking as long as a week or more. The company, which is mobilizing more than 7,000 staff to help get the lights back on, finished Friday up 0.5 percent.