Proposals to bolster renewable energy and electric vehicle adoption as part of the Democrats' budget reconciliation package are popular with a majority of voters, according to data from Morning Consult and Politico.
In light of the wrangling over the precise parameters of the $3.5 trillion budget plan making its way through Congress, a new survey found that 61 percent of the electorate would support the inclusion of renewable energy tax credits, including those for electric vehicle purchases. That figure includes 30 percent who "strongly" back the tax credits and 31 percent who "somewhat" support their inclusion.
Meanwhile, 15 percent of registered voters somewhat oppose the potential provisions and 12 percent strongly oppose them.
Democratic voters are likelier than their Republican counterparts to support the proposals: There is a 30-percentage-point partisan gap, with 76 percent of Democrats in support. Nevertheless, more Republicans support (46 percent) than oppose (42 percent) providing tax credits for renewable energy projects and electric vehicles.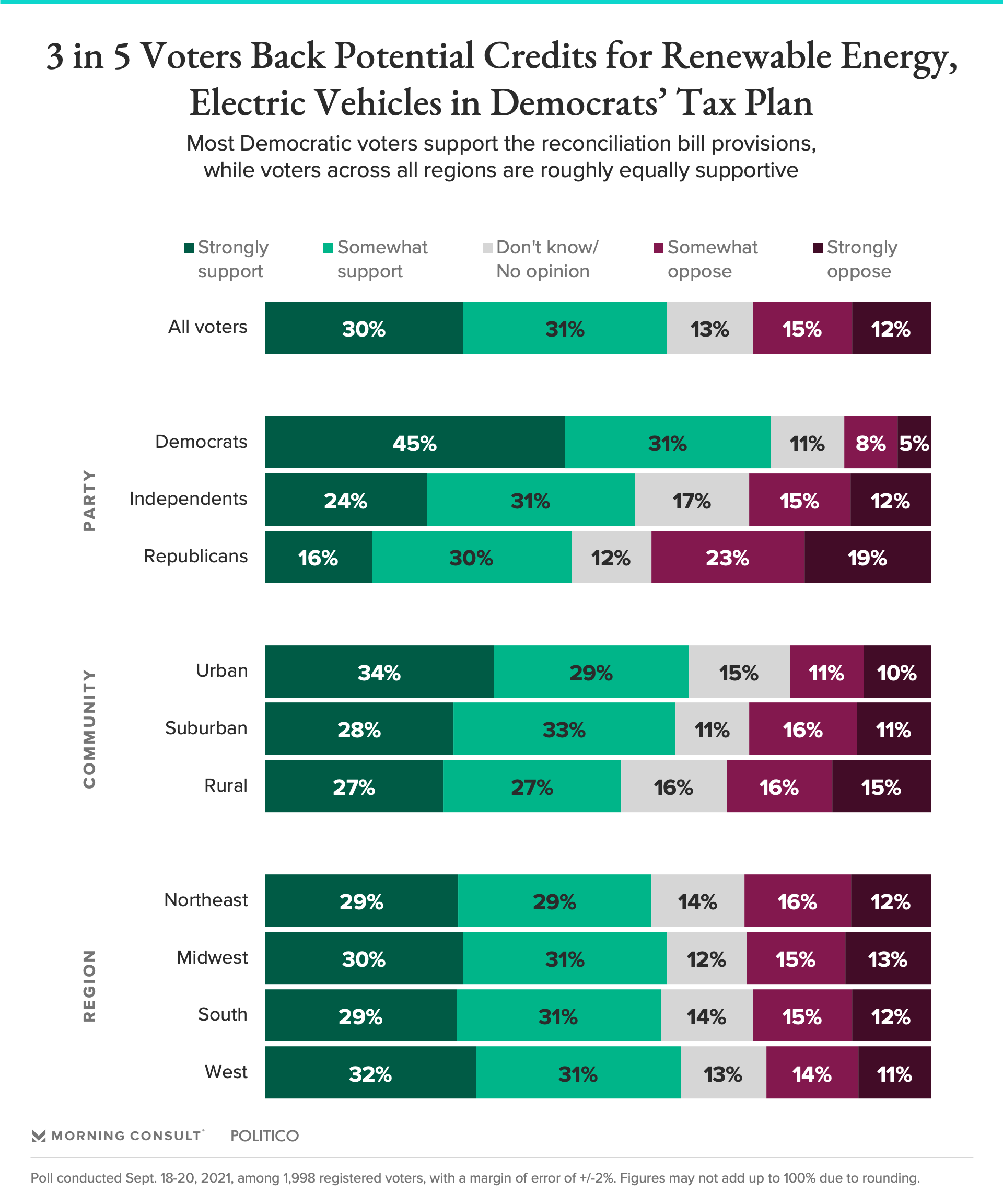 At just over 60 percent in support, urban and suburban voters were slightly more likely to back the potential provisions than rural voters (54 percent). However, there was no discernible difference in levels of support by region.
While most of the tax provisions included in the in-progress reconciliation bill are designed to offset the roughly $3.5 trillion price tag of the whole package, renewable energy tax credits would add to the cost, with the intended effect of incentivizing those projects that will speed the transition to a low- or no-emissions energy system.
The tax incentives included in the bill that emerged from the House Ways and Means Committee last week include the extension of existing renewable energy generation tax credits for a decade, expanding solar incentives to include a production tax credit as well as an investment tax credit and providing credits for consumers that purchase EVs that vary according to income and vehicle type.
The Sept. 18-20 poll surveyed 1,998 registered voters and has a 2-point margin of error.