If Donald Trump won't tackle climate change, then Chicago will
Source: By Rahm Emanuel, The Guardian • Posted: Friday, September 1, 2017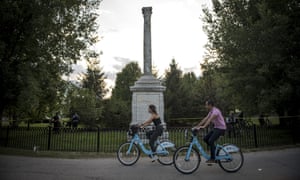 While the Trump administration is dropping the mantle of leadership on climate change, American cities from coast to coast are picking it up. From small towns to metropolises and from the coasts to the heartland, Republican and Democratic mayors are united in common cause to curb emissions, shrink our carbon footprints and fight for a greener future.
Rather than accepting the White House's wrongheaded withdrawal from the Paris climate agreement, cities are redoubling our efforts to meeting the landmark accords' benchmarks. We not only have the power to take action, but unlike Washington we have the will to get the job done.
Just days after Donald Trump's shortsighted decision, I signed an executive order formalizing Chicago's commitment to adopting the guidelines of the Paris agreement and reducing greenhouse gas emissions by 26-28% by 2025 (compared with 2005 levels).
Chicago has a head start in this effort. We already cut carbon emissions by 7% from 2010-15, while our economy expanded by 12%.
How did we do it?
First, in 2012 we closed Chicago's last two remaining coal plants.
Second, we retrofitted over 54m sq ft of buildings to make them more energy efficient, earning Chicago first place in the nation for green building adoption and the distinction as the only large American city to be granted the US Environmental Protection Agency energy star partner of the year award.
Third, to encourage alternatives to driving, Chicago is in the middle of an unprecedented $8.5bn modernization of our mass transit system. We also created the largest bike-sharing program in North America, adding 108 miles of new protected bike lanes and 47 miles of off-street public bike paths, earning Chicago the accolade of the best city in the country for cyclists from Bicycling Magazine.
Fourth, our Drive Clean Chicago initiative has supported $37m in low and emission zero vehicles, the equivalent of taking 1,700 cars off the road a year. We are now in the process of procuring Chicago's first fleet of electric buses, charging stations and hybrid police vehicles.
These steps are just a downpayment on the work ahead to meet the benchmarks of the Paris climate agreement. Looking over the horizon, by 2025 Chicago will be the largest city in the country where every public building is powered by 100% renewable energy. Outside our buildings, we are converting all of our city streetlights to LED by 2021.
American cities have the power and the will to take action collectively and in our own communities. We control the levers of planning, land use and development – and we can use these tools to turn promises and commitments into results.
This fall, Chicago will host the first North American Climate Summit, a new forum for leaders from across the US, Canada and Mexico to exchange innovative ideas and strengthen coordination and collaboration in our common fight for a sustainable future.
The summit will build on the strength of successful existing partnerships including the C40 Cities Climate Leadership Group as well as Climate Mayors, a bipartisan coalition of more than 300 municipal leaders from across the US. We are also proud to partner with America's Pledge, a coalition made up of 227 cities and counties, nine states and more than 1,600 businesses committed to upholding the Paris climate agreement.
In Chicago and cities across America, we are sending a clear signal: we will not be deterred and we will not let the truth about climate change be obscured. When the Trump Environmental Protection Agency took down information on climate science from their website, Chicago put it up on our city website. More than a dozen other American cities followed suit.
Something is wrong when a president will do anything to protect every Confederate statue in every city and town, but not one thing to protect those cities and towns from rising sea levels, severe storms and other climate change impacts that threaten municipalities' very existence.
We hope that Washington finds the courage to lead, but in the meantime we are going to keep pushing forward by cutting emissions, reducing our reliance on coal and adopting the Paris climate agreement locally. Our residents and businesses demand nothing less.
Rahm Emanuel is the mayor of Chicago