How to Grow Green
Source: By Bloomberg Green • Posted: Tuesday, June 9, 2020
26 ways to launch a clean energy future out of the pandemic recovery
Someone got too close to an animal carrying an unknown virus, and within months the world was in the grips of a crisis the likes of which few alive have seen. Millions have contracted what we now know as Covid‑19; more than 350,000 have died from it. Tens of millions more have lost their jobs as much of the planet remains at a standstill. Governments have committed nearly $12 trillion to stop the economic fallout, and trillions more will almost certainly have to be spent over the course of a long recovery.
The question now is what form that recovery will take. In the past, deep recessions have been followed by spikes in industrial activity that churned out far more greenhouse gas than was avoided in the downturn. Carbon dioxide emissions dropped 1.4% in 2009, for instance, before rising 5.1% the following year when the economy started to bounce back. That's not something the world can afford today, when just a small increase in average temperature could cause irreversible climate damage.
But there's another way to pursue growth. "I've always thought it's logical that, if you're going to make an awful lot of investments, then make them in a strategic way like getting the economy sorted on climate," says Cameron Hepburn, a professor of environmental economics at the University of Oxford. The stimulus spending of 2009 helped the rise of emerging cleantech companies such as Tesla Inc., which is now the world's second-most-valuable automaker. Prices for renewable energy have plunged as the number of jobs in the field has surged. Investing in a post-carbon economy isn't just a way to avoid a climate catastrophe. It could also be the most prosperous way forward.
This spring, with governments already deploying unprecedented fiscal measures to keep their economies afloat, Hepburn conducted a survey of more than 200 central bankers, finance ministers, and ­academics. His question was simple: What policies would result in the swiftest economic recovery? The results found overwhelming worldwide support for climate-friendly policies and equally overwhelming opposition to choices favoring fossil fuels. Luminaries including Nobel laureate Joseph Stiglitz and climate economist Nicholas Stern, co‑authored the research findings with Hepburn.
What has actually been committed doesn't exactly conform to that ideal. Bloomberg Green calculates that, so far, green measures account for less than 0.2% of the total coronavirus-­related stimulus spending allocated by the world's 50 largest economies.
Climate advocates say that's nothing to worry about right now. The first phase of the response focused narrowly on rescue, but the real opportunity will come when governments move out of disaster mode and start to plan out the recovery. Precedent for this two-step approach also exists in the response to the 2008 recession. Months after the U.S. government passed a $700 billion bank bailout, it came back with an additional $800 billion stimulus package that included more than $80 billion for emissions cuts, energy efficiency, and technological innovation.
Right now it's hard to tell just how much stimulus money will eventually flow into climate solutions. In March, the U.S. Senate passed a $2.2 trillion package stripped of any earmarks for green interests. China has published an ambitious slate of energy­ efficient infrastructure goals, but it has also rolled back regulations on coal plants.
The picture in Europe looks more promising. In contrast to the last financial crisis, when many countries slashed public spending, there now seems to be broad agreement that the fiscal spigot needs to be opened wide. As this issue was going to press, the European Union's executive branch unveiled a €750 billion ($826 billion) stimulus plan that analysts say could include as much as €100 billion for efforts to zero out the Continent's emissions over the next 30 years. While the plan still needs to be approved by the bloc's 27 member states, it represents the biggest step so far toward a green recovery.
This choice facing the world's leaders isn't between helping people and helping the planet—it's about how to do best for both at once. The methods for pursuing green growth aren't mysterious: Bloomberg Green consulted dozens of experts and policy papers to put together a menu of stimulus ideas across nine sectors, from food to transportation, housing to research. This list is by no means exhaustive—think of it as a starting point for more, bigger action. "If policy­makers can be conscious of the potential to solve two problems with one set of actions," Hepburn says, "then there's a reasonable chance that they will." —By Dorothy Gambrell, Jillian Goodman, Leslie Kaufman, Laura Millan Lombraña, Akshat Rathi, Eric Roston, Jess Shankleman, and Andre Tartar, with Karoline Kan, illustrations by Félix Decombat
31% Share of global greenhouse gas emissions
Renewable energy is already cheaper than nonrenewable energy in lots of markets, but governments could still help speed things along
Pay people to generate clean energy
After the 2008 financial crisis, South Korea put almost 80% of its stimulus spending toward climate-friendly policies, including significant investments in energy efficiency and development of its renewables industries. A few years later, the International Monetary Fund dubbed the country's recovery one of the swiftest and most successful in the world, in large part because of those investments. South Korea hasn't forgotten that lesson. It's already devoted 228 billion won ($185 million) to ­subsidies for home rooftop solar installation as part of its coronavirus recovery.
Install more, better power lines
Aging grid equipment that was built to relay electricity from big centralized power stations to homes and offices isn't designed for the variable output from wind turbines and solar panels, nor can it handle the growing demand from electric cars. New smart grid infrastructure would be able to respond to ­consumers and suppliers, allowing for a more effective and less wasteful flow of power. Already, large utilities such as California's Edison and the New York Power Authority are "building smart grid technologies and working with software providers" to "reap the benefits of reduced operating costs, less outages," and fewer ­necessary repairs, according to the 2020 State of Sustainable Energy in America report, produced by Bloomberg's in-house new energy think tank, BloombergNEF. Government ­subsidies could speed that along and also encourage businesses to reduce their usage during times of high demand.
Invest in making clean hydrogen cheaper
Hydrogen may be the universe's most abundant ­element, but a good deal of energy is still required to convert it into a fuel source. Much of that energy is coming from fossil fuels, making hydrogen less than green. Even oil majors such as Royal Dutch Shell Plc are racing to find greener ways to produce hydrogen, which creates more heat than solar, wind, or hydropower and could help them meet ambitious climate targets, as well as prepare for a post-carbon energy world. While green hydrogen does exist, the methods used to produce it are still too expensive to be deployed at scale. BNEF published a report in March showing that with government incentives, prices could fall to about $1 per kilogram by 2050. That would make it competitive with natural gas in many parts of the world.
Reducing, reusing, and recycling are all well and good, but long-term incentives are needed to make new things in a climate-responsible way
Make polluters an offer they can't refuse
Manufacturing steel, cement, chemicals, and everything else requires an enormous amount of energy—but that's not what makes heavy industry such a ripe candidate for climate reform. Much of the related pollution comes from steps within the manufacturing process that are hard to clean up. Cement emits vast quantities of CO2 from the chemical reaction used to break down limestone. And steelmaking requires temperatures of 1,200C to cook iron in blast furnaces, traditionally powered by coal.
The research and innovation necessary to change this would require huge investments of time and money, and heavy industry has taken a beating in the pandemic. State aid could make this not only possible but, if tied to bailouts, also quite attractive.
Manifest economies of scale
Developed countries spend an average 12% of their gross domestic product on procurement of everything from cleaning materials to fighter jets. Directing that official cash toward bulk buys of clean, recyclable, or nontoxic goods would lower supply bills, and the heightened returns could help clean industries continue to grow—bringing even lower prices and more jobs.
Take steel and cement: Governments buy them all the time for such things as infrastructure construction and maintenance, and those happen to be two of the most difficult industries from which to wring concessions. Incentives and contract ­stipulations—for example, California's Buy Clean Act introduced low-CO2 standards for materials used in state construction—can help push greener options into the mainstream.
Price in climate risk for real
When making decisions on where to put their capital, countries, states, and even some companies factor what's called the "social cost of carbon" into their overall policy analysis. In other words, they ask these two questions: What's the future climate damage associated with this product or regulation? And how does that change the analysis? They consider these questions for any number of reasons: to anticipate how they'd fare under carbon-­pricing scenarios; to compensate for the shortcoming of a marketplace that fails to account adequately for climate risk; or to show off to voters and shareholders what they're doing for the planet.
Calculations behind social-cost-of-carbon estimates are notoriously sensitive to assumptions, and they tend to fluctuate widely depending on who's in charge. Locking in an accurate—high—cost of CO2 across all countries and industries would further tip the scales toward green industries and, you guessed it, create even more jobs.
16% Share of global greenhouse gas emissions
Electric vehicles need to refuel, too, and smart-city technology could make all cars more efficient
Play favorites with electric vehicles
With large chunks of the world quarantining at home, car sales have tanked. But there are early signs that battery-powered vehicles may rebound before ­gasoline-powered alternatives. As the air has cleared in urban centers, many have decided they don't want to go back to the polluting past. EV sales through 2020 will be in line with or hold up better than traditional car sales everywhere except the U.S., according to BloombergNEF.
Countries with strong auto industries such as Germany and France could build on this momentum with programs like the "cash for clunkers" trade-in scheme introduced in the U.S. in 2009, which gave people money for their inefficient vehicles. Tax breaks for EVs in company car fleets have long been popular in the U.K.
Build places for drivers to recharge
Just like any other battery-powered device, EVs need chargers. But until recently there was a chicken-and-egg problem; now, $45 billion will need to be invested in the next three to four years for electric vehicles to go truly mainstream, according to Satif Group, a private equity firm and an EV charging consultant.
In the context of multitrillion-dollar corona­virus stimulus packages, however, $45 billion for the whole world is chump change. China's government announced a 10 billion-yuan ($1.4 billion) project to build 48,000 charging stations and promote EVs. And while the European Union already had plans to make electrification of transport a central part of its overarching Green Deal, its virus recovery package is poised to give that a further boost.
Attach green strings to airline bailouts
Between the start of the Covid-19 crisis and early May, governments worldwide had agreed to more than $85 billion in financial aid for airlines. Few bailouts came with any conditions related to reducing emissions, though the French government is using its bailout of Air France-KLM to cut short-haul flights and push people toward trains, and U.K. Prime Minister Boris Johnson has called for more carbon consciousness from British Airways.
To avoid setting a precedent for future crises, governments could require airlines to zero out their carbon emissions as a condition of a bailout, says former Bank of England Governor Mark Carney, who serves as finance adviser for the COP26 international climate summit. If the bailout conditions aren't met, funding would be converted to equity at today's low stock market spot prices, so the taxpayer could own a stake, suggests Brian O'Callaghan, an economist at the University of Oxford, along with Cameron Hepburn. That would provide even more stimulus by transferring value back to consumers.
Speed up the internet
Hear us out: As much as a third of the global workforce will sustain remote working practices part time on a permanent basis once the threat of the coronavirus has abated, according to Global Workplace Analytics. Making broadband and 5G widely accessible will be a key part of that by allowing people to stream videos more effectively, thereby reducing the amount of road traffic needed. Less traffic means less energy used, not to mention less road construction and maintenance.
Better internet could also boost smart-city features such as coordinated traffic lights, which could help reduce road congestion, as well as responsive home heating systems that use energy more efficiently.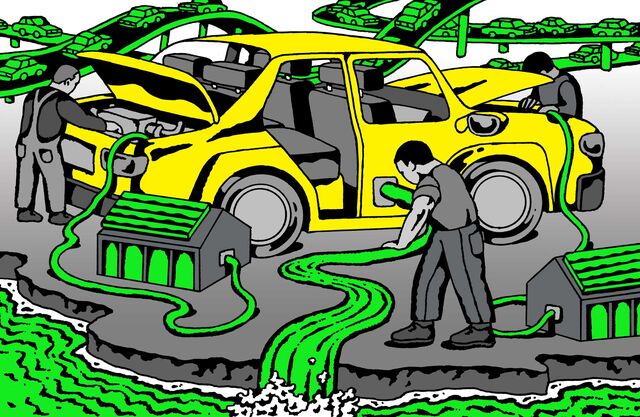 12% Share of global greenhouse gas emissions
Farms and ranches could transform on a dime from net emitters of CO2 to net absorbers—given the right incentives
Reward farmers for capturing carbon
Growing the same crops year after year depletes the soil's nutrients, which leads to overuse of fossil fuel-based fertilizers, which leads to polluting runoff, which leads to bad news. Covering land with a thin layer of compost, however, increases the amount of carbon stored in both grassland and cropland soils, plus it boosts soil's productivity and water-holding capacity. Planting trees at the ends of properties can also act as a windscreen to stop topsoil from blowing away.
Many governments already have programs to fund a small amount of carbon sequestration. More funding will allow them to go further, says Betsy Taylor, president of the nonprofit climate consulting company Breakthrough Strategies & Solutions. But be careful of the messaging. "Don't lead with carbon sequestration," she says. "Focus on soil quality and saving water."
Taste it, don't waste it
A lot of energy goes into raising livestock and crops, yet governments routinely buy and dump food to prop up prices. That practice has only increased with Covid-19, while at the same time, food insecurity is rampant around the world.
If authorities don't want to feed people directly, they could fund distribution programs to connect farmers with needy communities. In the U.S., 29 members of the House of Representatives have requested that future relief packages amend the Supplemental Nutrition Assistance Program (SNAP) to allow food banks greater flexibility in procuring and distributing this extra food.
Remember the little guys
The U.S. gave $16 billion in direct aid to farmers in its $2.2 trillion April stimulus bill, plus committed another $3 billion to buy produce, meat, and dairy on the government's behalf. The problem is that large-scale industrial operations are gobbling up much of the money, says Ferd Hoefner, an adviser to the National Sustainable Agriculture Coalition.
Small farms have lower carbon footprints because they don't ship their goods all around the world. Small slaughterhouses (which, it should be noted, have a far lower incidence of Covid‑19 than the big ones) are the only places that handle grass-fed livestock, another industry in need of support. There are also many more small farms and slaughterhouses than big ones, so funding them means spreading wealth more equitably and stabilizing rural communities.
7% Share of global greenhouse gas emissions
If the planet is going to keep on fueling our economic engine, we're going to need to do a better job of protecting it
Stand by the trees
Just 15% of the world's forests remain intact, the result of soaring demand for commodities such as beef, soy, palm oil, and wood. That's led to mass clear-cutting—much of it illegal. Developing nations can enact and enforce laws to crack down on unauthorized and unsustainable deforestation, but developed nations can also help keep them on target with pressure on the one hand and funding on the other.
Many large companies have begun investigating deforestation and cutting off suppliers who take part in it. Consumer-product companies in particular have been targeted by activist campaigns; that and increasing investor pressure to demonstrate sustainability bona fides have been driving the conservation push in the private sector.
Bring clean drinking water to more people
Just over 70% of the world's population had access to safe water as of 2017, vs. about 61% in 2000. Still, some 785 million people lack even basic managed water systems, according to United Nations data.
Water may not be as sexy as EVs or fake meat, but it's a basic requirement in just about every part of the modern economy. It cools power plants, feeds agriculture, and keeps the citizenry alive. Water infrastructure projects require massive spending and coordination between the public and private sector, but they also create lots of jobs—and when they're done, improved quality of life leads to greater productivity.
Give marine ecosystems a break
More than $2.5 trillion per year of global industry depends on the ocean, and virtually all of that has taken a hit under Covid‑19. Shipping is down. Fisheries suffer when restaurants close, and millions of jobs are at stake as ecotourism-dependent economies shut their borders. Marine life decimated by overfishing can take this time to grow back—as long as illegal fishing doesn't run rampant while monitoring and enforcement are on lockdown.
In 2018 the International Maritime Organization issued its initial strategy to get in line with the Paris Agreement, aiming to cut emissions in half by 2050. Nations can now help achieve that goal by subsidizing or mandating fuel efficiency improvements and the development of emissions-free vessels. With tourism down, workers might transition to ecological restoration jobs such as planting mangroves, which store carbon and protect against flooding, according to a World Economic Forum analysis.
6% Share of global greenhouse gas emissions
New energy-savvy homes are great, but replacing leaky insulation and power-hungry appliances in old buildings can help even more
Hand out grants for efficient renovations
Upgrading to better home appliances and insulation is an expensive and invasive process that an individual homeowner—let alone a large public-housing ­project—may not be able to undertake without government subsidies, free financing, or both. Under the stimulus program enacted by the U.S. in the wake of the 2008 financial crisis, landlords received $300 million to replace old appliances that use a lot of power, water, or gas for more­-efficient alternatives. Daniel Aldana Cohen, who directs the Socio-Spatial Climate Collaborative at the University of Pennsylvania, suggests that grants be made available to public- and low-income-housing residents to replace aging systems, including swapping out oil or gas heaters for electric heat pumps that capture and store energy without burning fuel. The U.S.'s existing Weatherization Assistance Program could be expanded to distribute the funds.
Make green construction cost less
The United Nations estimates the global ­population will grow by 2.5 billion people in the next three decades, which will require the world to double its existing housing stock. That's a carbon-intensive process in itself: 11% of the total greenhouse gas emissions from residential and commercial buildings comes from making the steel, cement, and glass used in construction. Incentives for developers to use new materials such as low-carbon concrete and processed timber could help reduce those emissions, and expanding the market could also help bring down costs of green building materials over the long term. Lawmakers could leverage existing programs like tax credits for affordable housing construction by adding green strings to them. Municipal authorities can update building codes and appliance standards to lock in long-term energy efficiency.
Give people a break on green rent
Until low-and no-CO2 housing options reach a critical mass in the market, cost may prevent all but the wealthy from living in energy-­efficient style. Governments might help by educating tenants about the savings that come from efficient appliances and by either granting energy vouchers to low-income tenants or taking the cost out of the overall rent.
As furloughs turn to layoffs, creating jobs will be a top priority. You know what creates jobs? Investing in green energy
Pay people to generate clean energy
There's more to it than just green power! Every $1 million spent on renewables creates 7.5 full-time jobs, compared with just 2.7 jobs for every $1 million spent on fossil fuels, says Heidi Garrett-Peltier, an economic researcher at the University of Massachusetts at Amherst. Significantly, renewable energy generates more jobs in the short run—say, in the middle of a recession—which boosts spending and accelerates recovery.
Send workers to school
Despite the Covid-related energy crash, renewables such as solar, wind, and hydropower are still growing. But no matter how badly an offshore wind company needs to add to its head count, it can't simply hire someone off an oil rig and put her to work on a turbine without additional training.
Governments can help close that skills gap by funding vocational education for those who've been put out of work by the coronavirus lockdown and the subsequent drop in energy demand. That could mean helping people who've spent their careers making diesel engines learn how to build car batteries, or teaching pipeline crews how to tend to solar panels. Not only are these jobs going to be more in demand as renewable power production continues to rise, they're also higher-paying.
These don't all have to run through institutions of higher learning: Authorities could also extend tax deferrals to businesses that run skills workshops as a way to incentivize hiring.
Make communities whole again
About 4 million coal workers have lost their jobs because of large-scale changes in the industry over the last 50 years, and many more cuts are expected in the years to come as countries wean themselves off the dirtiest fossil fuel, according to the World Bank. Helping communities recover and move on, whether that's through replacement of lost tax revenue or more active measures, will be key to avoiding social unrest around efforts to tackle climate change.
One possible model: The Spanish government and mining unions struck a deal in 2018 on a program to close all remaining coal pits by 2021. So far, the program has been a broad-based success, in large part because of the €250 million ($277 million) the country committed to spending on former mining areas by 2030, giving people money to set up new businesses or repurpose the land around deactivated mines.
Governments tend to spend less on clean energy research than on health research, which doesn't make much sense: The returns are equally good
Make universities and startups compete
Many of the technologies we'll need to bring climate change under control exist, just not in a form that can be deployed at scale, says Varun Sivaram, visiting senior fellow at Columbia University's Center for Global Energy Policy. Targeted funding in the form of grants or prize money, to either research groups or private companies, could help accelerate the development of ultrahigh-­capacity batteries and carbon capture and storage devices. This is especially important because most credible models of how to contain climate change take for granted that many billions of metric tons of carbon dioxide will be sucked out of the air and buried underground, but that technology is still in its infancy.
Give scientists money—period
At the same time, spending more broadly on ­scientific areas connected to energy and ­climate could result in serendipitous advances. Take natural gas, for example: One of the main reasons U.S. emissions have dropped about 10% in the past decade is because gas has continued to replace coal as a power source. That switch was made easier by hydraulic fracturing of shale reserves, which in turn was made easier by seismic mapping and underground imaging techniques ­developed in the 1990s—which in turn came about with help from the U.S. ­government through research grants with no specific use in mind. Such spending also helps train a new skilled workforce and attracts talent, both of which are necessary to boost ­technology development.
Funnel new technologies to market
In economics parlance, research spending is a "long-run multiplier"—that is, the returns accrue to the economy slowly, over as much as a decade or more. Setting up ­government-run technology transfer offices (TTOs) could help research find commercial outlets sooner. They'd act as the marketing arm of universities and could also bring in funds to research organizations by helping connect them with businesses that have specific scientific needs. The success of technology transfer in areas such as biomedicine and artificial intelligence has been well proven. Solexa, a University of Cambridge startup that lowered genetic sequencing costs, was acquired in 2007 for $600 million by U.S. biotech company Illumina Inc. thanks to the efforts of the university's publicly funded TTO.
Fiscal stimulus is easier to see, but behind-the-scenes monetary moves could also help push the world off fossil fuels
Compared with lawmakers and officials, who've made considerable noise about the trillions of dollars they've pumped into their respective economies, central bankers have gone about their work more quietly. But they haven't been able to escape the notice of those who say they aren't doing enough for the climate.
A report released in May showed that the European Central Bank—which embarked on a €750 billion ($826 billion) emergency bond-buying program in March—has invested 63% of its overall bond portfolio in polluting industries. The U.S. Federal Reserve, meanwhile, has come under pressure over its partnership with BlackRock Inc. on a $454 billion asset purchasing program. The world's largest asset manager and its leader, Larry Fink, have been targets of environmentalists for years.
Until now, "central banks haven't played a big role," says Michael Jacobs, a research fellow at the University of Sheffield and an adviser to then-U.K. Prime Minister Gordon Brown from 2007 to 2010. "A strong argument is beginning to emerge that there are sensible ways of doing the things that need to be done to tackle both" Covid-19 and climate change.
The same case could be made for development banks. Although emerging economies are responsible for a tiny fraction of global emissions, they're also disproportionately vulnerable to climate change. The International Monetary Fund has received calls for emergency financing from more than 90 countries already. IMF Managing Director Kristalina Georgieva said at a conference in April, "Taking measures now to fight the climate crisis is not just a 'nice-to-have,' it is a must-have if we are to leave a better world for our children." But the IMF has yet to back up those words with actions, and neither the ECB nor the Fed has given any indication they intend to change their guidelines on creditworthiness to reflect climate risk.
There's reason to believe monetary action on climate won't be far off, though. The Network for Greening the Financial System started three years ago with only nine central bank officials as members, and now the influential group boasts more than 60, among them officials from some of the world's biggest emitters, including China and Russia. The ECB has joined. The U.S. Fed hasn't, but even Chair Jerome Powell has said it's only a matter of time.