How Jeff Bezos Is Spending His $10 Billion Earth Fund
Source: By Robinson Meyer, The Atlantic • Posted: Wednesday, November 4, 2020
These nine environmental groups are some of his first grantees.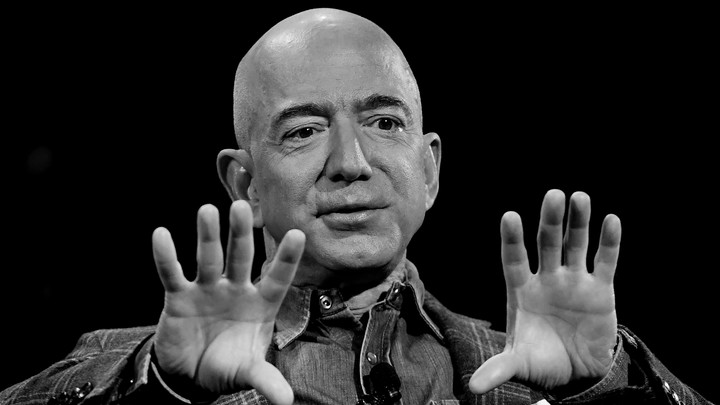 Back in February, Jeffrey Bezos posted a picture of the Earth on Instagram. In the caption, the world's richest man announced his new project to save the world: the Bezos Earth Fund, an initiative to support scientists, activists, nonprofits, and anyone else who seems to have a good idea to fight climate change. "Climate change is the biggest threat to our planet," the Amazon chief executive said. He committed $10 billion to the effort, and said he would begin issuing grants in the summer.
The fund portended a revolution: In pledging what was then more than 7 percent of his net worth, Bezos was, by any measure, eclipsing the total sum spent by American philanthropists on climate change in recent years.
Then the pandemic arrived. Amazon became a kind of private utility, and Bezos's attention was diverted. Little has been heard about the fund. Months came and went without any grant announcements.
But that is soon to change. Throughout the summer, Bezos—sometimes joined by his girlfriend, Lauren Sanchez, a television producer—met via phone with environmental nonprofits and other advisers in the field, according to two people who work in climate philanthropy and have knowledge of the situation. He is now ready to start giving.
But Bezos's gifts indicate that he isn't trying something new on climate so much as boosting an ancien régime. Bezos is prepared to give $100 million each to four of the most established environmental groups in the country—the Nature Conservancy, the Environmental Defense Fund, the Natural Resources Defense Council, and the World Wildlife Fund, according to my two sources, who were granted anonymity so that they could speak candidly about the small world of climate giving.
Bezos has also committed $100 million to the World Resources Institute, a sustainability-research organization that operates globally, the two sources said.
And he has promised smaller amounts of $10 million to $50 million to four nonprofits that specialize in climate and energy research, the sources said. Those groups are the Energy Foundation, the Union of Concerned Scientists, the ClimateWorks Foundation, and the Rocky Mountain Institute.
These are large gifts, and they are going to large organizations. Each of the five groups receiving $100 million already has annual expenses in the nine figures. The largest of them, the Nature Conservancy, had a budget exceeding $930 million in 2018. Each has significant assets, offices and operations around the world, and enough heft to send experts to United Nations conferences.
Yet these gifts, even if spread over five years, will constitute a major portion of the groups' revenues. And they put into perspective the mammoth size of the Earth Fund: These nine grants represent, at most, $700 million—that is, 7 percent of Bezos's initial commitment.
But this first round of funding isn't complete, a spokesperson for the Earth Fund told me. "This list does not reflect the complete range of organizations that the Earth Fund has been speaking with and that will be receiving grants from the fund in this initial round—stay tuned," said the spokesperson, who did not confirm the grantees and amounts.
None of the would-be grantees offered a comment for this story. They declined to speak with me or did not respond to a request for comment.
These first grantees represent an older and—some would say—outdated approach to the problem of climate change. The youngest of the nine, ClimateWorks, was established in 2008; the rest were founded nearly three decades ago or more. Their approaches vary, and include that of the famously corporate-friendly Environmental Defense Fund and that of the scrappier Natural Resources Defense Council. The list may also raise eyebrows among those who have been following the recent scandals at the World Wildlife Fund and the Nature Conservancy.
But the groups are nearly all united in their history of work on environmental issues, and their treatment of climate change as such. With a few exceptions, they evince a pollution-centric view of the climate problem, calling for technocratic solutions that will slowly ramp down emissions. The Sunrise Movement, which boisterously supports a Green New Deal and electioneers for Democrats, is not among the groups I'm told will receive funding. Nor is any racial or environmental-justice group, nor any other organization that prioritizes climatic reconciliation as of a piece with racial equity.
And all of the recipient groups are 501(c)3 nonprofits, which means they are legally prohibited from intervening in political campaigns, or even appearing partisan.

Thinking of climate change in purely environmental terms is no longer a viable strategy. Carbon-based fuels are woven too deeply into the economy to simply be treated as a pollution problem. Climate change, as I've written in the past, is an economic problem—and its solution must be managed through economic policy. That is why the post-pandemic stimulus proposals of the United Kingdom, the European Union, and former Vice President Joe Biden all emphasize a green recovery.

Managing that economic transition will take new institutions and a new kind of economic expertise. Maybe that cause can receive some of Bezos's remaining $9.3 billion.