How GOP-dominated Georgia became a hub for clean energy jobs
Source: BY ADELE PETERS, FastCompany • Posted: Wednesday, August 16, 2023
A year after the Inflation Reduction Act passed, the Peach State leads the country in new clean energy investments.
[Photo: Elijah Nouvelage/Bloomberg/Getty Images]
West of Savannah, Georgia, a multibillion-dollar EV factory under construction is sprawling—at 17 million square feet, it's about two and a half times larger than Disneyland—and will create more than 8,000 jobs. Near Atlanta, a $2.5 billion factory that will begin making batteries for renewable energy storage later this year will create hundreds more positions. In another Atlanta suburb, a solar panel factory under construction plans to hire 2,500 workers.
In the year since the Inflation Reduction Act passed, clean energy companies have announced nearly 20 major new projects in the state, totaling more than $12 billion, according to E2 (Environmental Entrepreneurs), a group that has been tracking the impact of the IRA.
Other projects that were already underway, like the massive electric vehicle plant near Savannah, have accelerated construction in order to begin production earlier. (Hyundai, which is building the EV plant, also announced plans to build a $5 billion battery plant with SK On after the IRA passed.)
"We see Georgia benefiting more than just about any state in the country from these policies," says Jon Ossoff, Georgia's 36-year-old senior senator.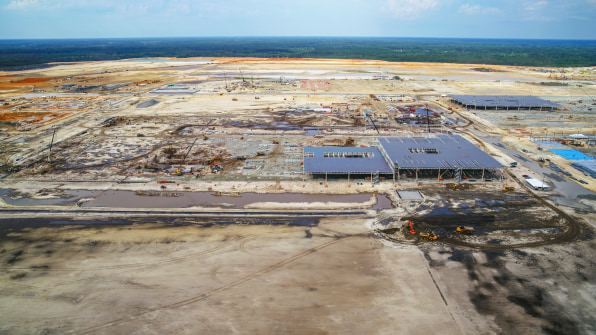 That's despite the fact that Georgia's governor is reluctant to acknowledge climate change, and none of the state's Republican representatives in Congress voted for the Inflation Reduction Act. Other states with Republican leaders who voted against the IRA, including South Carolina and North Carolina, are also at the top of the list in new clean energy investments. In Georgia and South Carolina alone, 37 major new projects are already in development or have broken ground. Meanwhile, investment is moving more slowly in some states that have led on climate policy; California, for example, currently trails Oklahoma and Indiana.
In Georgia, the clean energy economy was growing even before the IRA, as state and local leaders worked aggressively to attract solar, battery, and EV companies to build factories and create new jobs. (Governor Brian Kemp has said that he wants the state to be the "electric mobility capital of America," as he's courted new factories, even though he's done little to get EVs on roads.)
But the IRA made investments surge and sped up some existing projects. "As we started looking at the math, we've decided to move forward on a fast-track project to get production up to a year earlier," says Jeremy Bezdek, EVP of global corporate development and president of Freyr Battery U.S., the company building the $2.5 billion battery factory near Atlanta. "The motivation from the IRA was to move faster."
The law offers clean energy tax credits that won't expire for at least 10 years, unlike previous credits that were more uncertain because they had to be renewed repeatedly. "If it was a 5-year program, it would make it a little bit more challenging to pursue large capital projects," Bezdek says. "But the fact that it's a 10-year program really helps us get comfortable with the CapEx spend that we have to make."
Korean solar panel manufacturer Hanwha Qcells opened its first factory in Georgia in 2019. But after the IRA passed, the company decided to expand the facility and build a second large plant in Cartersville, Georgia, investing another $2.5 billion in the state.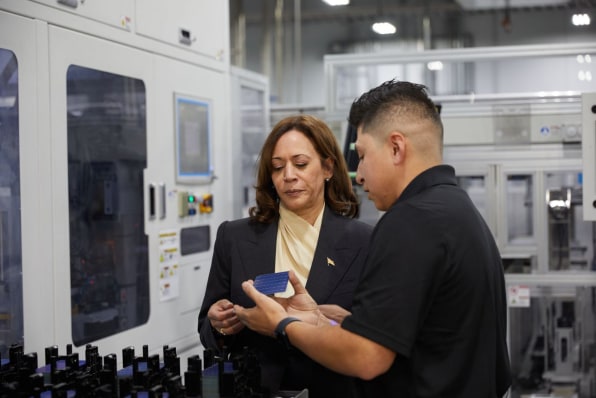 The company has said it made the decision because the IRA included solar manufacturing tax credits that were drafted by Ossoff. "We prioritized the sectors where we knew there was the greatest growth potential in Georgia, and where we believe new investors will take advantage of our state's assets," Ossoff says. Along with Georgia Senator Rafael Warnock, Ossoff says he pushed to ensure that EV and battery production were priorities in the bill.
Ossoff has also led trade delegations to South Korea and met individually with businesses there. "I think that the personal touch—the personal relationships and the effort of going to Korea twice to recruit investment to Georgia—has made a real difference," he says.
Georgia has a long track record of attracting new businesses, and that put the state in a position to take advantage of the IRA quickly, says Aaron Brickman, a senior principal at the nonprofit RMI. "You've got states that are just ready to leverage opportunities like this because they have the economic development infrastructure," he says.
State and local government in Georgia supports training for workers and partnerships with schools. One program with the Technical College System of Georgia, for example, is designed to quickly train new employees while a factory is being built. The state and counties also help companies find sites and guide them through permitting, and offer grants and other incentives.
Freyr, the battery manufacturer, considered 170 different industrial site locations in 34 states for its factory, looking at factors like the cost of power and the availability of skill development programs, before eventually choosing to work in Georgia. Some other companies are choosing Georgia because of the concentration of existing clean energy companies; Ascend Elements, for example, with a massive new battery recycling facility, wanted to work near battery manufacturers.
Other states need to think strategically if they want to grow as quickly, says Brickman, who is working with seven Great Lakes states, from Minnesota to Pennsylvania, as the region aims to become more competitive for clean energy development.
The opportunity is huge. "I think it's fair to say we're at the beginning of this industrial transformation here in the U.S.," he says. "There are just simply an incredible amount of manufacturing jobs that will be created here, and the commensurate CapEx in building out these domestic manufacturing supply chains. . . . For every mega project, there will be 10 or 20 smaller projects."
The jobs are well-paid and offer opportunities to advance quickly, says Bob Keefe, executive director of E2. He recently visited Qcells's first solar factory in Dalton, Georgia, where he says he spoke with a worker who had been in the carpet industry, along with the rest of his family. The town calls itself the "carpet capital," but lost thousands of jobs after the Great Recession as the industry contracted. The worker had never gotten a promotion in his carpet factory job, but has already been promoted three times over the past year at Qcells.
Dalton "used to be nothing but flooring and carpets," Keefe says. "Now you have these other companies coming in that no one would have ever imagined could come to a place like that."
Before the Inflation Reduction Act passed, Brickman says, U.S. leadership in clean energy had waned. Now, only a year later, "a lot of clean energy is looking at the U.S. as the place to go. It's just an incredible opportunity for states and metros to compete."